Pub Choir
Bishop John Roundhill inspires us with his recent Pub Choir experience, when he gathered with thousands of other locals to learn and sing a classic Aussie secular Christmas song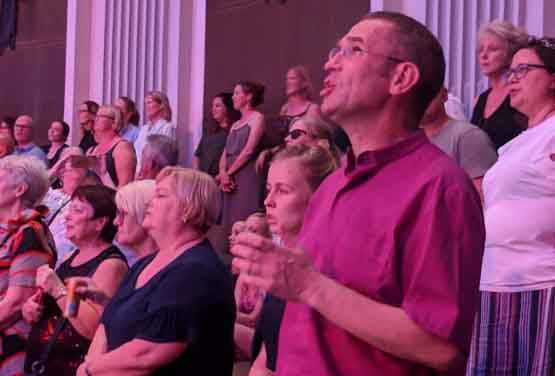 On the Thursday evening before Christmas, I ducked down from the Ann St Diocesan offices to Brisbane City Hall to learn how to sing a classic Australian Christmas song with thousands of other locals at 'Pub Choir'. On that remarkable Thursday night, 2,800 strangers turned up to learn and sing Paul Kelly's How to Make Gravy together. We were joined by Gold Logie winner Samuel Johnston OAM and a string quartet from Camerata – The Queensland Chamber Orchestra.
Pub Choir started in Brisbane and is usually held on the last Wednesday of the month. The initiative gets ordinary people to sing in three-part harmony over a period of 90 minutes, learn a song and then sing it twice together. In our internet-powered age, the song is videoed and then uploaded to Facebook and YouTube.
As the pub choir website puts it: there is "No audition, no solos, no commitments, no sheet music, NO WORRIES."
There were a number of remarkable things about this Pub Choir, not least being the extraordinary team leading it and the $100,000 raised for Love Your Sister and cancer research; but in some way the most extraordinary thing about it was so many people simply turning up to sing.
There is something quite ironic about slipping out from work to go singing. In my experience we struggle to get people singing even in a fantastic setting like St John's Cathedral. It is almost as if Pub Choir has 'stolen our clothes'!
But, well done, Pub Choir. You have shown us again that it is a lie that Aussies don't like singing in public – we do! Pub Choir also exposes the myth that singing is only something for those with fine voices, as everyone is welcome. It also shows that people will stand up for a 90-minute singing practice and clearly enjoy it.
Gathering to sing is a deep part of our worship heritage. In Psalm 95: 1-2, we are encouraged to:
"O come, let us sing to the Lord;
let us make a joyful noise to the rock of our salvation!
Let us come into his presence with thanksgiving;
let us make a joyful noise to him with songs of praise!"
It is easy to see Pub Choir as a secular land grab of our Christian tradition. However, standing there on that pre-Christmas Thursday singing How to Make Gravy with 2,800 strangers, that view is not so easily held. There is much we can share with Pub Choir and indeed much we can learn from, too.
Jump to next article