Registrar Gordon Gall
Diocesan Archivist Michael Rogers pays homage to our longest-serving Registrar, Gordon Gall, and his significant achievements during two World Wars and the Great Depression – achievements that our Diocesan community still benefits from today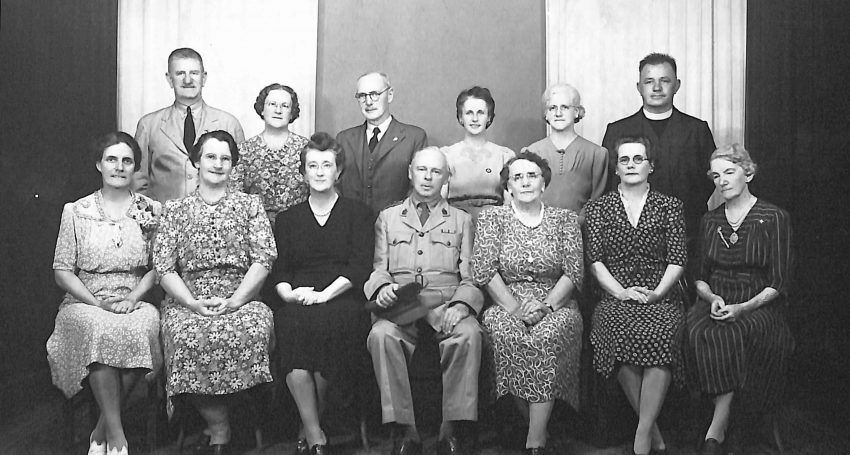 In the written histories and publications of the Diocese, there is often much focus on the role and impact of archbishops, bishops, and priests – with little mention of the role and impact that registrars and administrators have had behind the scenes. This article honours our longest-serving Registrar to the Diocese, Gordon Gall, and his service.
The period between 1913 and 1945 saw two World Wars and the Great Depression. It also covered the period of our longest serving registrar.
Originally from England, Gordon Gall came to Queensland in 1896 – firstly to pastoral land near Winton, then joining a sharebrokers business in Charters Towers, and later an insurance business in Brisbane. Gall first joined the Diocese as Assistant Secretary to the Registrar and then, upon the resignation of Alexander Orme, he was appointed Diocesan Registrar in 1913.
Gall served in uniform in both World Wars. He enlisted in late 1915 for World War I and spent over twelve months in France, when he noted in a letter (published in the March 1918 edition of the Church Chronicle): "a friendly land, and the (French) people are always so ready with a smile. One's heart warms to them in admiration for their bravery." In October 1917 Gall was seriously wounded at the Battle of Passchendaele. The Church Chronicle for May 1918 notes:
"(Gall) was hit in the jaw by a piece of high explosive and lay unconscious for twenty hours. While in this condition he was blown up by another shell and injured in the ankle and lung."
He contracted pneumonia due to his injuries and exposure. Gall survived – attributing his rescue and survival to "the continued petitions rising on his behalf from the hearts of the faithful." In World War II he was again in uniform, helping the work of the Red Cross as one of its Commissioners.
In his role as Registrar, Gordon Gall oversaw significant development in the Diocese, including the construction of St Martin's War Memorial Hospital, the move of the Theological College from Nundah to its current home in Milton, and the establishment of Slade School in Warwick and Churchie in East Brisbane.
He was considered a financial adviser of great ability (of particular use during the Great Depression) and a devoted family man, spending many years caring for his invalid wife, who predeceased him by only a few years.
Gall retired due to ill health in December 1946 and spent the last months of his life in St Martin's War Memorial Hospital (now St Martin's House). He passed away on Sunday 23 February 1947. The funeral service was held in the Cathedral on the 25th, which was conducted by the Coadjutor Bishop Horace Dixon with Archbishop Halse reading the Lesson.
In the Church Chronicle of April 1947, Archbishop Halse noted that Gall was:
"…one of the most respected and saintly lay men, whom it has been my privilege to meet….His simple faith and trust in God was only equalled by the fortitude with which he bore great suffering and pain. His end was a merciful release to one who had long learnt to take up his cross daily and follow Christ."
As Dean Barrett noted in his address at Gall's funeral:
"The duties of a Registrar are not spectacular, nor do they lend themselves to 'highlights' but they are very important to the material side of Church affairs."
Jump to next article