Pray Daily: April 2020
Find out our Diocese's April daily prayer points and join our community in intercession this month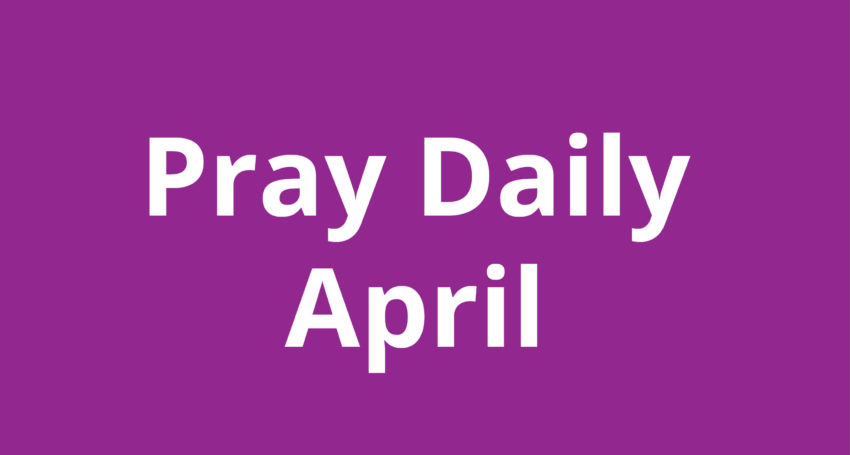 'Pray Daily' is a cycle of suggested daily prayer points for each month. The cycle covers parishes, schools and other entities across the Anglican Church Southern Queensland, as well as other Anglican Dioceses internationally.
Pray Daily can also be downloaded as a PDF or Word as a  doc for easy printing.
Pray Daily – April 2020
Throughout April
Coronavirus pandemic – a suggested prayer:
Gracious God,
We give thanks anew for your providence and presence.
We prayerfully seek your grace, amidst COVID-19 here and overseas.
We pray for those in need of healing.
We pray for your peace with those who are anxious or grieving.
We pray you will continue to strengthen and sustain all those who are serving in response.
We pray for your Holy Spirit's discernment amidst the many choices and decisions facing our national, community and medical leaders.
We pray we each might see quickly what more we can do to help those who are vulnerable.
This prayer for our nation in the family of nations, with all that is on our hearts, we gather now and pray through Jesus Christ our Lord. AMEN.
(A prayer from the National Council of Churches)
Parishes seeking new incumbents: Algester, Bardon, Bulimba, Carindale, Gayndah, Goonaneman, Lutwyche, Kingaroy, Mt Gravatt, Noosa, Sunnybank, Tamborine Mountain, Woolloongabba 
 Wednesday 1 April
The Dioceses of Mbhashe (Southern Africa): †Elliot Williams; Wernyol (South Sudan): †Gabriel Kuol Garang
The Diocese of Duk and the ongoing work of peace-making in South Sudan: †Daniel Deng Abot
The Anglican Church of Australia: The Acting Primate †Phillip Aspinall; The General Secretary – Anne Hywood; The General Synod and the Standing Committee
The Parish of South Brisbane: Alan Moore, Rod Irvine, Lex MacQueen, Richard Gibson, Ian McGrath, John Arnold
Anglicare ASCQ: Karen Crouch & staff
Anglican Schools Office, Church House: Executive Director – Sherril Molloy & staff
 Thursday 2 April
The Dioceses of Meath & Kildare (Ireland): †Patricia Louise Storey; West Ankole (Uganda): †Johnson Twinomujuni; West Buganda (Uganda): †Henry Katumba-Tamale
The Diocese of Adelaide: †Geoff Smith, †Timothy Harris, †Chris McLeod, †Denise Ferguson; Clergy & People
The Parish of Southport: Don Parker, John Pinson, Jim Edson, Margaret Hampson
Anglicare Australia: Kasy Chambers & staff
Anglican Church Grammar School, East Brisbane: Headmaster – Alan Campbell; Chaplain – Bryan Gadd; Chair of School Council – Daniel O'Connor, members of School Council; staff & students
 Friday 3 April
The Dioceses of Medak (South India): †A.C. Solomon Raj; West Lango (Uganda): †Alfred Acur Okodi
The Diocese of Armidale: †Rick Lewers; Clergy and People
The Parish of Springfield: Charlie Lacey, Erika Williams, Trevor Adams
Princess Alexandra Hospital and Mater Hospital ministry: Cheryl Selvage, Joanne McDiarmid, Adriana Graham and Volunteers
Cannon Hill Anglican College, Cannon Hill: Principal – Gary O'Brien; Chaplain – Vacant; Chair of College Council – Gavin Nicholson; members of College Council; staff & students
 Saturday 4 April
The Episcopal Church of West Missouri: †Martin Field
The Diocese of Bathurst: †Mark Calder; Clergy and People
The Parish of St George with Dirranbandi: Paul Mitchell – Locum
Royal Brisbane & Women's Hospital: Carol O'Ryan, Judy Shepherd & Volunteers
Canterbury College, Waterford: Principal – Daniel Walker; Chaplain – Elroy Mee; Chair of College Council – Jeff Thomas; members of College Council; staff & students
 Sunday 5 April
Pray for the Church of the Province of the Indian Ocean – †James Richard Wong Yin Song – Archbishop, Province of Indian Ocean & Bishop of the Seychelles
The Diocese of Ballarat: †Garry Weatherill; Clergy and People
The Parish of St John's Cathedral: Peter Catt, Julia Van Den Bos, Ann Solari, Kate Ross, John Morgan, Richard Tutin, Bruce Henzell, Bruce Maughan, Mary Roberts, Mary Florence, Alwyn Hayes, Alan Sandaver, Terry Booth, Libbie Crossman, Linda McWilliam, Bruce Boase, Cheryl Selvage, Sarah Plowman, Graham Dorman, Nicole Colledge, George Markotsis, Bp Bill Ray, Graham Warren, Edmund Dunglison, Imelda O'Loughlin, Bp Doug Stevens
Queensland Children's Hospital: Carol O'Ryan
Coomera Anglican College, Coomera: Principal – Mark Sly; Chaplain – Mary-Anne Rulfs; Chair of School Council – Stephen Knott; members of College Council; staff & students
 Monday 6 April
The Dioceses of Meru (Kenya): †Charles Mwendwa; West Malaysia (South East Asia): †Ng Moon Hing; The Episcopal Church of Idaho: †Brian Thom
The Diocese of Bendigo: †Matt Brain; Clergy and People
The Parish of St Lucia: Michael Faragher, David Johnstone, Karol Misso, Hugh Begbie, Bill Crossman, Tom Van Den Bos
Prince Charles & Holy Spirit Northside: Judy Burt and Volunteers
Fraser Coast Anglican College, Hervey Bay: Principal – Joe Wright; Chaplain – Jeff Jarvis; Chair of College Council – Kirsti Kee; members of College Council; staff & students
 Tuesday 7 April
The Dioceses of Mexico (Mexico): †Carlos Touche-Porter; Ideato (Nigeria): †Caleb Maduoma; The Episcopal Church of West Tennessee: †Don Johnson
The Diocese of Brisbane: †Phillip Aspinall; Assistant Bishops: †Cameron Venables, †Jeremy Greaves, †John Roundhill; Clergy and People
The Parish of Stafford: Kevin Bourke, Lee Gauld, Leisha Rule, Keith Foote, Heather Toon
St Pete's Brekkie Club & St Pete's Pantry, Wynnum
Hillbrook Anglican School, Enoggera: Principal – Geoff Newton; Chaplain – David Adams; Chair of School Council – Robert Seljak; members of School Council; staff & students
 Wednesday 8 April
The Episcopal Churches of Michigan: †Bonnie Perry; West Texas: †David Reed
The Diocese of Bunbury: †Ian Coutts, Clergy and People
The Parish of Stanthorpe: Daniel Sitaram, Alan Colyer
Trinity Family Support Network, Robina
Matthew Flinders Anglican College, Buderim: Principal – Stuart Meade; Chaplain – Kathrin Koning; Chair of College Council – Evan Gilbert; members of College Council; staff & students
 Thursday 9 April
The Diocese of Western Izon (Nigeria): †Edafe Emamezi; The Episcopal Churches of Milwaukee: †Steven Miller; West Virginia: †Willam Michie Klusmeyer
The Diocese of Canberra-Goulburn: †Mark Short, Assistant Bishops: †Trevor Edwards, †Stephen Pickard & †Carol Wagner; Clergy and People
The Parish of Strathpine: Des Potter, Beryl Nielsen
FSG (Family Support Group)
St Aidan's Anglican Girls' School, Corinda: Principal – Toni Riordan; Chaplain – Gillian Moses; Chair of School Council – Cecile Wake; School Council members; staff & students
 Friday 10 April
The Diocese of Minna (Nigeria): †Daniel Abu Yisa; The Episcopal Church of Western Kansas: †Michael Milliken
Ministry to the Defence Force: †Grant Dibden; Chaplains & Members of the Defence Force
The Parish of Sunnybank: Colin Nicholson – Locum, Peter Jeffery, Rhonda Soltes
Child Care Centres
St Andrew's Anglican College, Peregian Springs: Principal – Chris Ivey; Chaplain – Gary McClellan; Chair of College Council – Rosalyn Cheales; members of College Council; staff & students
Saturday 11 April
The Dioceses of Western Kowloon (Hong Kong): †Andrew Chan; Idoani (Nigeria): †Ezekiel Dahunsi; The Episcopal Church of Minnesota: †Brian Prior
The Diocese of Gippsland: †Richard Treloar, Clergy and People
The Parish of Surfers Paradise: Michael Uptin, Len Nairn, Lima Bray, Trevor Sketcher
St John's Cathedral Shop
St Hilda's School, Southport: A/g Head of School – Wendy Lauman; Chaplain – Patrick Duckworth; Chair of School Council – Susan Brandis; members of School Council; staff & students
 Sunday 12 April
Pray for the Peace of Jerusalem and the People of the Land of the Holy One
The Diocese of Grafton: †Murray Harvey; Clergy and People
The Parish of Tamborine Mountain: Ken Spreadborough – Locum, John Corner, Martin Hunnybun, Robin Keeley
Roslyn Lodge Pastoral Visitation Program, Mt Tamborine
St Luke's Anglican School, Bundaberg: Principal – Craig Merritt; Chaplain – Iain Furby; Chair of School Council – Hermina Conradie; members of School Council; staff & students
 Monday 13 April
The Dioceses of Mishamikoweesh (Canada): †Lydia Mamakwa; Ife (Nigeria): †Olubunmi A Akinlade; Ife East (Nigeria): †Oluseyi Oyelade; The Episcopal Church of Western Louisiana: †Jacob W Owensby
Ministry with the Aboriginal People of Australia: †Chris McLeod
The Parish of Tara: Lay Ministry Team
Emergency Relief Programs
St John's Anglican College, Forest Lake: Head of College – Maria McIvor; Chaplain – Vacant; Chair of College Council – Steve Scott; members of College Council; staff & students
 Tuesday 14 April
The Dioceses of Ifo (Nigeria): †Nathaniel Oladejo Ogundipe; The Episcopal Church of Mississippi: †Brian Seage;
Western Massachusetts: †Douglas Fisher
Ministry with the Torres Strait Island People of Australia
The Parish of Texas-Inglewood: Kay Hart – Locum
Churchwardens, Parish Councillors, Parish Nominators and Synod Representatives
St Margaret's Anglican Girls School, Ascot: Principal – Roslyn Curtis; Chaplain – Susan Crothers-Robertson; Chair of School Council – Alison Quinn; School Council members; staff & students
 Wednesday 15 April
The Diocese of Western Mexico (Mexico): Ricardo Joel Gómez Osnaya†; The Episcopal Church of Missouri: †Wayne Smith
The Diocese of Melbourne: †Philip Freier; Regional Bishops: †Genieve Blackwell, †Bradly Billings, †Paul Barker, †Kate Prowd; Clergy and People
The Parish of The Gap: Bruce Sligo – Locum, Ken Collins, Desley Green
Liturgical Assistants in parishes and schools
St Paul's School, Bald Hills: Headmaster – Paul Browning; Chaplain – Mark Leam; Acting Chair of School Council – Lynda Johnson; members of School Council; staff & students
 Thursday 16 April
The Diocese of Mityana (Uganda): vacant; The Episcopal Churches of Western Michigan: †Whayne Hougland;
Western New York: †William Franklin
The Diocese of Newcastle: †Peter Stuart; Regional Bishops: †Sonia Roulston, †Charlie Murry; Clergy and People
The Parish of The Lakes Anglican Church: Daniel Berris, John Simpson
Home Carers
The Glennie School, Toowoomba: Interim Principal – Peter Crawley: Chaplain – Sharon Mitchell; Chair of School Council – Elizabeth Gillam; members of School Council; staff & students
 Friday 17 April
The Dioceses of Mombasa (Kenya): †Alphonce Mwaro Baya; Western Newfoundland (Canada): †John Organ; The Episcopal Church of Western North Carolina: †José Antonio McLoughlin
The Diocese of the Northern Territory: †Greg Anderson; Clergy and People
The Parish of Toowong: Tom Sullivan, Alan Dale, Elsie Clack
St John's Home for Aged Men – Toowong
The Southport School, Southport: Headmaster – Greg Wain; Chaplain – Jonathan Whereat; Chair of School Council – Fraser Perrin; members of School Council; staff & students
 Saturday 18 April
The Dioceses of Monmouth (Wales): †Cherry Vann; Western Tanganyika (Tanzania): †Sadock Makaya; Igbomina (Nigeria): †Emmanuel Adekola
The Diocese of North Queensland: †Keith Joseph; Clergy and People
The Parish of Toowoomba West: Pauline Harley, Arthur Prosser, Andrew Baldwin, John Tyler
St Martin's Residential Aged Care – Taigum
The Springfield Anglican College, Springfield: A/g Head of College – Wendy Ashley-Cooper; Chaplain – Erika Williams; Chair of College Council – Tim Reid; members of College Council; staff & students
 Sunday 19 April
Pray for the Church of Church of Ireland – Vacant
The Diocese of North West Australia: †Gary Nelson; Clergy and People
The Parish of Toowoomba, St Bartholomew's: Adam Lowe, Daniel Rouhead, Peter Dutton, Bettrys Lowe, Amy Norman, Michael Calder, Holly Adamson
Anglicare SQ Children & Families, Morayfield Residential & Foster Kinship Care
Toowoomba Anglican School, Toowoomba: Head of School – Simon Lees; Chaplain – Zoe Browne; Chair of School Council – Mac Drysdale; members of School Council; staff & students
 Monday 20 April
The Dioceses of Wiawso (West Africa): †Abraham Kobina Ackah; Igbomina – West (Nigeria): †Olajide Adebayo; The Episcopal Church of Montana: †C. Franklin Brookhart
The Diocese of Perth: †Kay Goldsworthy; Assistant Bishops: †Kate Wilmot, †Jeremy James; Clergy and People
The Parish of Toowoomba, St James: Mark Carlyon, Bev Thorogood, John Pryce-Davies, Garth Shaw, Deborah Bird, David Snape, Matthew Weatherley
Anglicare SQ Multicultural Program
West Moreton Anglican College, Karrabin: Principal – Geoff McLay; Chaplaincy team – Louise Orpe, Brenda Davis & Juliana Bate; Chair of College Council – Ian Lupton; members of School Council; staff & students
 Tuesday 21 April
The Dioceses of Montreal (Canada): †Mary Irwin-Gibson; Ijebu (Nigeria): †Ezekiel Awosoga; Ijebu – North (Nigeria): †Solomon Kuponu
The Diocese of Riverina: †Donald Kirk; Clergy and People
The Parish of Toowoomba, St Luke's: Paul Mitchell, Peter Mayen, Fred Ailwood, Terry Leonard, Bill Watson, Bp Clyde Wood, Malcolm Twine, Sharon Mitchell
Anglicare SQ Mental Health & Wellbeing
All Saints Anglican School, Merrimac: Headmaster – Patrick Wallas; Chaplain – Ann McGuinness; Chair of School Council – John Fradgley; members of School Council; staff & students
 Wednesday 22 April
The Dioceses of Moosonee (Canada): †Thomas Corston; Winchester (England): †Tim Dakin
The Diocese of Rockhampton: Vacant; Clergy and People
The Parish of Torres Strait Islander Parish:
Anglicare SQ Brisbane South Community Services
St John's College UQ: Rose Alwyn – Warden; Chaplain – Ceri Wynne; Chair of Council – John Peden; members of College Council; staff & students
 Thursday 23 April
The Dioceses of Moray, Ross & Caithness (Scotland): †Mark Strange; Windward Islands (West Indies): †C. Leopold Friday; Wondurba (South Sudan): †Matthew Taban Peter
The Diocese of Sydney: †Glenn Davies; Assistant Bishops: †Peter Hayward, †Christopher Edwards, †Peter Lin, †Michael Stead, †Malcolm Richards, †Gary Siew Leong Koo; Clergy and People
The Parish of Warwick: Lizzie Gaitskell, Barbara Diery, Julie Simpson, Rosemary Peterson, Stephanie Frances, Valerie Graydon
Anglicare SQ Living Well Program
St Francis Theological College, Milton: Principal – †Jonathan Holland; Academic Dean – Peter Kline; staff; sessional lecturers & students
 Friday 24 April
The Dioceses of Morobo (South Sudan): †James Kenyi Elia; Worcester (England): †John Inge
The Diocese of Tasmania: †Richard Condie; Assistant Bishop †Chris Jones; Clergy and People
The Parish of Waterloo Bay: Scott Gunthorpe, John Bretz, James Cosgrove, Rhonda Soltes
Anglicare SQ The Glebe retirement village (Toowoomba)
Anglican Schools Australia Management Committee and Member Schools: President – Peter Laurence
 Saturday 25 April
The Dioceses of Morogoro (Tanzania): †Godfrey Sehaba; Wulu (South Sudan): †Zacharia Mangar Apeti; Ijesa North East (Nigeria): †Joseph Olusola
The Diocese of The Murray: †Keith Dalby; Clergy and People
The Parish of Wilston: Max Lambourne, David Pope
Anglicare SQ Remote and Rural Community Services
All Anglican Schools Business Managers/Bursars and Senior Leaders
 Sunday 26 April
Pray for the Episcopal Church in Jerusalem & The Middle East – †Michael Lewis –Archbishop, Jerusalem & the Middle East & Bishop of Cyprus and the Gulf
The Diocese of Wangaratta: †Clarence Bester; Clergy and People
The Parish of Wishart: Peter Judge-Mears, Thomas Milton, Christopher Boyce, Graeme Goldsworthy, David Rogers-Smith, Michelle Philp
Anglicare SQ West Region Community Services (Toowoomba)
State School Teachers
Monday 27 April
The Dioceses of Mount Kenya Central (Kenya): †Timothy Gichere; Mount Kenya South (Kenya): †Timothy Ranji; Mount Kenya West (Kenya): †Joseph Kagunda
The Diocese of Willochra: †John Stead; Clergy and People
The Parish of Woolloongabba: Bp Doug Stevens – Locum
Anglicare SQ Homelessness Services – Women & Families
Tuesday 28 April
The Dioceses of Mount Kilimanjaro (Tanzania): †Stanley Elilekia Hotay; Wusasa (Nigeria): †Ali Buba Lamido; Ijesha North (Nigeria): †Isaac Oluyamo
The Parish of Wynnum: Donna Petersen
Sudanese Congregations in Anglican Church Southern Queensland
Wednesday 29 April
The Diocese of Mpumalanga (Southern Africa): †Daniel Kgomosotho; The Episcopal Church of Wyoming: †John Smylie
The Parish of Yeronga: Rebecca King
Converge International Industrial Chaplain
 Thursday 30 April
The Dioceses of Mpwapwa (Tanzania): †Jacob Erasto Chimeledya; Yambio (South Sudan): †Samuel Peni; Yangon (Myanmar): †Stephen Than Myint Oo
The Parish of Zillmere: Helen Button, John Keyt, Margorie Charrington, Sr Gillian SSA
Indigenous Leaders and Communities in the Diocese
Jump to next article