Dispatch from a Defence Force and community chaplain
"My chaplaincy ministry is not always eventful, but it is always meaningful. In chaplaincy roles there are often big stories to tell and I have my own share of these… But chaplaincy isn't always about the 'eventful'," says Air Force and community chaplain, Michelle Philp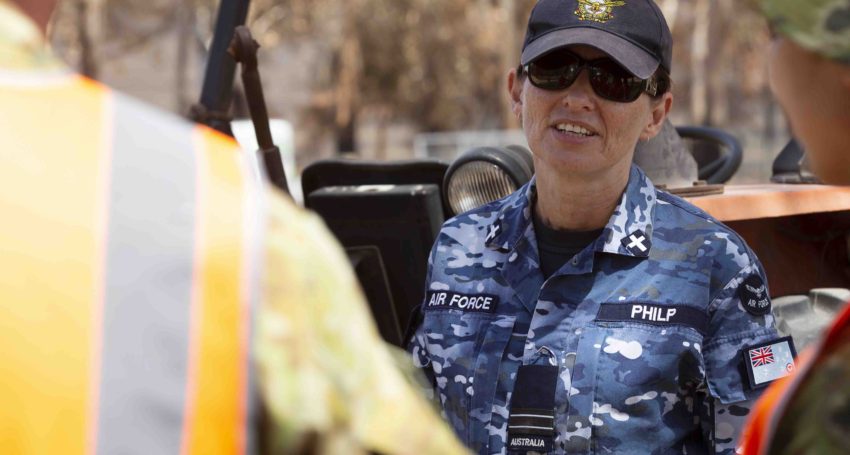 "With these border closures I haven't seen my husband in weeks and I'm not sure when I'll get to see him again. The uncertainty and that it is dragging on and on are really getting me down. I'm losing hope and everything is starting to get on top of me. Nothing is bringing me joy right now and I don't know how long I can go on like this for." Such is the nature of many of the conversations I'm currently having with both Defence members and civilians during the COVID-19 period and its necessary quarantine and border closure measures.
My chaplaincy ministry is not always eventful, but it is always meaningful. In chaplaincy roles there are often big stories to tell and I have my own share of these. One of the great contributions of chaplaincy is being there for the disasters, the unexpected, the 'eventful'. You may have read the recent anglican focus news story about my role as one of the many Defence chaplains who served with Operation Bushfire Assist in January and February this year. It was a great honour to be involved in helping fellow Australians in their recovery after the devastating fires. But chaplaincy isn't always about the 'eventful'. More often than not, it is about being there for people in the many ups and downs of their ordinary lives – the workplace stresses, the relationship breakdowns, the family member experiencing mental illness, the struggle with their own mental health, the miscarriages, and so on. It is these 'everyday' chaplaincy needs that unite my two roles – one as a Royal Australian Air Force chaplain and the other as a Community Chaplain in the Parish of Wishart.
After working full-time in church ministry for 10 years, I went into Defence Force chaplaincy looking to get outside the 'Christian bubble' and minister in a completely different environment. In the Air Force I get to serve those who serve our country by being a listening ear, an advocate and someone people can turn to when the challenges of life and work get too much. Most of all I get to be someone who can offer compassion and a voice of hope in a way that servicepeople may not have experienced before.
Something that seemed so normal only a few months ago, suddenly felt so weird. I was walking into a room of people for a local community function. The Mt Gravatt Rotary Club was holding a memorial service for those affected by family and domestic violence, followed by a fundraising dinner. I hadn't seen people in a face-to-face setting like this for months and I found myself feeling a bit nervous, but then I start seeing the local faces that I knew – Jim, the President of the Rotary Club and a fellow ADF chaplain; Toni, a local funeral director and organiser of the local Women in Business Committee; Corrine, my local state MP; Carwyn, President of PROBUS who hold their annual commencement service at St John's, Wishart; Kim, another Rotary member whom I have met in the community…and I start to relax. This is my community. These are the people and the local organisations that I am a chaplain for. These are the people who have asked me to pray for those impacted by domestic and family violence in our community, as their community chaplain. During the evening, I grieve with those who grieve, uphold our emergency services personnel in prayer and give hope to the community as I take our requests before a sovereign Lord who promises to hear us, to wipe away our tears and to bring comfort. My heart swells. These are the neighbours God has called me to love as myself.
When I started applying for Defence chaplaincy, I was sure that at some point the door would slam in my face. I thought I would be deemed not fit enough or medically healthy enough or some such thing…but suddenly I found myself in uniform walking through the Russell Offices in Canberra (where the 'top brass' are based), not knowing whom to salute or even how to salute! But I knew Jesus and I knew how to care for people, how to listen and how to be His representative in the workplace.
For 18 months I continued as an Air Force chaplain in a reservist capacity for roughly three days per week while also serving as a deacon at an Anglican Church in Canberra. During that time, a number of different factors coincided, including my dad having a heart attack while on holidays in Germany, which led me moving to Brisbane with both the Anglican Church and the Air Force.
When I first spoke to The Rev'd Peter Judge-Mears, the Rector of St John's, Wishart, he had a vision for someone to do pastoral care within the church community. As he and I talked, we sharpened and expanded that vision to incorporate the skills I had been acquiring in Air Force chaplaincy. We wanted the role to include pastoral care for the whole local community, as well as for our regular church members. We recognised that the label 'chaplain' opens doors within a community that 'minister', 'priest' or 'deacon' often don't.  People recognise that chaplains are an integral part of school, hospital, emergency services and Defence communities, so we wanted to extend the unique capacities of chaplaincy to our local suburban and parish community.
As a community chaplain I see my role as both 'loving my neighbour as myself', by being available for people to talk to when they need a listening ear or a helping hand, and also being missional, by taking any opportunity to witness' Jesus love in the community. That means engaging as a chaplain with initiatives the community is already engaged in, such as spending time with local politicians and making myself available if they need a confidential listening ear; meeting the workers at our local community centre and supporting them in what they are doing – and letting them know I am available for them or their clients; running ceremonial services, such as Anzac Day and Remembrance Day services either at church or through the local RSL club or Rotary; attending local 'women in business' events to network with local businesses and speak at events; and, participating in neighbourhood events run by our local community hub and being an active contributor on the hub's Facebook page. I also run a 'Wishart Community Chaplain' Facebook page where I post content relating to mental health and local community issues and invite people to get in contact with me. My general motto is 'if you need an ear, I am here'.
I try to inspire members of my church with ways that they, too, can get involved in this outreach work in our community. For example, last year a few teams gathered to sing Christmas carols at places of disadvantage in our area. We distributed small gift packs that included food and toiletries, as well as promotional material for our Christmas services and area. We have also started a Street Library out the front of our church and are looking for ways to welcome new people into our suburb as they settle in.
My two chaplaincy roles integrate very well with one another, as I often take things I have learned in one context and apply them to the other. A retired Army Major in Wishart was one of the first to recognise how beneficial the role of a chaplain could be to a local community, having experienced chaplaincy during his time serving. His support of the role with both ideas and technology has greatly benefited me and provides the potential to see community chaplains set up in other Anglican parishes as well. While other Anglican Dioceses, and indeed other Christian churches have community chaplains, I think my role is a first for the Anglican Church Southern Queensland, so if you would like to know more, feel free to contact me via email or Facebook. Chaplaincy is such a great ministry. I feel very privileged to be a part of it.
Editor's note 18 September 2020: Congratulations to Chaplain Michelle Philp who was awarded a Silver Commendation for her efforts in Operation Bushfire Assist from the Task Force Commander. Silver Level Commendations are awarded for excellent achievement in the application of skills, judgement or devotion to duty.
Jump to next article