Queensland pays tribute and remembers police sacrifice
Hundreds of worshippers and dignitaries honour the lives of our state's fallen police officers, as a young constable fights for his life in intensive care after being hit by a vehicle in the line of duty the day before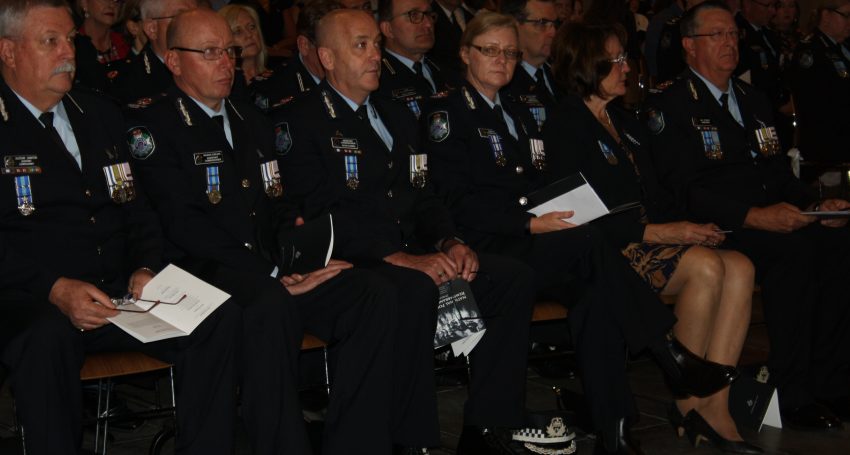 Bugles and bagpipes echoed throughout St John's Cathedral on the eve of Police Remembrance Day on 28 September as a young police officer lay fighting for his life in hospital just a few kilometres away.
The service was more solemn and poignant than usual with the news still hanging heavily in the air of the life-threatening injuries to 24-year-old police Constable Peter McAulay who had been critically injured the day before, when he was hit by a suspected stolen car allegedly driven by two teenagers.
The Governor Paul de Jersey joined over 300 worshippers and a host of dignitaries including Police Minister Mark Ryan, Archbishop of Brisbane the Most Rev'd Dr Phillip Aspinall, Dean of St John's Cathedral the Very Rev'd Dr Peter Catt, Police Commissioner Ian Stewart and Anglican Police Chaplain Rod Wood.
They prayed for Constable McAulay and eulogised the 147 fallen Queensland Police Service (QPS) officers (dating back to 1861), as well as all officers who put their lives on the line every day to serve and protect the public.
The Police Minister Mr Ryan said it was a time to remember those officers who had given their lives in the line of duty and to tell their family and friends they will not be forgotten.
"The men and women who faithfully served the QPS are truly missed," Mr Ryan said.
"I have comfort in knowing their memories will live on in the hearts and minds of their loved ones."
Police Commissioner Stewart said: "No greater sacrifice can be asked for, or can be made, than that of these fine men and women whom we acknowledge today.
"Nor must we forget their families, partners, friends and colleagues who also have sacrificed and lost so much."
Bishop for Southern Queensland, the Right Rev'd John Roundhill gave the homily and pondered about how different the world might be without the original sin committed by Adam and Eve – a world which didn't require police or priests and politicians; where everybody was completely honest and always did the right thing.
But, Bishop John reflected, the reality of the world in the 21st Century was that "it has sin, wrongdoing and it calls for sacrificial service. That is one of the outcomes of the fall story (of Adam and Eve), we live in a world of labour and longing, a world in need of sacrificial love.
"We are here today to honour – truly honour – those who have given much of their lives in service in the police force.  This is a love, a sacrificial service. In the words of Jesus in the reading from John's Gospel – 'there is no greater love than to lay down ones life for one's friends'."
Many of the prayers offered at the service were answered with the brighter news this week of Constable McAulay's improving medical condition. He was moved from the Intensive Care Unit of the Princess Alexandra Hospital and was able to sit up in bed and communicate with his family.
Two teenagers, a 16-year-old boy and 15-year-old girl, have been charged with attempted murder and unlawful use of a motor vehicle.
Jump to next article