New laws aimed at ending modern slavery in supply chains at a critical point
Australia is moving closer to introducing a Modern Slavery Act, with its passage through the Federal Parliament now at a critical juncture: find out how you can help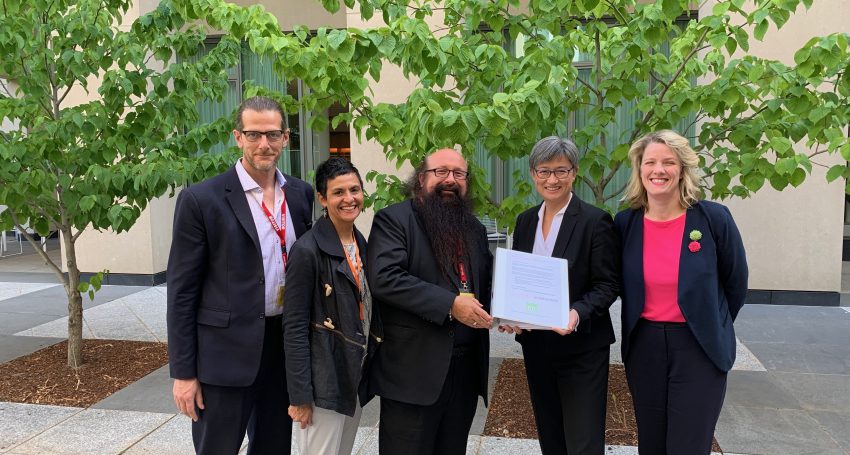 Australia is moving closer to introducing a Modern Slavery Act, with its passage through the Federal Parliament now at a critical juncture.
Although it has in-principle bi-partisan support, the Government and Crossbench have continued to negotiate final details of the Bill ahead of Parliament sitting for the final time in 2018, commencing 26 November.
The regime proposed under the Bill will establish reporting requirements for certain large businesses and other entities in Australia on their actions to address modern slavery risks in their operations and supply chains, providing an unprecedented level of transparency and accountability.
Director of Stop the Traffik Australia Carolyn Kitto is calling for people to help support a multi-agency campaign by lobbying our nation's political leaders to back the Bill.
"The Modern Slavery Act has the potential to change the lives of millions of people in forced labour conditions in the supply chains of the products and services we consume in Australia.
It is important that the Prime Minister and the leadership of the Coalition understand there is political advantage in being seen to support this Bill."
Stop The Traffik has been instrumental in leading an Australian coalition to introduce a Modern Slavery Act.
The Anglican Church of Southern Queensland is a member of Stop the Traffik, and has supported the campaign, along with the Canberra-Goulburn Diocese, and agencies such as Anglican Overseas Aid, Oxfam and Australian Catholic Religious Against Trafficking in Humans.
Stop The Traffik, along with coalition partners, were recently in Canberra working closely with all sides of Parliament to try and ensure passage of the Bill before the end of the year.
Their campaign follows similar campaigns that helped introduce laws in the United Kingdom.
The campaign is also the culmination of extensive work at a national level, with the Joint Standing Committee on Foreign Affairs, Defence and Trade conducting an inquiry that received over 200 submissions, culminating in the December 2017 report Hidden in Plain sight.
Slavery and human trafficking continue to be among the most prolific international criminal activities, affecting millions of men, women and children every day.
Australia is not immune to this, with people living and working under slave-like condition in Australia, and many of our business practices contributing to slavery elsewhere.
To support Stop The Traffik's campaign, you can email your Federal Members and Senators via beslavefree.org or order postcards from the Anglican Church of Southern Queensland's Justice Unit via email.
Jump to next article