Role models of resilience
St Hilda's girls were recently inspired by the stories of two strong and determined women, a paralympic medalist and a brave mum, who visited their school to share their powerful stories and talk about resilience techniques and character strength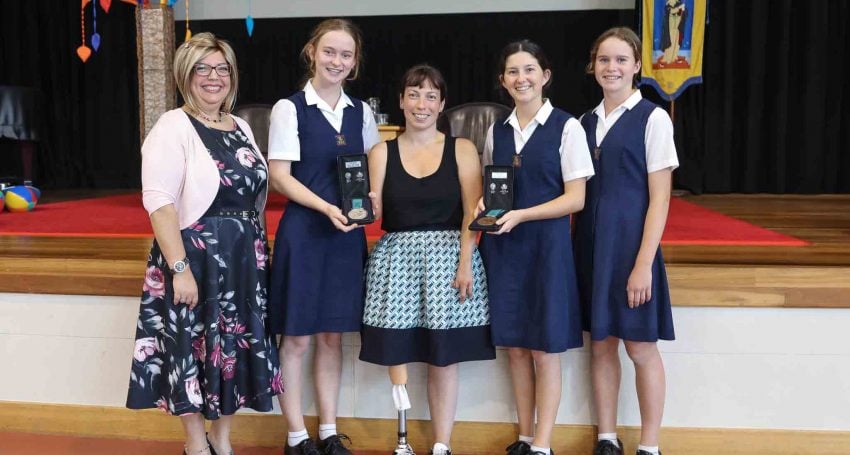 St Hilda's School Middle and Senior girls began Semester 2 with a special seminar on 'Resilience, Wellbeing and Success (RWS)'.
The seminar was hosted by two remarkable women, Elizabeth Wright and Frederika Roberts, whose shared life experiences brought them together to create RWS, a character education and positive psychology organisation which aims to help individuals and communities flourish.
Elizabeth is an Australian Paralympic Swimmer who held world records for Butterfly and won three Paralympic medals – one silver and two bronze.
Born with a congenital limb deficiency, Elizabeth's life prospects seemed bleak, but with parents who raised her to be independent, she developed a rock-solid self-belief and positive attitude to go on and achieve the seemingly impossible.
Elizabeth spoke to the girls about her journey as a swimmer, beginning at age 13 when she set herself the huge goal to swim at the Sydney 2000 Paralympic Games.
While she achieved that goal (and came away with medals), she explained to the girls that her journey was not without setbacks or tests of character and resilience.
"In one of my very first competitive races, I was so nervous that I swam the wrong stroke!" Elizabeth told the girls, reflecting that her embarrassment almost caused her to give up then and there.
She shared that her resilience was tested throughout her career, even in the race that eventually saw her win a Paralympic silver medal.
Ranked 15th amongst her peers, Elizabeth explained to the girls that she did not expect to win a medal in the race and that she expressed this to her coach.
Her coach instilled in her a belief that she was in with a chance if she stuck with the race plan that they had practised.
She showed up to the race and did just that.
"It's a reminder to believe in yourself, a reminder of the importance of attitude and to always show up and give 100%," she told the girls, holding up her Paralympic silver medal.
Frederika's path to creating RWS began differently.
She has faced every parent's worst nightmare, numerous times over. Between them, her two daughters have had two cardiac arrests and three open heart surgeries.
Frederika shared her family's story with the girls, reflecting on the challenges and threats to happiness that both she and her daughters were met with, including long hours in hospitals, interruption to schooling and more.
She stressed to the girls the importance of happiness and of focusing on the good in life.
"Tap into and be aware of the things that make you feel good, especially in tricky situations," Frederika said.
She shared with the girls some practical, simple strategies to help overcome challenges, both big and small.
One such strategy was 'Laughter Yoga', which ended with the assembly in fits of laughter.
Elizabeth and Frederika also both stressed the importance of a 'team' mentality.
"To achieve the goals you want in life, you need team and support – we need each other," Elizabeth said, and reminded the girls of the coach whose belief in her had spurred her on to great success.
"Being a team member is considered a character strength," Frederika added.
"It is powerful to work on your strengths and be aware of the strengths of those around you. This can make you a better team member."
Elizabeth also encouraged girls to think about the women who inspire them.
"Role models are a key element of character education too."
"Think of your role models – what are their best character traits and how can I emulate them?"
Together, Elizabeth and Frederika led the girls and teachers in team building exercises, which proved tricky, but also had teammates smiling and laughing together.
At the halfway mark, Elizabeth had the girls stand up and down a few times before asking them what they thought the purpose of the exercise was.
She eventually had to inform the group that the exercise was, in fact, squats!
"It's so important to get a little movement into your day-to-day life," Elizabeth told the girls, stressing that another key way to improve overall wellbeing is exercise.
Year 12 student and Head Daygirl, Kara Kroon, reflected on the seminar.
"The innovative presentation by Elizabeth and Frederika brought smiles across the audience, as well as instilled invaluable life advice regarding resilience, wellbeing and success."
"Their abundance of amazing experiences enabled them to deliver really captivating lessons, and left us wanting more."
"What a privilege to have been able to meet and talk with these ladies – I really thank them for coming to St Hilda's!"
Jump to next article