Community thanks 'Helicopter Heroes'
"While the recent fire which threatened the Peregian Springs area was a terrible event, the wonderful turnout today certainly showed that community spirit is alive and well on the Sunshine Coast," says St Andrew's Anglican College's Rebecca Crockett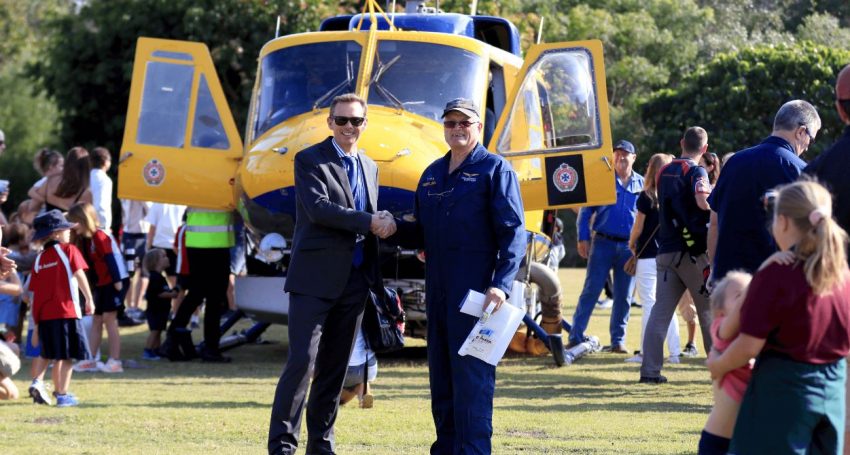 Under the grateful gaze of around 200 students and community members, helicopter heroes from the Peregian firefight flew into St Andrew's this morning allowing our community the chance to personally meet the heroic pilots, and give thanks for their efforts.
Upon landing at the College in the 214B Bell waterbomber, the most powerful of the three helicopters used during last week's fire event, and after the noise and bluster from the huge rotor blades stopped, the pilots jumped out and were welcomed with smiles and cards, handshakes and hugs.
Among the pilots at the event were David Williamson and Fergus Frater who were tasked to the Peregian firefight last week and took time to mingle in the crowd to answer all sorts of questions about the fire, the helicopters, themselves and flying in general.
Students and members of the public also had the chance to sit in the helicopter crew area and cockpit to 'drive' the aircraft.
Mr Williamson has over 50 years' flying experience and Mr Frater has been flying for over 30 years.
There were three helicopters used in the fires last week – two with a water tank and a hose to suck up fresh water (the 214B Bell helicopter and Bell 204, which are both American aircraft) and one with a bucket (the AS 365 Dauphine, a French aircraft).
The helicopter that landed this morning was the largest of the three due to its 3000 litre water tank, which takes 35 seconds to fill thanks to specialised internal pumps (some people may have seen it around the Peregian Springs Golf Course taking water from the lakes).
Mr Williamson said he was fighting fires in Bundaberg when he got the call to come down to Peregian Springs in the 214B helicopter.
The pilots work for McDermott Aviation, a family owned Cooroy-based company tasked to assist Queensland Fire and Emergency Services to fight fires across the state and in other parts of the country.
McDermott Aviation staff member Rod Miller said the company is the largest privately-owned aviation company in Australia and was happy to come to the event today.
After assimilating the noise of the chopper with a fire it's a "positive experience for people to interact with the chopper to see what they do and how they work."
In all, around 12 staff from McDermott Aviation visited this morning with pilots, support staff and Managing Director and Founder of McDermott Aviation John McDermott also attending.
Along with a fleet of specialist firefighting and rescue helicopters, McDermott Aviation also has fixed wing aircraft which works in 14 countries around the world in 23 locations for private charter and also supports emergency services, including organ transport, medivac and rescue.
While the recent fire which threatened the Peregian Springs area was a terrible event, the wonderful turnout today certainly showed that community spirit is alive and well on the Sunshine Coast.
Jump to next article