Anglican Registrars gather in Coolangatta
'Collaboration' was the emerging theme when Anglican Registrars from around the nation gathered in Coolangatta recently during a three-day conference, co-hosted by The Diocese of Brisbane and The Diocese of Grafton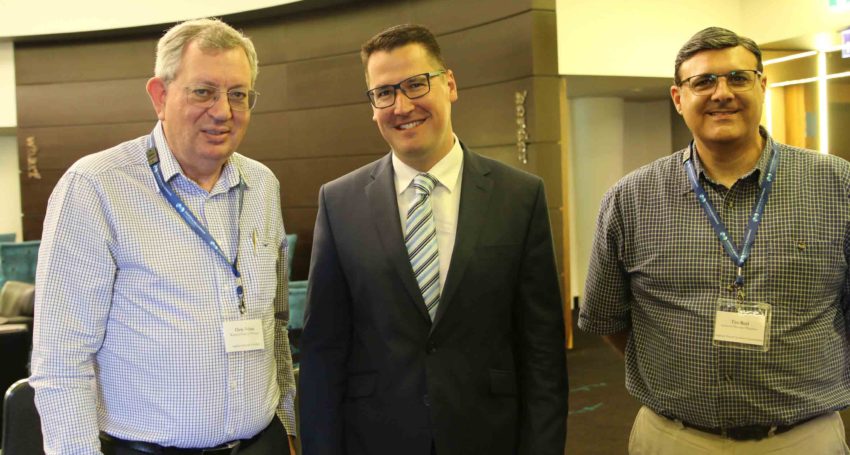 'Collaboration' was the emerging theme when Anglican Registrars from around the nation gathered in Coolangatta recently during a three-day conference, co-hosted by The Diocese of Brisbane and The Diocese of Grafton.
The national network of Anglian Registrars meets annually to discuss economic, risk and regulatory matters, with 19 speakers presenting at this year's event, including Senator the Hon Zed Seselja, Assistant Minister for Finance, Charities and Electoral Matters.
Mr Seselja, who was a panelist in a discussion on charity compliance, said that due to the way religious organisations and community connect and collaborate, churches have a unique and invaluable role to play in caring for people who are most marginalised.
"Religious organisations and the charities they run have unique links to their local communities and provide much-needed spiritual and emotional support for people doing it tough, alongside the practical support their charities deliver," Mr Seselja said.
"Some of the most recognised charities in Australia are faith based, such as Anglicare or the St Vincent de Paul Society, and the services provided by these charities, large or small, are invaluable to our community.
"The highlight of the conference for me was hearing from dedicated and caring Australians who are working hard in the charity sector for their local communities to get the best outcomes for those doing it tough."
Another key speaker of the conference was Perth-based organisational psychologist and consultant Dr Neil Preston, who has been working in the emergent design and collaborative leadership spaces for over twenty years.
Dr Preston said that healthy dialogue is essential for collaborative leadership in church organisations.
"Collaborative leadership in churches could look like a more dialogical process – where both ordained and laity come together to first find out what question they are asking of each other," Dr Preston said.
"Secondly through rich, safe and robust conversation they may try small experiments that shift the Church into a new way of being that both attracts and gives life to the Church."
Dr Preston said that Anglican Church leaders, including Registrars, face unique challenges in their roles, which can be addressed by embracing alternative leadership models and understanding how to identify and approach different kinds of problems.
"Contemporary church leaders are managing complex demands both within and without the church," he said.
"They first need to know the difference between simple, complicated and complex problems.
"Not all problems are the same – the truth is you don't solve complex problems, you tame them by collaboration and sense making using the entire wisdom of your church.
"If you want to be a collaborative leader, you need to host conditions for collective intelligence, not just for you own effort and skills."
The inclusion of professional development and wellbeing content in this year's conference program was in response to previous conference delegate feedback.
Diocese of Brisbane Registrar and General Manager Tim Reid said that the professional development and wellbeing presentations and activities were key highlights for him.
"At the conference we endeavoured to address some personal development and wellness topics, as well as the perennial topics related to risk, compliance, finance and IT," Mr Reid said.
"I particularly enjoyed the sessions on building resilience by Matthew Bates from sponsor LifeWorks and on taming complex problems from Dr Neil Preston, as well as a relaxing session of 'chair yoga'.
"Identifying complex problems and dealing with complexity was a key learning – being able to identify complex problems, as distinct from complicated problems, and realising that complex problems can rarely be solved, but can be tamed with a mature approach to collaboration."
Diocese of Grafton Registrar and General Manager Chris Nelson said that he was especially impressed by Neil Preston's model of collaborative maturity and the parish accounting systems of other Dioceses.
"The 2019 Registrars Conference was full of interesting and engaging speakers and topics pertinent to the challenges faced by senior administrators in the Anglican Church; however, the highlight for me was the presentation by Dr Neil Preston on the nature of complex organisational problems," Mr Nelson said.
"Dr Preston's deep knowledge of the topic and passionate presentation were deserving of a conference on its own.
"As usual, the process of coming together with colleagues leads to a fruitful exchange of ideas and experiences, and in my case, I will be contacting some of my colleagues who have made some progress on parish accounting systems so that I can use their experiences in my Diocese."
Among the more seasoned delegates at this year's conference were newly appointed Registrars, who also benefitted from the conference's collaborative networking opportunities and program activities.
Recently recruited Registrar for The Diocese of Riverina Louise Potter said that the conference helped shed light on the unique matters and functions of her role, and the importance of ongoing communication with other Registrars.
"The conference was invaluable for me. As a brand-new Registrar, it was great to be able to connect with other Registrars from around Australia and get some much-needed clarity regarding some of the more complex issues that Registrars deal with," Ms Potter said.
"The conference confirmed for me that the role of Registrar is quite a unique role and that developing and maintaining a strong network amongst Registrars is critical."
In addition to Mr Seselja, Dr Preston, Mr Bates, Mr Reid and Mr Nelson, conference speakers included Director of Fowler Charity Law, Mark Fowler; Executive Director of Anglicare SQ, Karen Crouch; financial markets experts from Ord Minnett, Alison Perrott and Geoff Malkin; risk expert from Marsh, Lyle Steffensen; Group Manager Redress and Claims from the Anglican Church Southern Queensland, Claire Jenkins; Safe Ministry Officer from General Synod Office, Meenal Selvaratnam; General Manager ­– Technology at blueAPACHE, Michael Zuppa; Group Manager Digital Innovation from the Anglican Church Southern Queensland, Patrick Meuleman; Finance and Operations Manager from General Synod Office, Marianne Yacoel; General Secretary of the General Synod, Anne Hywood; CEO of Anglican Insurance and Risk Services, Neil Bull; and, Chair of the Long Service Leave Fund Board Bishop Allan Ewing.
Morning or Evening Prayer featured on each day of the conference, with Bishop John Roundhill from The Diocese of Brisbane, Bishop Murray Harvey from The Diocese of Grafton and The Rev'd Eron Perry from the Parish of Burleigh Heads variously presiding.
Mr Reid said that coordinating and co-hosting the conference with The Diocese of Grafton helped ensure that the program was relevant for all diocesan Registrar delegates.
"I was very pleased to work with my colleague Chris Nelson from Grafton on the conference," he said.
"It was valuable having the two perspectives of a large metropolitan diocese and a regional diocese involved in assessing conference topics that would be of interest to the wide range of dioceses in Australia."
The conference was sponsored by blueAPACHE, Citrix, LifeWorks, Ord Minnett and Marsh.
Jump to next article