St Mary's, Kilcoy supporting the Archbishop's Emergency Relief Appeal
St Mary's, Kilcoy recently held a 'Breakfast Under The Branches' fundraising event, raising more than $1,000 for the Archbishop's Emergency Relief Appeal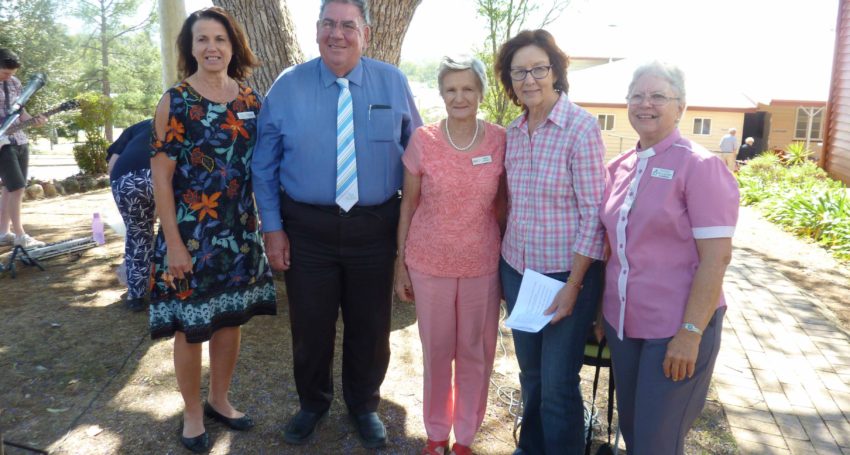 'What can we do?' That was the thought at St Mary's Anglican Church in Kilcoy – what can we do to help people both in our own area and further afield to cope through this dreadful time of drought? The idea to try and bring the community together with a focus to instill hope and a shared need to pray for rain was born.
A beautiful fine November Sunday morning brought more than 50 people together under the branches of a lovely big tree near the church entrance, where we enjoyed a breakfast of homemade damper and scones, along with the wonderful taste of barbequed sausages and platters of fresh fruit.
The St Mary's organising group was so very appreciative that Cr. Lehmann and Cr. Gaedtke were both able to attend. Both Councillors spoke about the need for, and importance of, reliable water supplies, and about resilience and the importance of 'community'. They both spoke with sincere concern for our farmers and local communities.
Priest-in-Charge at Kilcoy and Woodford The Rev'd Jilleen Chambers offered prayers, which were backed up by great music provided by parishioners Stewart Koplick and Jenna and Nathan Haywood.
The Rev'd Jilleen also shared how the money raised at the breakfast would be donated to the Archbishop's Emergency Relief Appeal and how the funds would be used.
Over $1000 was raised for the morning – every cent of which will go to the Archbishop's Emergency Relief Appeal. Jilleen made direct enquiries with parishes who had received funds from the Appeal. No administration costs are kept, as all donated funds are allocated to where they are needed. The funds are channeled to a number of areas, such as paying for doctor visits and medications; for children's dental visits; for newsagent accounts for children's school needs; and, many more things that are the hidden repercussions of drought.
The organisers also sought to have a representative from one of the many aid organisations supported by the Anglican Church. Mrs Ruth Blackburn from Maleny attended as a representative of Bush Church Aid (BCA). Ruth gave a wonderful testimony of the work done by BCA in rural and outback Australia. She also spoke about the power of prayer and encouraged everyone to continue to pray for rain and their struggling communities.
St Mary's, Kilcoy is really buoyed by the great response to our breakfast, so watch for future 'Breakfast Under The Branches' events, which are a wonderful time to come together as a community to enjoy some homemade baking and good company, while raising money for a worthy cause.
The Archbishop's Emergency Relief Appeal exists to make funds available to local parishes affected by drought, flood, fire or other emergencies in order to assist families in need with the purchase of groceries and other basic necessities, often from shops or service providers in their local communities. All money raised is spent on helping these families in need. You can make a difference by providing a gift to the Archbishop's Emergency Relief Appeal. Your gift will allow us to provide practical assistance and pastoral care to those who are struggling as result of drought or other emergencies and to show people that they are not alone.
Jump to next article