Whitney and Britney Chicken Divas visit Coomera Anglican College
"To date, 2020 has been filled with many unprecedented events that have influenced and changed our lives. The one thing that never changes is the pure delight of reading aloud to young children," says Director of the Early Learning Centre Jenny Rees on Coomera Anglican College's recent participation in National Simultaneous Storytime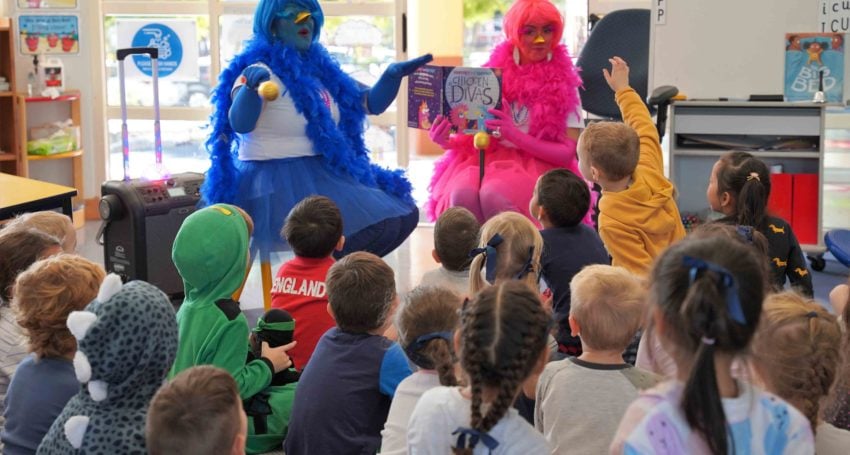 Coomera Anglican College Early Learning Centre recently participated in National Simultaneous Storytime, joining with communities to read the story Whitney and Britney Chicken Divas by Lucinda Gifford.
Dora is extremely perplexed each morning when she drops in on her chickens to find them sleeping and counting sheep. Why do they seem to sleep all day long? Dora decides to go in disguise to snoop. Following her chickens, Dora discovers Witney and Britney, dazzling the crowd with a Jazz number at 'Club Sparkles'. During the day they snooze and rest, but once night falls, they are 'Foxy and the Chickettes'!
This colourful, engaging story highlights the creativity, imagination and fun that reading and literacy offer children. It can transport them into another time and place far from the reality of the real world. Between the pages of a book, we can become immersed in the lives of fictional characters and learn about a culture entirely different from our own. Not only does a book act as a comfort and a friend, it also acts as a teacher and can teach children all about themselves, their world, and the cultures within it.
Late last month, we were surprised and delighted to welcome two gorgeous chooks, Fluffy and Silky, with stunning good looks, along with the elegant Dora von Dooze, their wonderful neighbour.
Our special visitors read, danced, and sang their way through the CAC Early Learning Centre up to Prep and Year 1, reveling in the excitement, the cheering and fun. As they disappeared up the hill to Prep, a young man from the Early Learning Centre turned to his teacher and said, "I love the pink chicken the best. She is beautiful!"
Our celebration of 'National Simultaneous Storytime' at Coomera Anglican College was one to remember! Children and adults alike enjoyed an entertaining performance from Whitney and Britney, Chicken Divas. After the turmoil that the past months have brought us, it was warming to see the children's faces light up when Kindergarten Teachers Jessica Gibbs, AKA 'Whitney', Tarryn Botha, AKA Britney, and Loren Gilmore, AKA Dora von Dooze entered the classroom in costume.
To date, 2020 has been filled with many unprecedented events that have influenced and changed our lives. The one thing that never changes is the pure delight of reading aloud to young children.
Jump to next article