Communities coming together to fight COVID-19 in Kenya
"We are facing tough financial moments now as [we have] no group meetings, nowhere to take our goat or chicken since the markets are closed and the hotels too. We are just praying to God to help the situation pass so that life goes back to normal," says Christine, a member of the Anglican Development Services, Eastern (ADSE)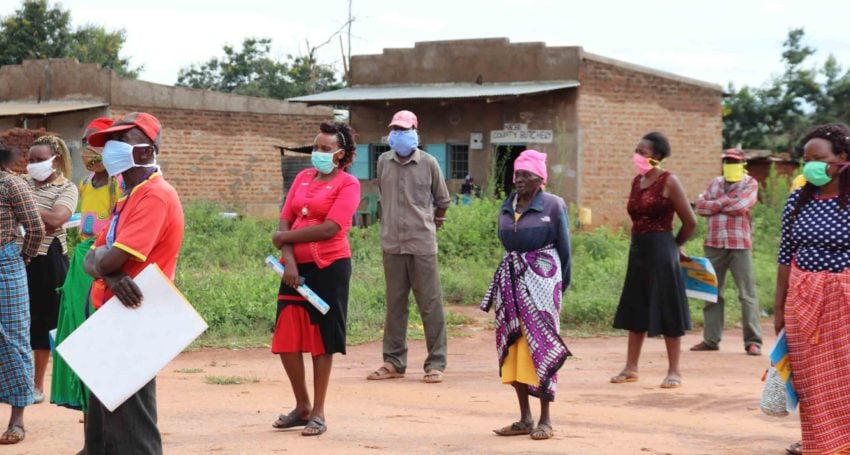 This story about the Anglican Board of Mission's work with one of its partners in Kenya provides a typical picture of how COVID-19 is affecting people in many poorer countries of the world, and what action people are taking to deal with the challenges. It shows the value of working long-term with communities to develop relationships of trust, and strong community structures.
Anglican Development Services, Eastern (ADSE), is a development arm of the Anglican Church of Kenya, working with poor farmers living in a climate change-affected, semi-arid region in Eastern Kenya. It supports them to overcome the challenges of living off the land by helping them build dams and to access more water for crops, livestock and household consumption. ADSE also provides seeds for more drought-resistant crops, and encourages groups of farmers to band together to learn new agricultural and marketing practices, and helps them to form small savings and loans group to grow their capital. Over the years, this approach has led to great gains in the livelihoods of the farmers, who have begun to leave poverty behind.
However, COVID-19 is starting to change all that. Many project activities have had to be postponed. Social gatherings have also been banned, causing village savings and loans groups to stop meeting, and ending training in new farming techniques and climate change mitigation.
Christine, a member of a village savings and loans group, says: "We are facing tough financial moments now as [we have] no group meetings, nowhere to take our goat or chicken since the markets are closed and the hotels too. We are just praying to God to help the situation pass so that life goes back to normal."
Some are driven to holding their village savings and loans group meetings in secret because of their financial and social need to keep the groups, and they do not want to be seen by village elders and local government officials not to be observing physical distancing.
ADSE's John Kinyoki reports, "Since we are integrated into our communities, we have used our networks, shared preventive measures in collaboration with public health departments, local leaders, community group leaders and church leaders to promote helpful information so as to reduce stigma and fear…in managing the COVID-19 spread."
Some of the ways ADSE has been working to raise community awareness of COVID-19 is by facilitating training of community health workers to provide important health information in villages, using public address systems and reproducing government health posters.
Frances, a leader of a group of community health volunteers, says, "Volunteering is not easy [due] to the vastness of the area. We are trying our level best to ensure each household has a tippy tap and a functional one. We have improvised simple tippy taps to showcase to the households [so they can make their own]."
Where there is Internet access, they are also using mass text messaging in local languages to convey the latest information about the coronavirus to communities they work with, and let them know in advance what village awareness-raising activities they are planning.
Some people have expressed fears that the project will not resume, and that this will affect basic services such as access to water in arid areas, reduction of food production, and abandonment of climate change mitigation strategies. Even water for handwashing is starting to run out, since water storage has not been replenished for some months and the building of larger water storage facilities has been put on hold.
ABM has been able to support these communities to stay safe during COVID-19; however, funding is running low. This year, we have devoted our annual tax-deductible appeal entirely to helping our partners during this time in order to assist the most vulnerable communities around the world.
To find out more or to make a donation to this appeal, visit the ABM website.
Jump to next article