Hearts beat as one for Bundaberg couple of seven decades
A Bundaberg couple who have been married for 66 years have shown love knows no bounds and that not even during the difficult times can the two be separated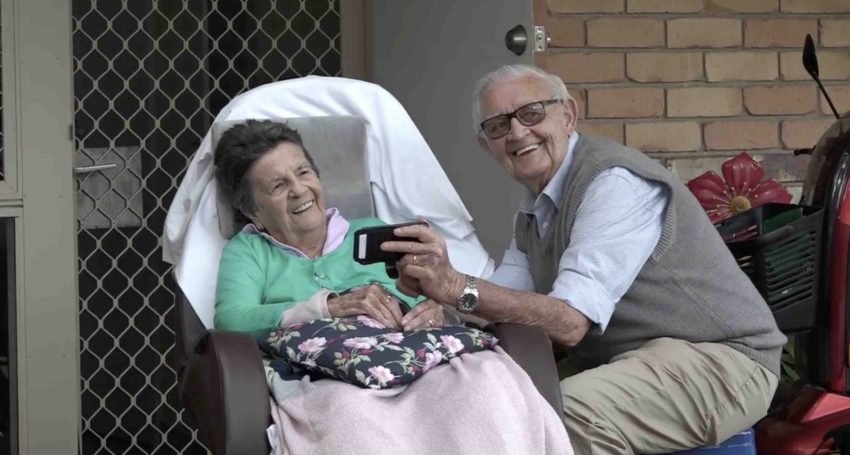 A Bundaberg couple who have been married for 66 years have shown love knows no bounds and that not even during the difficult times can the two be separated.
Gloria, 84, is living with dementia and is a resident at Anglicare Southern Queensland's Meilene Residential Aged Care Home in Bundaberg.
Her husband Noel rides his motorised scooter four minutes from his home to visit the love of his life every day.
He packs her favourite food in an esky and always arrives just before lunch to feed her.
Noel met Gloria more than seven decades ago when he was working for her aunt and uncle in Cunnamulla.
"The day after she arrived, I was at the local rugby league round and I saw her on the tennis courts, which were beside it," Noel said.
"So I introduced myself and asked her to go out to the movies with me, to which she accepted and the rest they say is history."
The pair married in Brisbane before heading out to the bush where Noel worked at the railway.
During a duration of six years, the couple had six children including twin boys with no electricity, appliances or help from friends and family.
"She stuck with me all the way through it and I know it was tough," he said.
"Our beautiful kids are a credit to her."
The couple have 15 grandchildren and 11 great grandchildren.
Staff members at Meilene play songs by her favourite musician Vera Lynn every morning, so she can sing along to them while she waits for Noel to arrive, much to the amusement of their children, who admit they took after their dad in the singing department.
"I'm just so grateful to the staff at Meilene because they are all just so caring and look after Gloria so well…this is not just a job to them, they all treat residents like they are family," he said.
After holidaying in Bundaberg and falling in love with the region, the couple relocated with all but one family member following suit.
First published on the Anglicare Southern Queensland website on 30 June 2020.
Jump to next article