A bold new sports precinct
St John's Anglican College recently hosted the official opening and dedication of their new Sports Centre, welcoming Archbishop Phillip Aspinall and His Excellency The Honourable Paul de Jersey AC, Governor of Queensland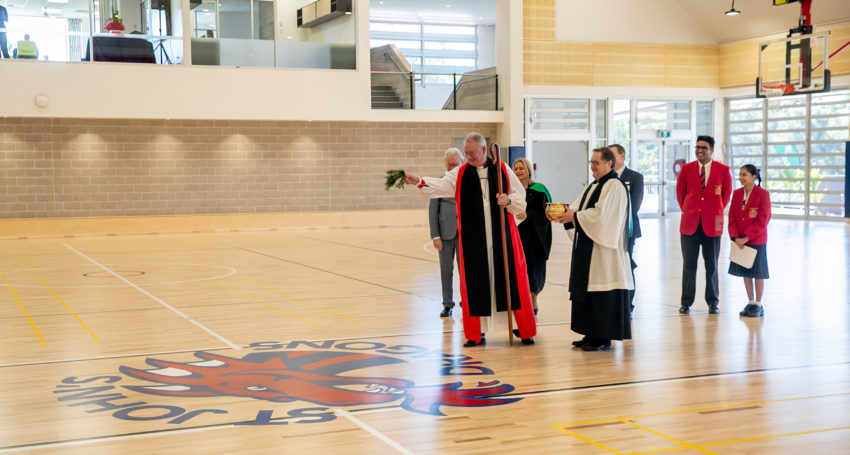 St John's Anglican College recently hosted the official opening and dedication of their new Sports Centre, welcoming Archbishop Phillip Aspinall and His Excellency The Honourable Paul de Jersey AC, Governor of Queensland.
The morning's event was also attended by Member for Oxley Milton Dick MP, Councillor Angela Owen and General Manager of the Anglican Church Southern Queensland Tim Reid, as well as invited guests, staff, students and College families.
The modern facility has been constructed in and around the existing iconic sporting dome.
It has been architecturally designed to harmonise with the local natural environment and to complement existing structures at the College.
As a home for the St John's Dragon's, the centre will be utilised for St John's student health and physical education, sports training and matches, and will also provide opportunities for the wider Forest Lake community and sporting organisations to benefit and enjoy.
With new indoor sporting courts and spectator seating areas, integrated office and teaching spaces and community facilities, the sports centre provides the best sporting opportunities for St John's students now and in the future.
Prefects of Sport Benjamin Lythall and Ainsley Sherrington said that the College's students are grateful for the opportunities and skills that the centre will bring them.
"As the 2020 Sport Prefects, we certainly appreciate the opportunities that will now be available to us in this magnificent new Sports Centre," Benajmin and Ainsley said.
"It is a privilege for us to practise, develop and learn in these creative spaces.
"Courage, confidence and further resilience of all St John's students will be fostered in this new precinct, and we know these skills are essential to our future success and we are grateful to have these opportunities at St John's."
St John's gratefully acknowledge the philanthropic support of the College community who contributed to the success of this milestone project.
Jump to next article