Churches toll bells and Christians light the way for Earth Overshoot Day
St John's Cathedral joined churches around Australia today, as they simultaneously tolled their bells and lit candles to mark Earth Overshoot Day, a national 'day' led by Resource Church St John's Cathedral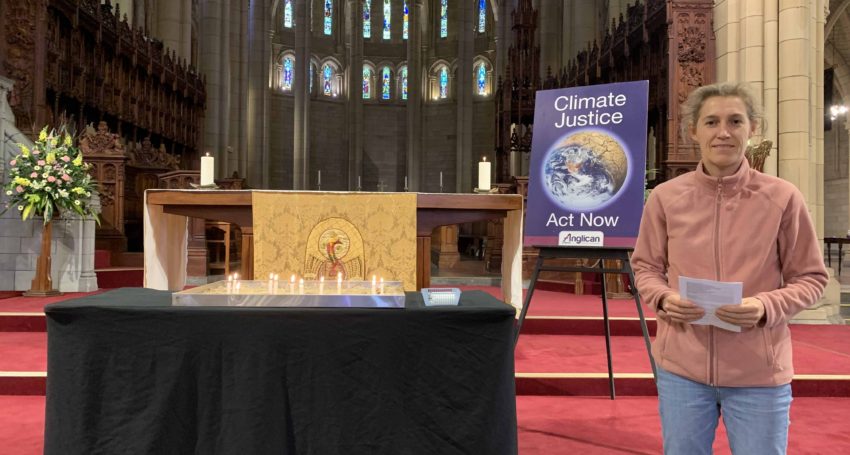 St John's Cathedral joined churches around Australia today, as they simultaneously tolled their bells and lit candles to mark Earth Overshoot Day, a national 'day' led by the Cathedral team.
Earth Overshoot Day, which falls on Saturday 22 August this year, marks the day that people around the world have collectively used all of the natural resources that the Earth can renew during the given year.
The Cathedral bells, along with those at more than a dozen churches around Australia, tolled for 10 minutes leading up to midday today, signifying the 10 years that the world's community has to avoid irreversible damage to the climate.
Almost 50 Christian organisations and churches around Australia partnered with St John's Cathedral this year, marking the occasion with either bells or candles.
The tolling of the Cathedral bells was followed by a service led by Cathedral Dean The Very Rev'd Dr Peter Catt, who was joined by Cathedral parishioners and Cathedral Precinct clergy and staff.
Dr Catt said the tolling bells and lit candles helped bring attention to the damage being done to plants, animals, water and the way of life we love, and called us onto a better path for our children and future generations.
"We all understand that spending more than our budget allows is risky and that keeping to a budget is wise – it's the same with the Earth's natural resources," Dr Catt said.
"Australians are some of the biggest 'spenders' of the earth's resources, consuming the equivalent of over four Earths each year."
Dr Catt said that Earth Overshoot Day has been pushed back more than three weeks this year due to the impact of COVID-19 on travel and industry.
"As we slowly move through the stages of economic recovery in Australia and around the world, we need to find a way to maintain our momentum so we can move back 2021's Earth Overshoot Day even further and bring the Earth's 'budget' back into balance," he said.
"We can take this opportunity to choose positive, fair and life-affirming ways forward to restore this balance."
The Cathedral began the Australia-first initiative last year to call people to make everyday changes to their behaviours and help create a better environmental legacy by reducing pollution, protecting wildlife, embracing clean energy and preserving water.
Cathedral parishioner and grazier's daughter Angela Mooney, who read a prayer at today's vigil, said that growing up on the land taught her the importance of good stewardship of the Earth.
"My love for the planet brought me here today," Ms Mooney said.
"I studied environmental science at university and I come from the land – my grazier dad always said that we are custodians and stewards of the land, and not owners."
Earth Overshoot Day is calculated by Global Footprint Network, a research organisation led by scientists "who love the outdoors."
Just as a bank statement tracks income against expenditure, the Global Footprint Network measures a population's demand for the supply of natural resources, with their measurements then serving as the foundation for calculating Earth Overshoot Day.
With Queensland leading the world in solar energy, nearly 70 parishes in our Diocese have been playing their part, installing solar panels on the roofs of buildings for more than a decade.
St John the Baptist Anglican Church at Bulimba first trialled solar panels in 2017, installing an 8kW system.
The trial was so successful, that the parish added another 26kW of solar panels in 2018.
Parish councilor Allan Thomson said that the church's solar panels save the church money, as well as create clean energy.
"The motivation to install the solar system was threefold – to reduce our carbon footprint, to return clean energy back into the electricity grid and to save money on our electricity bills," Mr Thomson said.
"It has achieved the goals that we set for it – we have reduced our electricity bill and in fact, the system generates the power that we need and as of our last bill we had exported over 85,000 kWh back into the grid since installation."
Australian churches are asking local and Federal governments to work with communities to upgrade to clean renewable energy and invest in sustainable jobs and industries.
These improvements help create healthy and safe communities and promote economic resilience, particularly in regional areas.
The St John's Cathedral Earth Overshoot Day service can be viewed on YouTube.
Jump to next article