The story of the little church that could
The former St Peter's, Amity Point church, which was sold to a former media personality and her family, has been lovingly restored and still enjoys ocean views, albeit from a higher plane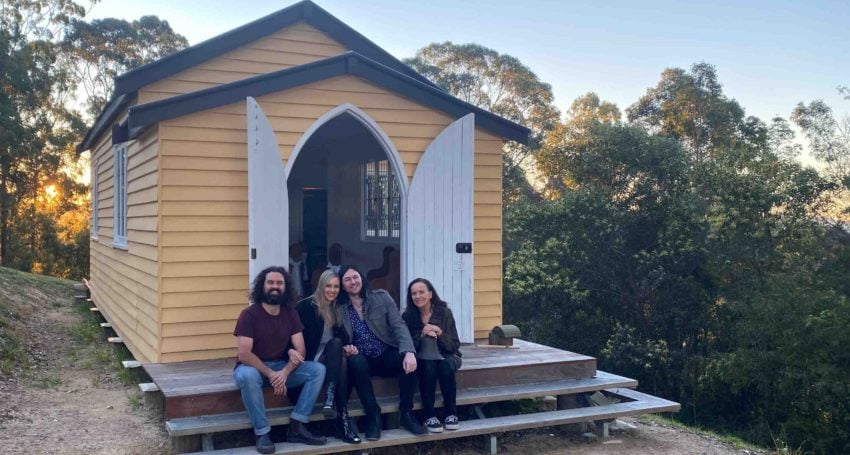 Have you ever heard of the children's story about The Little Engine That Could?*
Well this is the story of 'The Little Church That Could' – and did – spring back to life thanks to plenty of love, vision and perseverance from a family with a 60-year connection to the church. The person who has been the driving force behind the revival is someone better known for telling stories about others, rather than being in them.
Intrigued? So you should be!
And this story has a happy ending which is waiting for the final chapter to be written.
Once upon a time in the 1950s, there lived a couple named Jean and Arch McGill who built a small family house at Amity Point on North Stradbroke Island which was later sold to Arch's brother Noel Berkman and his wife Cynthia Berkman. The home was adjacent to St Peter's Anglican Church which was consecrated in 1957.
Handyman Noel would regularly do repairs and renovations to the wooden church for free.
His nieces Karen, Vicki, Jeanne (and later their brother, Cameron) would often visit their relatives at Amity Point on weekends and for family holidays during the late 1960s and 70s with their parents Ken and Midge Berkman. While they were raised as Presbyterians, the young girls "loved going to the Anglican Church and seeing its 'mysterious rituals', including kneeling for communion and the sipping of 'real wine' from a common cup," recalls Karen.
"Our parents loved Amity, the Berkman house and the church as much as we did."
As the years rolled on, family trips to Amity Point became less frequent as family and career took priority.
Karen had a long and successful media career, initially in radio news and for 20 years after that with ABC TV News as a reporter covering major stories including on politics, crime and general news.
She hadn't realised that the St Peter's Church had been moved (in 1997) from its old site to a new one nearby at Amity Point. It's believed it was at that stage one of the smallest churches in our Diocese, with the main part of the building measuring just 7 metres by 3.76 metres.
"I was back visiting the island in 2016 when I saw the old building on the opposite side of the road into Amity, almost completely hidden behind foliage. At the time I thought it had been moved there and it seemed to have been abandoned," Karen said.
The reality was that our Diocese had moved the church onto land which had been bequeathed for use as an aged care facility and the original plan was for the church to be used as a chapel for residents of the facility.
When the aged care project didn't eventuate, the old church was used less frequently and eventually time and nature saw it deteriorate to the point where white ant damage rendered it unsafe to use. Parishioners began worshipping at nearby St Mark's, Dunwich.
While the church wasn't even officially listed for sale, Karen contacted the Anglican Church Southern Queensland's General Manager's office in October 2017 and asked, "if they would like to set it free".
After a period of comprehensive consultation with Stradbroke Island Anglicans, it was agreed to sell the St Peter's Church and the building was deconsecrated by Bishop Godfrey Fryar and Father Daniel Hobbs on 10 April 2018.
Relocation and restoration of the old church then became a 'family and friends affair' with Stradbroke Island builder Geoff Pettingill (who had actually moved the church to its 'second home' in Amity back in the 1990s) helping Karen in preparing the building for its transfer to the Gold Coast hinterland.
A badly damaged annexe was removed for the relocation and the church was transported in one piece by truck-then-barge-then-truck across to the mainland and up narrow and winding mountain roads to the Berkman family home at Bonogin, near Mudgeeraba in the Gold Coast hinterland in November 2018.
Once in place on their property, Karen's husband Rod played his part in eradicating several large wasp nests, which came 'complimentary' with the building from Amity, while their adult son James worked tirelessly with builder and good friend Jim Bryant in repairing and restoring the building.
Karen describes some of the restoration work they undertook:
"The front of the church had an entry porch about 1.8 metres by 1.5 metres.  We kept that, and once we got it here extended it to be the full width of the church, giving us an extra 1.5 metres inside. In front of that we added an open verandah the full width of the church, with wide steps all round.
"James and Jim rebuilt the side annexe and painstakingly renewed the interior, replacing the 'Mad Barry's' pine sheets from the 1970s with tongue-in-groove sheeting. We took out all the existing windows and replaced them with leadlights, adding a new leadlight window (bought at a local junk yard for just $80 and restored for another $400) to the centre of the back wall where no window had been before. It provides a beautiful light centrepiece above the altar and was worth every cent.
"The roof of the church was in good condition and needed no work. The wooden floors had been covered by layers of linoleum and ultimately carpet, but they came up well when we had them sanded and sealed.
"We had to place the existing pews on the diagonal to create a centre aisle, and by allowing people to stand behind the pews at the back of the church we estimated that we could ideally get about 60 people in it – under pre-COVID-19 rules of course!"
A vital step in the restoration was finding new front doors which was done thanks to the passion and enthusiasm of ACSQ Senior Property Officer Nicole Ham, who played a pivotal role in the overall sale discussions and negotiations with Karen.
In 2019, Nicole sourced doors which had been sitting idle under a church built in 1904 at Maroon. That church had replaced their front doors at some stage and was sold in 2019.
Nicole has followed the Berkman family project since negotiations began and has been delighted to see Karen and her family breathe new life into the old church.
"When any of our churches have become disused or under-utilised for whatever reason, our first preference always is for them to be continued to be used for religious worship in the Anglican Church, even if that means relocating them to another parish or a school as a chapel," Nicole said.
"But if that's not viable, and we have to sell it, then that's okay. In the case of St Peter's, it's been wonderful working with Karen and following the journey of the church and seeing it become repurposed as a chapel and to know that it will continue to be used for important events such as weddings and christenings."
The frenzy of building activity of 2019 and early 2020 was all focussed on having the church ready for the wedding of Karen's eldest daughter Miriam Young, a radio presenter for 97.3FM (and aspiring actor) and her husband Joal Pascoe, a musician. The wedding was due to take place on 28 March 2020 but sadly it had to be postponed due to COVID-19.
"We had an 'un-wedding' in the church, with just the immediate family present for a dinner and a celebration on that date. The seven people who attended were still a permitted gathering at the time…four square metres of space per person, which was nice," Karen said.
"With the future being a little uncertain in terms of weddings and gatherings we're just waiting to see what happens and when we can hold the event with the number of guests we'd like to invite – hopefully later this year. Next in line after the wedding is a christening for my niece's baby son.
"So the little church has not so much been restored as renewed and exalted. It still has a view of the ocean, but now it's looking out on the water from the Gold Coast hinterland.
"We plan to keep it just for family use. We have purchased a bell for the church. While it's a marine (not church) bell, it looks the part and is a perfect fit. The next task is for our builder Jim to build a little tower for it.
"I hope the Diocese and all your parishioners will be happy to know it will always be a place "where two or three are gathered together."
"We embarked on the project to do it with a happy heart…'for the glory of God' as my mother would have said.
"There are no commercial plans for the little church – we just want to keep it as a private refuge for family and for special events, such as weddings and christenings and for quiet reflection."
* The Little Engine That Could is an American fairy tale from the 1930s that was used to teach children the value of optimism and hard work.
Jump to next article