Nature brings nurture to St Andrew's
From a little conversation, big things have grown at St Andrew's Anglican College, who recently opened a sensory garden thanks to a government grant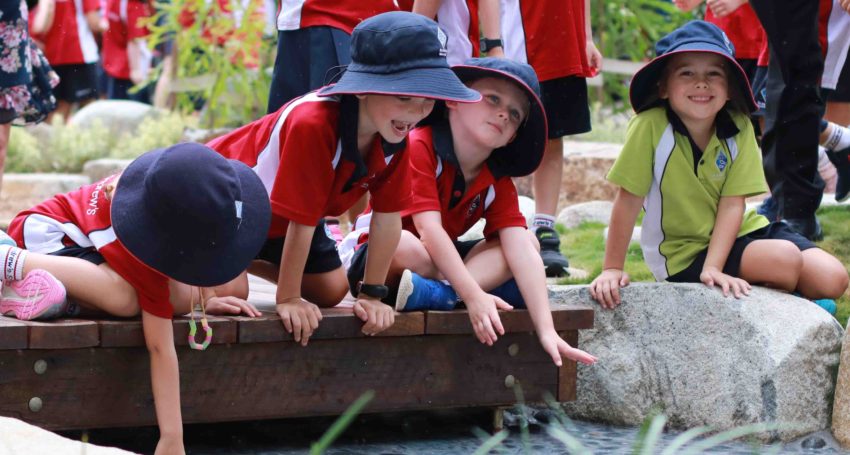 From a little conversation, big things have grown at St Andrew's Anglican College, who recently opened a sensory garden thanks to a Federal Government grant.
The idea for the sensory space, which focuses on environmental sustainability and First Nations cultures, grew from a conversation between a Year 6 teacher and a group of students two years ago.
The now flourishing sensory garden is just one of 11 school projects across the electorate of Fairfax that was made possible through sharing in $200,000 of Federal Government Local Schools Community Fund grants.
Member for Fairfax The Hon. Ted O'Brien cut the ribbon earlier this month and declared the garden officially open, to the excitement of St Andrew's students and teachers alike.
"I'd like to congratulate the students and teachers of St Andrew's for nurturing this project to fruition," Mr O'Brien said.
"It is absolutely delightful to see what they have created with the $19,000 of Federal Government funding.
"This garden will not only provide a calm, natural space for students to learn, but will also enable a hands-on approach when it comes to sustainable land care and food production education."
The College's Deputy of Primary Years 4 to 6 Ben Dean said that he and his students are excited about the next stage of the project.
"There is a famous song, 'From little things big things grow', which captures this project," Mr Dean said.
"A conversation, a successful grant application, planning the layout with our fantastic facilities team, a lot of digging and hard work and here we are.
"It is a space that is designed to be a place of reflection and a sensory experience, and as the trees grow we will have a shaded outdoor learning space, and we also have our vegetable plots – an exciting venture and one that is gathering momentum this year."
The recent opening was stage one of a larger project which has been planned to include an outdoor amphitheatre, a large covered area to be used as an outdoor reading space and a potting table with dedicated space for seed cultivation.
The garden was designed with a purpose to stimulate the senses. Sight, smell, sound, touch and taste were the basis of the garden's design, aimed at providing a place for students to connect with nature and become more aware of their surrounding and tapping into the principles of mindfulness. It also provides a place for children to let their imaginations run wild or to sit and relax.
The garden centres around a flowing water feature, appealing to touch and sound. A range of textures, colours, smells and different types of edible plants were thoughtfully planned out to connect the senses.
Prep students Sean and Tallulah said that it is important for children to spend time in nature and to care for nature.
"We have to care for nature so we can see all different coloured creatures and so you can get fresh air and I like to look at new creatures," Sean said.
"We can take care of the plants because they have my favourite colours…I like that there is water because water can make us cool down. I also like the rocks around the water because it makes it beautiful, Tallulah said.
Irrigated raised garden beds, trellising, First Nations edible food, medicinal plantings, cottage garden plantings, compost bins, a worm farm and bench seating with a clear focus on sustainable land care and food production also feature in a separate section which will eventually all join together.
The school has plans to continue growing the garden to be included in a range of co-curricular activities benefiting sustainability and food technology classes, entrepreneurship classes and secondary cocurricular group the 'Eco-Saints' and Primary School co-curricular group the 'Eco Warriors'.
Jump to next article