Anglicare Southern Queensland's St Martin's aged care residents receive first dose of Pfizer vaccine
Residents at Anglicare Southern Queensland's St Martin's Residential Aged Care home in north Brisbane received the COVID-19 vaccine this week, as the first phase of the rollout to aged care homes continued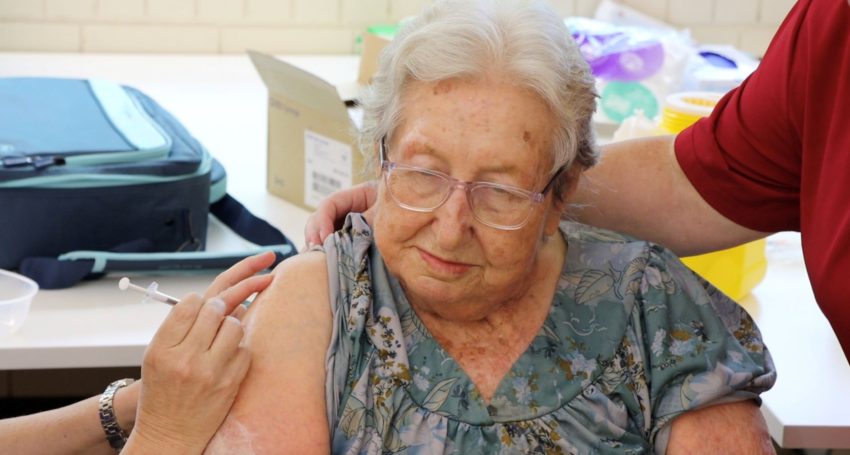 Residents at Anglicare Southern Queensland's St Martin's Residential Aged Care home in north Brisbane received the COVID-19 vaccine this week, as the first phase of the rollout to aged care homes continued.
More than 60 residents (including Betty Elliott) received their first dose of the Pfizer vaccine, with the second dose to be scheduled in the coming weeks.
Once the residents had received their vaccination, they were placed in recovery for 15 minutes with a Healthcare Australia employee observing for any side effects. No residents had any side effects from the vaccine.
Anglicare Southern Queensland's Pandemic Planning Officer Kate Hawkins said the vaccination rollout at St Martin's was a huge success.
"We were very lucky to have out of 64 residents, 60 families and residents consented to receiving the vaccination," Ms Hawkins said.
"The day went really well with a lot of pre-planning and discussions with residents and families about the process on the day.
"They were very positive on the day and there was an element of excitement with how it was coordinated and also being one of the first in the facility to receive this vaccination.
"It was a huge process for our staff, residents and families as well. Staff worked very closely with our relatives and residents in giving them lots of information about the vaccine. We had information sessions for those who wanted to attend. After that we had discussions with families and our relatives in case they had any questions and that helped with gaining informed consent for their loved ones to receive the vaccination."
St Martin's resident Lea-Ann Foreman received the vaccine this week and said it was "absolutely phenomenal".
"We were just amazed that there was such little time and that everything was well organised," Ms Foreman said.
"It didn't hurt. I didn't feel it, it was just like a little ping going in your arm and there was no reaction.
"They took us out and monitored us. It was absolutely phenomenal the way it was done."
Anglicare Southern Queensland's Executive Director Karen Crouch said she was pleased that St Martin's was one of 250 aged care homes selected in the first stage of the rollout.
"Anglicare is really pleased to be able to participate in rolling out the vaccines to our residents. It's really important that we do everything we possibly can to keep our residents safe and the vaccine is part of that in this pandemic," Ms Crouch said.
"This pandemic has actually been hard for our residents. It has been concerning for them and their families and with the vaccine now available to them, it's a great thing for our residents."
Anglicare Southern Queensland is working with Healthcare Australia and the Public Health Network on the rollout of the Pfizer vaccine across its other aged care homes in the coming weeks.
Jump to next article