Budding young primary school author writes and publishes own book
Avid young reader, 10-year-old Kashyap Dhital, has written and published his first book, inspired by his coastal Sunshine Coast home on top of a hill, with great excitement and support from his community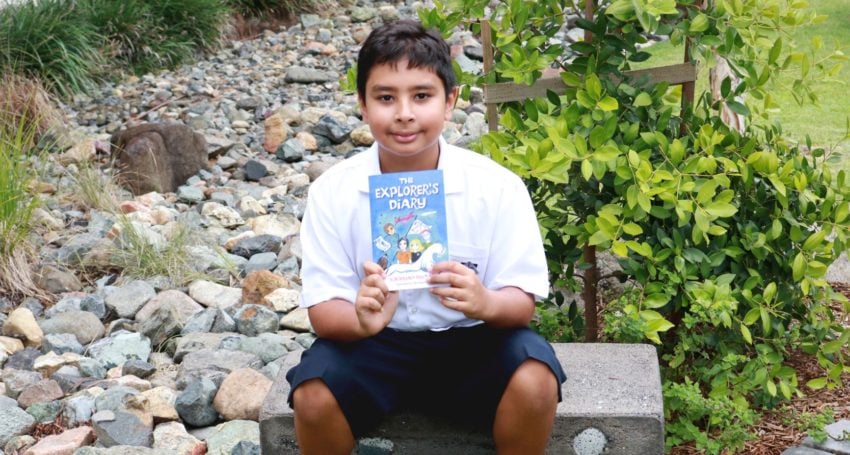 Avid young reader, 10-year-old Kashyap Dhital, has written and published his first book, with great excitement and support from his community.
The Year 5 St Andrew's Anglican College student says the idea for his novel "just came to his mind"; however, says his love for adventure books and his coastal surrounding helped to give him inspiration for ideas.
An adventure-packed, fun and exciting read, his book The Explorer's Diary follows the adventures of four children, who embark on a journey to Happy Island after stumbling upon a map. The main characters, Harold, Lisa, Cheese and Jam work together as they face all sorts of encounters on their way to the island.
Kashyap explains that the characters' unique names have a simple but creative reason behind them.
"Cheese because he's super cheesy and Jam because I was eating some jam and thought that's a good name," Kashyap said.
Kashyap drew inspiration for the book's setting from his coastal Sunshine Coast home on top of a hill and a few other favorite destinations.
He is also an enthusiastic reader with a love for adventure books, namely the Percy Jackson novel series by Rick Riordan, which he says also inspires him and helps to feed his ideas.
"Their treehouse is on the big hill so that's where I got the idea from…so the treehouse is like my house," he said.
"The beach is meant to be where they set sail to Happy Island and the island is meant to be Fraser Island."
The writings of the young author come to life with illustrations from 12-year-old Indy Stapleton, which complement the diary-type layout and style of the book.
"It's meant to be the explorer's 'diary' so I wanted it to look like someone had hand drawn or sketched them," Kashyap said.
Despite this, he has no plans for a sequel; however, he has started working on a separate second book, slightly different to the first, but guaranteed to be full of adventure with more dragons, magic and a medieval style.
Speaking with maturity beyond his years, Kashyap hopes to continue writing as a passion, while hoping to pursue a career in medicine.
"I think I want to be a doctor because my dad's a doctor," he said.
In the meantime, passionate book-lover Kashyap is thoroughly enjoying his reading and is busy thinking of new ideas for future books.
Kashyap's book is available at Annie's at Peregian, Peregian Beach; Sandy Pages, Noosa Junction; and, Harry Hartog, Sunshine Plaza.
Jump to next article