Hearing the cries of people seeking safety in Mozambique
Anglican Overseas Aid's (AOA) partner in Mozambique, the Missionary Diocese of Nampula, is supporting thousands of people forced from their homes as a result of civil and military conflict in the north of the country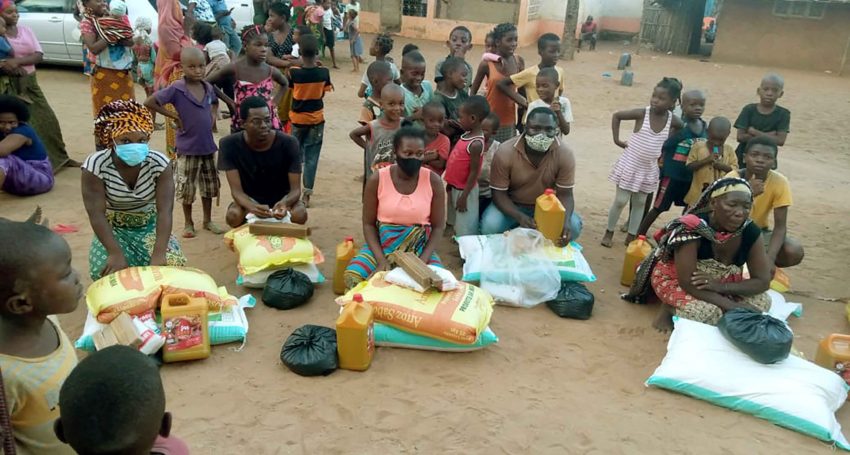 Battered by Tropical Cyclones Kenneth and Idai in 2019, and Tropical Cyclone Eloise in January this year, the people of Mozambique are now experiencing the horror of civil and military conflict that has gripped the Cabo Delgado province in the north of the country. The conflict has devastated whole communities, sending them fleeing for their lives.
The Archbishop of Canterbury Justin Welby has called for peace in the region, endorsing a statement by international faith leaders highlighting the trauma the Cabo Delgado province is enduring, with more than 2,000 people losing their lives and over 600,000 people forced from their homes.
Because of this tragic loss of life and massive displacement of people, there has been an increase in poverty, with a lack of food and shelter being key problems. With so many in temporary housing like tents, and little access to water and sanitation, outbreaks of cholera and other water-borne diseases highlight the reality of what has become a humanitarian disaster in the region.
The displaced people have lost their homes, security and livelihoods, and many have lost family members. They are wandering, looking for help. They are groaning in pain and need their cries to be heard.
The plight of the displaced people in Mozambique is a reminder of another group of people, thousands of years prior, whose groans and cries were heard by God.
In the first chapters of Exodus, we learn not only about the beginning of the life of Moses, but of the cries and groaning of the people of Israel under the weight of persecution caused by the Egyptians under the mighty Pharaoh.
AOA has been working with their partner, the Anglican Missionary Diocese of Nampula, to support their work with Internally Displaced Peoples in the Cabo Delgado province.
Gabrielle* is 49 years old and fled from her hometown in the north of Cabo Delgado. During the conflict, her five children and four grandchildren were all killed in one night. She fled with her husband; however, insurgents caught them and killed her husband in front of her. She was so traumatised that she fled to the bush and lost her will to live.
The Diocese Mission Director Muassite Miguel said, "Gabrielle ate or drank nothing for three days and three nights in the bush. Another group who were trying to escape found her and she fled with them on a boat to Pemba [a safer coastal city]."
Gabrielle is currently staying in Pemba, but she still feels hopeless and forgotten. She is just one of the thousands whose stories are similar: they have nothing and are vulnerable to many dangers that come with being displaced. The team from the Diocese met with her to hear her heartbreaking story and support her with some basic needs.
The needs are widespread and immediate. They include reliable access to food, arranging for adequate shelter, and healing from the trauma the people are experiencing. The Diocese of Nampula is asking for assistance with the urgent needs of more than 600,000 people in Mozambique who have lost their homes and face poverty and vulnerability.
You can donate to Anglican Overseas Aid's 'Hear Their Cry' Easter Appeal by visiting the AOA website, calling 1800 249 880 or sending a cheque made payable to Anglican Overseas Aid to:
Anglican Overseas Aid
PO Box 389
Abbotsford, VIC 3067
* Gabrielle's real name has been changed to protect her privacy in her time of grief and trauma.
Jump to next article