Audrey, 85, and her dog Pedro live an hour outside of Longreach
85-year-old Audrey, who lives near Longreach with her six-year-old dachshund named Pedro, is independent with a zest for life and maintains her 39,000 acre property, which she says is "smaller" than her other properties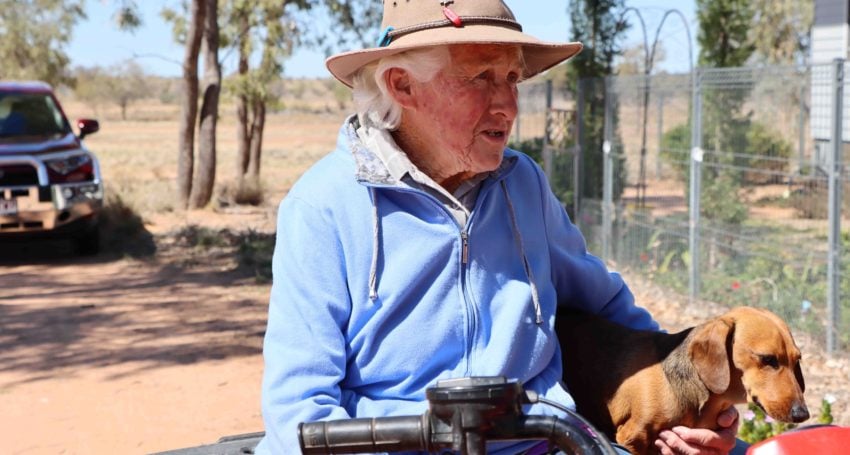 Every week Audrey receives a visit from an Anglicare Southern Queensland Home Care Worker to assist with the cleaning, vacuuming and dusting of her Rosabel property, less than an hour outside of Longreach.
The 85-year-old woman, who lives in what Anglicare staff say is the "Hollywood house in the country" with her six-year-old dachshund named Pedro, is independent with a zest for life, and maintains her 15,782ha (39,000 acres) property, which she admits is "smaller" than her other properties.
With six dams, seven chooks, a trusty companion and some cattle used for agistment, Audrey is constantly on the go with her usual morning routine of a quick cuppa before running the daily errands.
"The other day Pedro and I were feeding the chooks and we were down pumping the water to the house when I got on my quad bike and drove home, not knowing Pedro wasn't with me," she said.
"I quickly drove back and found Pedro was hurtling along trying to keep up with me. I felt so bad."
Audrey says where-ever she goes so, too, does Pedro.
"He thinks he is the boss around the place," she chuckles.
For Audrey. who grew up on her family's property in Toobrack around 72km outside of Longreach, life has been filled with wonderful memories and some hardships.
"I did primary correspondence school at home and then in high school I boarded at Rockhampton Girls Grammar until Year 9, when I came back to work on my mum and dad's property," she said.
"The flood times were quite challenging. I can remember when my brothers and I were in boarding school and we were stuck in Longreach for six weeks due to the flood; there was no way we could cross, so we stayed home and helped out our parents."
Audrey's parents were both very hard workers and they owned thousands of sheep, 300-500 cattle, lots of horses, chooks and working dogs.
While Audrey was in her teens, she met the boy next door whom she would later fall in love with and marry at the age of 22.
"My parents and his parents knew each other, and we used to go for lunch and dinner from time to time," she said.
Together they had two daughters and two sons who live all around Queensland.
Peter's father owned the Rosabel property and Audrey moved in when they were married, which was 67km down the Arrilalah river road from Longreach.
"Peter was born and bred here – I was the girl next door, so we're both locals," Audrey said in the Queensland Endurance Riders Association newsletter in 1987.
"We used to run 4000 Poll Herefords and no sheep but had to sell most of the cattle in the 1983 drought."
In 1985 to 1987 Audrey completed one of the most famous endurance rides called The Australian Stockman's Hall of Fame which started in Winton and ended in Longreach, covering more than 250 miles (402km) in just under two days.
Audrey completed this challenge three times and said it was one of her biggest accomplishments.
"Before the 1985 ride I tried to train myself, too, because of rheumatism in one hip and thigh – went jogging and even used an exercise bike. Last year I only rode the horse, and felt much better," she was reported as saying in the Queensland Endurance Riders Association newsletter in 1987.
Brown was only ridden twice in the dark before his first attempt at the Hall of Fame.
"I used my touch a bit, but found it tripped him – interfered with his night vision. He spooks at things in the moonlight but travels well at night without my help."
To Audrey it wasn't about winning the race, but instead was about completing the race.
When asked by a concerned bystander at one of the intermediate checkpoints in all seriousness: "Can't your horse go any faster?" Audrey was reported as saying that she had successfully finished both 250 miles (402km) rides according to the Australian Endurance Riders Association Motto, "To complete is to win."
When Peter passed away, Audrey's children built her another house only 100 yards up, still at Rosabel.
"I've been very lucky to be in good health and that I have Pedro by my side. He's my shadow, I can't move without him and whenever I go to town for appointments, he looks incredibly sad when I have to leave. Sometimes he comes with me, but other times he has to stay at home," she said.
"It's nice to be independent and I am very lucky to still be able to do most things at my age. I have great neighbours and I think life is pretty good."
Audrey has been receiving support from Anglicare Southern Queensland for the past 10 years, once a week weather permitting, where a home care worker will come and help assist Audrey with cleaning and basic tasks.
"I can't be more grateful and thankful enough each week for the wonderful work they do," she said.
"There are a lot of lovely ladies who have helped me over the years which I have really appreciated."
Once all the work has been done around the house, Audrey enjoys pottering around in the garden, reading books and watching television.
This year, Audrey celebrated her 85th birthday alongside Pedro at her home. Audrey has four children, five grandchildren and one sister who lives in Brisbane. Her three older brothers have since passed away.
Audrey recently starred in Anglicare's new campaign called 'Most Remote Care Worker', which is currently being screened on SBS On Demand, in cinemas, on YouTube and on social media. You can view the new video campaign here.
First published on the Anglicare Southern Queensland website on  30 March 2021.
Jump to next article