Tracey celebrates 10 years with Anglicare
Tracey Beaven manages more than 12 staff, 113 sub-contractors and oversees a clientele of 6,000 people every day in her role as Service Manager for the Home Maintenance and Modification team, based in Kangaroo Point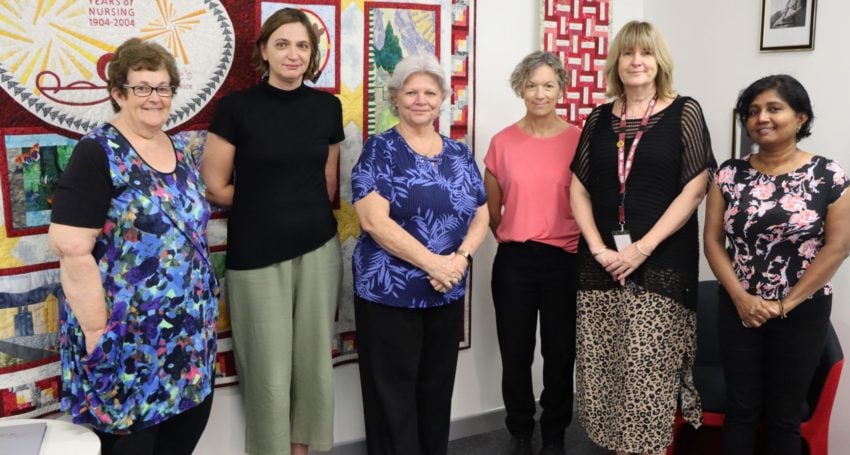 Tracey Beaven manages more than 12 staff, 113 sub-contractors and oversees a clientele of 6,000 people every day in her role as Service Manager for the Home Maintenance and Modification team, based in Kangaroo Point.
Tracey celebrated her 10th anniversary with Anglicare Southern Queensland on 2 August last year, having commenced in 2010 and was recognised with a plaque and certificate. She has worked in residential care for 12 years before moving into community and has worked in a range of positions from an Assistant in Nursing (AIN), a respite assistant, service coordinator, service manager and a bus driver. 
Tracey managed Killara Place for many years in Cleveland. The Killara Place program is a respite program run by Anglicare Southern Queensland that includes centre-based activities and outings throughout the week. 
The Home Maintenance and Modification team enables older people and those with a disability access to practical housing-related assistance, enabling them to maintain their independence in their own homes. The service offers free information and referrals about home maintenance, falls prevention, repairs, minor and complex major modifications and home security and they service all of Brisbane.
"We also do a lot of the internal home care package work for Anglicare and we have quite a large number of external providers that come to us for their home care package work," she said. 
"It's a very solution-focused job because you have to think outside the box with a lot of the work we do. I love it. It's a great place to work." 
Throughout the past 10 years there have been some memorable moments, but one that really stands out for Tracey.
"We had one lady who had a companion cat for 20 years and the cat passed away so she asked us if we would bury it for her, which we did," she said.
"Our field officer dug a big hole because she had gone out and bought this great big plastic box. We gave it a good burial. She rang us the next day and said she hadn't quite said her goodbyes so she dug him up and asked if we could go back and bury him.
"We're kind of like the fountain of knowledge because we are so diverse in our thinking and the whole team is really solution focused and great at problem solving so they all come to us looking for answers.
"I love it. Anglicare is a great place to work, but the Home Maintenance and Modification is definitely outside the box and quite different."  
Tracey said she was proud of how her team managed the last year throughout COVID-19.
"It was constant communication with the contractors to try and keep them safe, the clients safe and prioritising what jobs we were going out, like for instance, the minor modifications are really important because it stops people from having falls," she said. 
"The funding we get from the State Government, they actually changed the parameters so that we could do shopping visits and welfare checks so that was quite out of scope of what we would normally do on our Home Assist Secure Funding.
"So all of a sudden we had the field officers instead of going out and doing maintenance, we had them going off to the chemist to pick up prescriptions so it was a bit of a mind shift for them."    
Tracey said she is most proud of the drive that her team have to go above and beyond for their clients.
"I think it's the diversity of the clients and my team are great. I've built a really positive client focused team and all of the staff front facing, they know their job, they do their job well and I really feel that my team are a credit to me and Anglicare for the work that they do," she said. 
In a recent customer survey completed by Anglicare clients, the Home Maintenance and Modification team received a net promoter score of 86.1 which is regarded as exceptional for their service. The team includes three field officers, a service coordinator who manages eight people in the admin and a works coordinator. 
First published on the Anglicare Southern Queensland website on 6 April 2021.
Jump to next article