Protecting the innocent in Kenya
Anglican Overseas Aid's partner in Kenya, the Anglican Church of Kenya, is prioritising the protection of children who have suffered harassment and abuse during the COVID-19 pandemic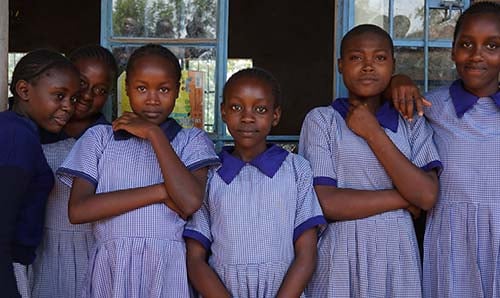 It is children who often teach us how to live. They are naturally full of wonder, energy and trust. Through their vulnerability, they exude humility and call us to be the most loving people we can be. Children can bring out the nature of Christ in us.
When Jesus was teaching, people would sometimes bring their children to him. Sometimes, the disciples didn't like that and pushed them away. Jesus was indignant at the disciples' actions because he valued children and saw them as important.
Anglican Overseas Aid's (AOA's) work in Kenya focuses on protecting children and enabling them to thrive. While COVID-19 has taken its toll on many in the communities where AOA works, it has exacerbated existing vulnerabilities for children, particularly young girls. When the schools closed, children were exposed to danger. Without the protection of school, many children started working to help support their families. Children were put to manual labour instead of being in school learning. More insidiously, girls became more vulnerable to child marriage, undergoing cutting rituals (female genital mutilation), and the rates of teenage pregnancy increased.
Fortunately, there has been some help. Anne is a teacher in a remote primary school in Laikipia county, Kenya. She is passionate in her mission to change the lives of the girls in her school, and the school is very determined to give the children the best opportunities it can.
But the road hasn't been easy. Anne speaks of a troubling culture and attitude towards girls in the local community that has been changing lately, but is still present. The positive changes they were seeing have been set back by the COVID-19 related closure of schools in 2020.
In a primary school where the oldest children are 13-14 years old, Anne says that it is common for girls to fall pregnant. They teach the girls, "no one has the right to dictate to you about your life; you should be the one who has the choice of what you want to do."
Slowly the attitude towards female genital mutilation (FGM) has been changing too, although Anne says the two issues are connected.
"When I started here, I tried to get to the root cause of why someone would subject a young girl to that terrible thing?" Anne said.
"According to the culture, if girls get pregnant without going through the cut, then they are an outcast; it is a taboo.
"So, the mothers prepare the girls and subject them to the cut at an early age, just in case she becomes pregnant. To 'protect her' from being an outcast."
Since COVID-19 closed the schools, the children have been separated from teachers like Anne. Now more than ever, young girls need systems like school guidance counselling and child protection committees in their communities to protect them through their most vulnerable years of life.
AOA's partner in Kenya, the Anglican Church of Kenya (ACK), is giving priority to the safeguarding of children. During the COVID-19 pandemic, ACK has been educating and supporting community leaders to intervene where there are child rights violations, even rescuing young girls who have fallen victim to early marriage. For young girls who have been subject to harassment and become pregnant, they help reconcile them with family members and help provide access to counselling and support services.
Despite the help from ACK, much remains to be done.
You can donate to Anglican Overseas Aid's 'Protecting the innocent' End of Financial Year Appeal by visiting the AOA website, calling 1800 249 880 or sending a cheque made payable to Anglican Overseas Aid to:
Anglican Overseas Aid
PO Box 389
Abbotsford, VIC 3067
Jump to next article