Former Australian of the Year Professor Ian Frazer inspires the next generation at St John's College academic dinner
"Former Australian of the Year and co-developer of the human papillomavirus vaccine Professor Ian Frazer AO FRS offered sage advice to St John's College tertiary students at a recent Academic and Professional Dinner, held onsite at St John's College within the University of Queensland," reports St John's College and UQ journalism student Freya Jetson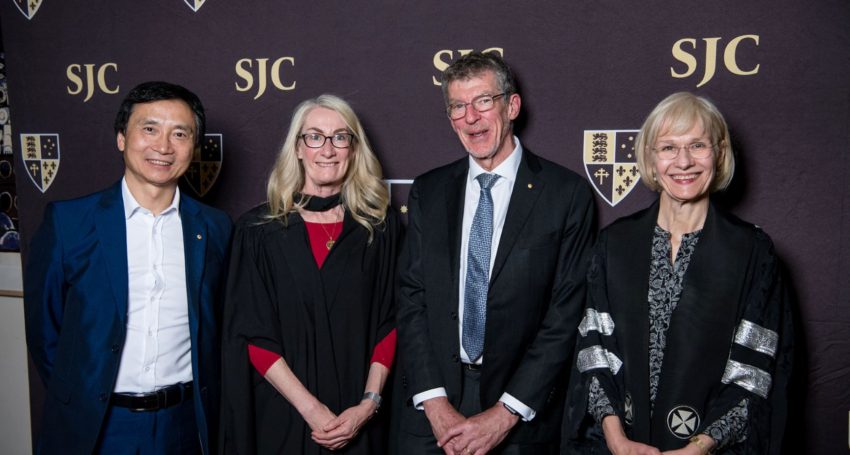 Former Australian of the Year and co-developer of the human papillomavirus vaccine Professor Ian Frazer AO FRS offered sage advice to St John's College tertiary students at a recent Academic and Professional Dinner, held onsite at St John's College within the University of Queensland.
Key-note speaker Professor Frazer encouraged students to trust that their future will unfold if they make the most of the different opportunities that come their way.
"Don't worry about it too much. You'll be doing many different jobs in your lifetime and the right things will come along at the right time. Don't try and plan your entire life when you're 20," Professor Frazer said.
The 38th annual St John's College Academic and Professional Dinner was nothing short of spectacular, as all attendees were both inspired and moved by the words of the award-winning immunologist and Honorary Fellow of St John's College.
Vice Chancellor of the University of Queensland Professor Deborah Terry AO FASSA and Artistic Director of the Queensland Ballet and Honorary Fellow Li Cunxin AO were also in attendance.
Speaking from his wealth of knowledge and experience, Professor Frazer encourages students to seek new challenges and meet a wide variety of people.
"I think it's very important for young people who are planning their future to find out how the world really works and that means you've got to experience as many different parts of life as you can manage," he said.
"They are the future of how Australia's going to develop, and it's nice to hear how they are really engaged with the idea of what the future holds for them."
Professor Frazer acknowledged the influence that his broad life experiences had on enriching his worldview and fueling his passion for wanting to help people.
"I really enjoyed all the jobs where I worked with people. Working as a barman was always interesting because you always met interesting people…but equally was the time when I was working in the Porsche car factory in Germany," he said.
"That was really interesting because I saw a whole side to life that I'd never seen before.
"Without a wealth of experiences, it's very difficult to engage across the whole community and understand how they're thinking and how they might see the future develop for them."
The opportunity to engage with Professor Frazer was incredibly influential on St John College's medical student Mehrbano Malik.
"It can be hard to envision your life after graduation when you don't have a strict plan of where you want to go and what you want to do," Ms Malik said.
"Speaking to people in the field opens your eyes to what is possible in the future, and how you can best prepare to get there.
"I was very excited that Professor Ian Frazer was a guest speaker. The result of his research is taught to us in our first year of medical school and getting to meet and speak to the person behind it was awesome."
St John's College Warden Rose Alwyn said the College's new initiative to allow all students to attend the evening created the opportunity for them to be seated with industry professionals, university academics and 'Old Johnians'.
"We opened the dinner to any students who wished to attend, rather than just inviting those students with high marks," Ms Alwyn said.
"This is because the dinner is not just a celebration of the students who have done well in their studies; it is also a night for all students to meet people who will have an influence on their careers and success."
Anglican Church Southern Queensland General Manager Tim Reid said he was pleased to attend his first Academic and Professional Dinner at St John's College.
"The address by Professor Ian Frazer was both entertaining and inspiring in its simple message of 'do what you enjoy and collect plenty of life's experiences along the way'," Mr Reid said.
Celebrating a history of 110 years, St John's College within the University of Queensland, has progressed from a single-sex College to a co-educational College, maintaining its strong connection to the Anglican Church.
St John's College board member Bishop John Roundhill highlighted the importance of the College's connection to the wider Anglican community.
"The College has always had a close connection to the Church as it is part of the Anglican Church Southern Queensland," Bishop Roundhill said.
"This Diocese is made up of parishes, Anglican schools, Anglicare…but the one tertiary residential college we've got is this, so it's really important for us to be serving this part of the community and it's really important that there is an Anglican presence here.
"The recent dinner was stellar. I thought it was really good that there were quite a few Anglican leaders present. It was really lovely from my point of view that in all of these professions that were present, you're actually seeing that Anglicanism is involved of all these things.
"I thought Ian spoke fantastically. He was really engaging, and I loved the fact that even though we are celebrating academic success – and, he is a person that has got academic status like no-one else – he talked about failure at the beginning…I thought that was awesome."
Jump to next article