St Andrew's team breaks record in fourth Kokoda Challenge win
"My highlight of the Kokoda Challenge would have to be the teamwork shown by each of us during the challenge; whenever someone was becoming fatigued, we were sure to get around them and encourage them to keep on going," says St Andrew's Anglican College student, Cory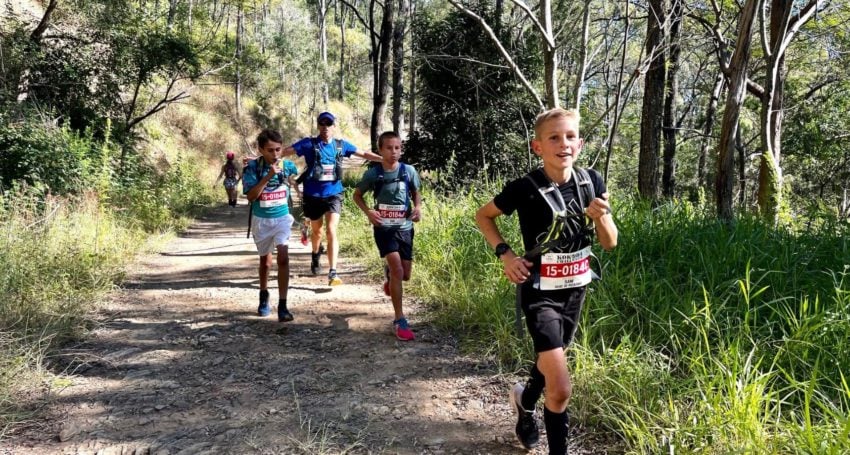 Teamwork, resilience and mental strength. That's what it takes to win in Australia's toughest team endurance event, the Kokoda Challenge not once or twice, but four times.
Summoning every ounce of those three key qualities, more than 250 St Andrew's Anglican College staff, students and parents competed in the gruelling event recently, with students from as young as nine years old through to 18 years participating in the 15km, 30km and 48km challenges.
Teams from the Peregian Springs based school took out the overall win in all three of the school events, including teacher Alex Austin and his team of four students – Harry, Luca, Cory and Jack – who broke the 48km record by 20 minutes in a time of 6 hours and 19 minutes.
Cory said that the camaraderie and conversations were key highlights for him and that he recommends the challenge for other school students.
"My highlight of the Kokoda Challenge would have to be the teamwork shown by each of us during the challenge; whenever someone was becoming fatigued, we were sure to get around them and encourage them to keep on going," Cory said.
"The chats we had on the run would have to be another major highlight as it allowed us to take our minds off the activity and have a laugh about the tough parts.
"I would highly recommend this challenge to all teenagers whether they are walkers, runners, or are just keen to get out and give it a go because it is a great way to test yourself and discover that you can exceed your perceived limits.
"It also helps to support a fantastic cause that helps other teenagers our age."
Mr Austin has now competed in the challenge seven times and taken home the winning trophy four times, but it's the relationships built in preparing for an event like this and seeing how the students grow that he really enjoys.
"I've been really lucky to have been a part of some great teams over the years and the last three years in particular have been made up of a core group of students who have been unbelievably determined to push themselves to the absolute limit," Mr Austin said.
"Their determination is what fuels the fire! I love the enthusiasm that the students show towards training and competing in this challenge. You get to build a real connection with the team and their families throughout the whole process!"
This is the twelfth year the school has entered the Kokoda Challenge, which has become a significant part of the College's personal capacity building culture.
"I think it's really important for students to have a crack at something like this as it teaches you how to deal with adversity and forces you to use mental strength that sometimes you didn't think you possessed," Mr Austin said.
"Everyone is really pushed outside their comfort zone and it's awesome to see teams encouraging each other and working together to get to the finish.
"This challenge is so much more than just a physical test; you don't always know the problems you'll encounter so the mindset it teaches you to overcome these challenging situations can be used in different facets in life."
At St Andrew's, this event provides students of all abilities and passions an opportunity to really push themselves out of their comfort zone and see what can be achieved with a bit of grit, determination and great friends by your side.
When piano teacher Clare Hannaway was approached by Year 4 student Evie to enter, she knew it was an opportunity not to be missed.​ With encouragement to find three more willing students, Evie recruited fellow music-loving students Summer, August and Lilah who were all excited by the challenge of competing for the first time.
Inspired by their team motto 'Courage will get us to the starting line, but only together as a team will we cross the finish line' and their favourite team training song 'The Hamster Dance Song', the team committed to training with a goal to complete the 15km course in under four hours.
"We wanted to get to the starting line with an open mind and to enjoy the experience, each other's company and entertain the other participants with our singing along the way," Ms Hannaway said.
"We have been really motivated with our fundraising for the Kokoda Youth Programs and we are fortunate to have a big support team behind us who are proud of our every step. In fact, at some training sessions we had up to 14 people along for the ride. It's been incredible having the support from parents and siblings helping us complete our training sessions all together as one big family."
St Andrew's raised more than $15,000 for the Kokoda Youth Foundation, which runs life skills programs for Australian teens who come from all walks of life and every part of our community.
Jump to next article