Seafarer reunions, COVID-19 vaxing, a new partnership and centre and the passing of a beloved chaplain
"In late January, seafarer shore leave restrictions were lifted after 18 months. So our doors reopened, and a welcoming message was sent out to all agents and ships inviting seafarers back to visit, play pool, connect with families via Wi-Fi or just enjoy the gardens, the birds and the local shops. In conjunction with this, we have teamed up with a local pharmacy in Wynnum and Queensland Health COVID-19 Vaccination Program providers to facilitate vaccinations for seafarers," says Mission To Seafarers President, Captain Ross Nicholls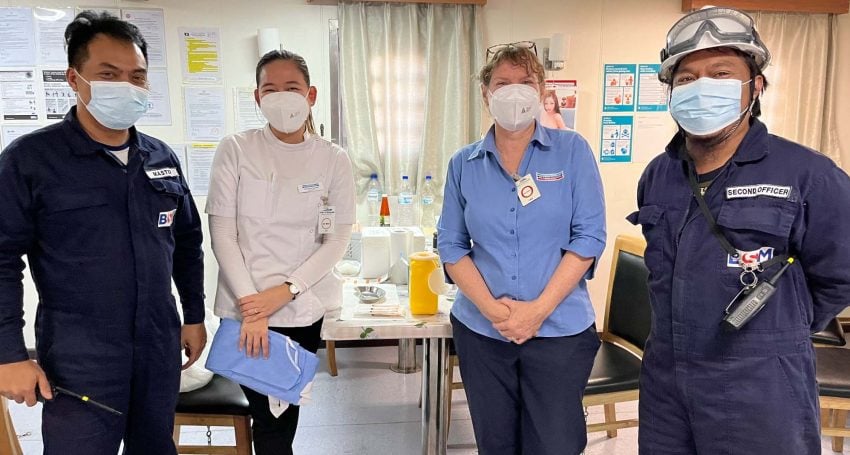 Our year at the Brisbane Seafarers Centre commenced with the necessary levels of enthusiasm and energy that are needed to provide care and support to the tens of thousands of seafarers transiting our port annually.
COVID-19, while making a notable impact, has ultimately left our mission in a stronger and more resilient position going forward. We have adapted our services to survive financially and enhanced the way we keep connected with seafarers. Our connections with seafarers, their families and our wonderful community of supporters are paramount.
In the first quarter of 2022, we engaged with seafarers in a range of ways that many of us take for granted. When you consider that less than 20 per cent of the world's shipping fleets have internet available to seafarers, you can understand that criticality of connectivity. We aim to connect seafarers in a range of ways that make their lives more "normal".
One of the most important activities we have undertaken this year is facilitating access to shore leave and vaccinations for seafarers in the Port of Brisbane. For two years, shore leave, which is a critical element of seafarer mental health, was prohibited due to COVID-19.
In late January, shore leave restrictions were lifted after 18 Months. So our doors reopened, and a welcoming message was sent out to all agents and ships inviting seafarers back to visit, play pool, connect with families via Wi-Fi or just enjoy the gardens, the birds and the local shops. In conjunction with this, we have teamed up with a local pharmacy in Wynnum and Queensland Health COVID-19 Vaccination Program providers to facilitate vaccinations for seafarers. The first vaccination was undertaken in March for a seafarer waiting to join his ship. We are hoping to facilitate many more.
Our port has long had two seafarer welfare service providers, the Anglican Church's Mission to Seafarers (MTS) and the Catholic Church's Stella Maris. Our two organisations have consistently worked together in ports around the world to provide for the spiritual, mental and physical wellbeing of seafarers. Mostly these services have been offered through separate facilities. It was recognised long ago that the synergies of working more closely alongside each other locally could be enhanced by working from a common centre.
So in early January 2022, Mission to Seafarers and Stella Maris joined forces at the new Brisbane Seafarers Centre to benefit seafarers and our respective organisations. The Brisbane Seafarers Centre team of Heather, Barry and Wil are now collectively looking after the wellbeing of our seafarers.
Connecting seafarers with their families and friends is one of our primary activities. For example, in February we helped one seafarer on MV Parsifal whose brother lives in Brisbane. We passed the locally living brother some macramé that had been lovingly completed over weeks at sea en route from Europe.
We also helped two people connect face to face again after years of being physically apart. Two lifelong friends from the Philippines – Victor and Julius – while separated by oceans, have maintained their contact through thick and thin, and COVID-19. It's always a joy to our staff to be involved in such reunions.
Recently when Julius' ship was scheduled to call into Brisbane, Heather and the team coordinated the delivery of a friends "care package" containing all those items any seafarer would welcome, including a baseball cap, Staminade (an electrolyte), books, magazines, DVDs and games. To see the smiles on the faces of these two friends was heart-warming.
Sadly, March also brought with it the passing of The Rev'd William Robert Pearson (Father Bill), Chaplain Emeritus for Mission to Seafarers. Father Bill was a well known and loved MTS chaplain who first connected with the Mission in Townsville in 1959. Having held active positions with the Royal Australian Navy Reserve and Mission to Seafarers Brisbane from 1996-2006, Father Bill was well versed in the life of a seafarer, which made his role of chaplain to these and several other seagoing organisations highly relevant. A requiem mass was held for Father Bill in early March at All Saints', Wickham Terrace and our love and sympathy for his family were clear as many of his Mission To Seafarers friends attended.
A quarter wouldn't be complete without a Bunning's sausage sizzle. This quarter, Team Sizzle (Patrick Ringold, Peter Marchbank, Marcus Bochenski and yours truly) got together on Sunday 16 January at Bunnings Rothwell to provide hours of nourishment for the DIYers of the Redcliffe Peninsula. Over 40kg of sausages were cooked to perfection and devoured in under seven hours. We are very grateful to Bunnings for enabling charities to fundraise via sausage sizzles and, of course, to the wider community who never cease to demonstrate their kindness, sense of humour and generosity.
Anglicans Australia-wide commemorate the significant contribution of the seafarer on Sea Sunday, which is marked on the second Sunday of July annually. Please take the opportunity this year on Sunday 10 July to recognise the contribution that seafarers make to our lives. Should you like further information about Sea Sunday and the sermon notes that are prepared for this day, please contact Mission To Seafarers via tfa@mtsbrisbane.org.au.
An official component of the local Mission to Seafarers operation, our AGM, is held each March. The AGM gives us an opportunity to recognise our supportive community organisations and the wonderful caring people that make these organisations what they are. While the number of organisations and individuals is quite long, we have listed them to thank them publicly for their contributions to our Mission and to the lives of our seafarers. They put a smile on the faces of our seafarers and contribute significantly to their emotional wellbeing. From the bottom of our hearts, we thank them:
Port of Brisbane Pty Ltd
Maritime Safety Queensland
Seafarers Day Committee
Naval Association of Australia Sandgate Subbranch
Parish of Goodna
Southport Gospel Chapel
Parish of Gold Coast North
East Redlands Anglican
St Matthias, Zillmere
St Andrew's, Lutwyche
St Augustine's, Hamilton
Parish of Green Hills
Algester Mothers Union
Parish of Aspley/Albany Creek
Parish of Grovely
St Peter's, Wynnum
St John's, Bulimba
Parish of Kilcoy
Royal Australian Navy Communications Branch
QCWA Border Division
Krafters group – Lions Club of Griffith Uni
Parish of Toowong
Scope, Allora
Patrick Security
Mrs Edna Ginnivan, Chinchilla
Quota Wynnum
St Bart's, Toowoomba
Anne Braithwaite
Smooth sailing…
Jump to next article