TSAC students raise nearly $7,000 for Cancer Council
For the second year, a group of Year 12 students from The Springfield Anglican College has taken part in the Cancer Council's Ponytail Project, cutting off their locks to raise nearly $7,000 and provide hair for patients' wigs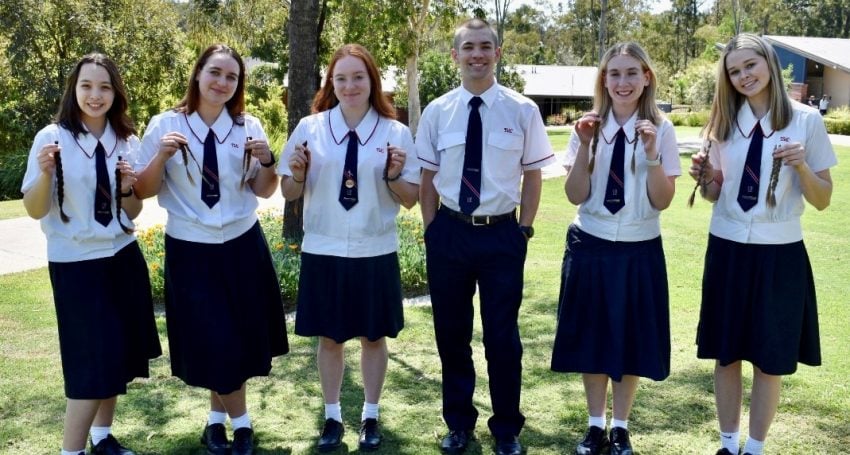 For the second year, a group of Year 12 students from The Springfield Anglican College has taken part in the Cancer Council's Ponytail Project.
The six senior students cut off their locks in front of fellow students at the College's Senior Campus Assembly.
Principal Steven Morris said that compassion and community are two of the pillars that create an inclusive and supportive culture at The Springfield Anglican College.
"I am proud of our seniors' dedication to this very worthwhile cause," Morris said.
"They have raised $6,884 for The Cancer Council, which is an impressive amount.
"More than the amount raised, I am proud that our students have given of themselves – cutting and donating their hair – which shows great empathy for those whose lives have been impacted by cancer."
The chopped ponytails will be made into wigs for patients suffering hair loss and will make a difference in the lives of people affected by cancer.
All funds raised will go towards essential cancer support services, prevention programs and lifesaving research.
Many of the students who participated have known someone affected by cancer and were moved to participate.
Year 12 student Alexis Crouch said, "One of my friends is supporting two family members who've received a cancer diagnosis. I wanted to raise awareness, raise money for a good cause, and get rid of my hair at the same time!"
Isabelle Syme added, "This is a great cause. Two of my grandparents died of cancer and I felt this was a good opportunity to give back and make a change. I was nervous, but I'm happy that I did it."
School leader Jillian Taylor said, "I felt the community support with every donation we received and it felt like we were making an impact as got we moved closer to our goal. We raised so much more than we thought we would. It was great that the whole community came together to support us."
School leader Hayden Nelson shaved his head in support of the project, and added, "Though I don't have the length needed to donate my hair, I still wanted to do my part and show my support. I hope this becomes a tradition at TSAC and Year 12 students continue to cut their hair and shave their heads in support of the Cancer Council."
Editor's note 20/09/2022: Since the writing of this story, the amount that TSAC students raised reached $7,000.
Jump to next article