Champion show guinea pigs blessed at special service
Three show champion guinea pigs were among the pets blessed at St John the Divine, Burnett Heads during the closing days of 2022's Season of Creation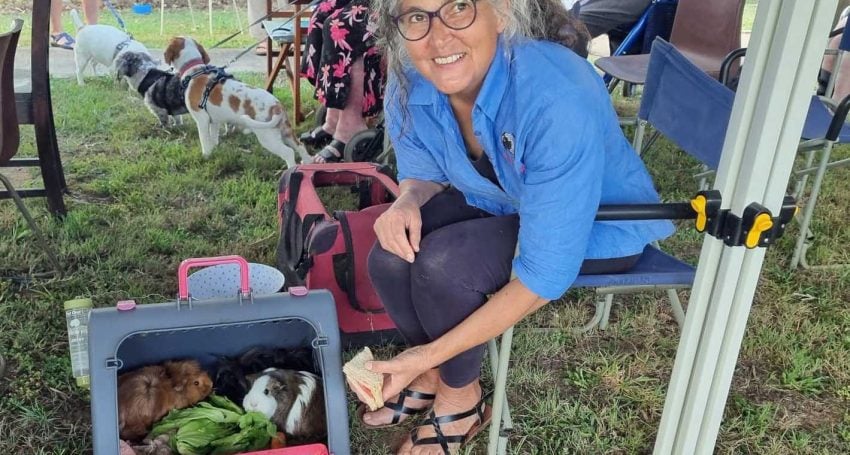 Three champion show guinea pigs were among the pets blessed at St John the Divine, Burnett Heads during the closing days of 2022's Season of Creation.
Parishioner Hilary Reed, who brought her champion guinea pigs Pyrus, Mystic and Jacob, said she enjoyed the gathering.
"The blessing service was a delightful afternoon in the outdoors and a wonderful opportunity to thank God for the gift of animals," Ms Reed said.
Parishioners and nearly 30 wider Burnett Heads community members brought along nine canine companions to the annual blessing event.
Assistant Priest of the Anglican Parish of Bundaberg, Mother Kate Ross, led the afternoon service, which was fittingly held outdoors so gatherers could enjoy Creation.
The service included a sermon on St Francis of Assisi, the patron saint of the animals and ecology, and several popular hymns, including the 174-year-old Anglican hymn 'All Things Bright and Beautiful'.
During the afternoon tea, each beloved pet received a tasty treat and a blessing certificate.
At the conclusion of the service, a collection was taken to benefit local animal rescue organisation Red Collar Rescue, including a donation from the St John's Ladies Guild.
The annual blessing of the pets gathering at St John the Divine is one of the parish's most popular events.
St Francis of Assisi's Feast Day of 4 October marks the last day of the Season of Creation, which commences on the first day of spring annually.
Jump to next article