TSAC students partner with Rosies Friends on the Street
The Springfield Anglican College students recently donated 1,800 more meals to Rosies Friends on the Street outreach while learning more about the causes and impacts of homelessness during a dedicated "Homelessness Day of Action"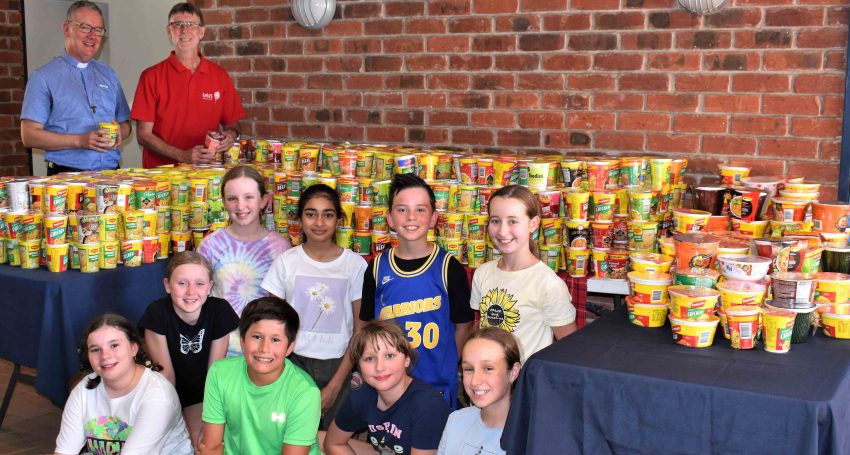 The Springfield Anglican College (TSAC) students recently donated 1,800 more meals to Rosies Friends on the Street outreach while learning more about the causes and impacts of homelessness during a dedicated "Homelessness Day of Action".
For the third year, Year 12 students organised a drive to donate cup-a-noodles and empowered students on the Primary and Secondary Campuses to support those experiencing homelessness.
TSAC's senior students galvanised the support of more than 1,200 TSAC students to organise a free-dress day whereby, in lieu of a gold coin donation, students donated individual serves of cup-a-noodles.
Year 12 student Daniel said that homelessness is an issue that the whole community needs to help address.
"I think it is important for us to learn about the rate and causes of homelessness because in doing so we also understand that we can make an impact and help those in the homeless community," Daniel said.
"It is important for us to care for people living through difficult circumstances because we, as students, have the privilege of education and can learn about homelessness, and then are able to use that knowledge to put things into action and make a difference.
"People in the community who are in a position to help should help because homelessness is a community issue."
The dedicated "Homelessness Day of Action", with the associated collection of noodles, is an initiative embedded within the College's Year 12 Health class, whereby senior students are required to develop an action strategy that empowers their fellow students to be advocates for those experiencing homelessness.
TSAC Principal Steven Morris said that the initiative reflects the College's ethos.
"We believe everyone deserves access to a warm meal and a kind word, regardless of their living situation," Mr Morris said.
"For the third year, The Springfield Anglican College will be donating hundreds of individual meals with community partners, including College partner Rosies Friends on the Street, who are focussed on helping people get back on their feet.
"The Springfield Anglican College ethos centres on faith, honour, and service.
"Our senior students have been valuable in working with student leaders on both Primary and Secondary Campuses to raise awareness of homelessness in our local Ipswich community.
"Since 2021, our students have donated almost 4,000 meals to local charities.
"Students will use the data collected from the Day of Action and create an action research report to form part of their Health studies."
Rosies Ipswich Branch Coordinator Barry Rienecker, who addressed students on the Secondary Campus during the College assembly, thanked all students for their contributions and the Senior students who meet some of the people the outreach supports.
"Rosies' aim is to make welcome those who are homeless, at risk of homelessness, or are socially isolated," Mr Rienecker said.
"Mostly, we welcome people in the form of a cuppa, a snack, and the opportunity to chat, just as you would with friends.
"The noodles give us the ability to do something more because for those who are hungry at the time, or who can't afford meals later, the noodles are a chance to have something warm to eat, shared with them as a friend would share.
"This is the third year that TSAC has organised a noodle drive to support Rosies.
"Each year the response has gotten bigger, with the noodles collected this year possibly enough to last us for the rest of the year!
"The donations from the students demonstrate their willingness to be friends with those we support.
"Some of the senior students will come out and meet some of the people we support and see the impact of the College's generosity.
"The fact that many won't get that chance, yet donate anyway, makes their willingness to support Rosies and the people we support even more amazing."
The cup-a-noodle staple was selected because it can be stored for lengthy periods of time, can be easily distributed, and only requires hot water to turn them into meals.
According to recent data, the homeless rate in the Ipswich region is 35.4 per 10,000 people.
Jump to next article