Bikers hit the road for annual Bundaberg Blanket Ride
Bikers from around the Bundaberg Region, and as far as Brisbane, came together recently for this year's Blanket Ride, a charitable initiative to collect blankets and winter clothing for people sleeping rough and to raise funds for the Anglican Soup Kitchen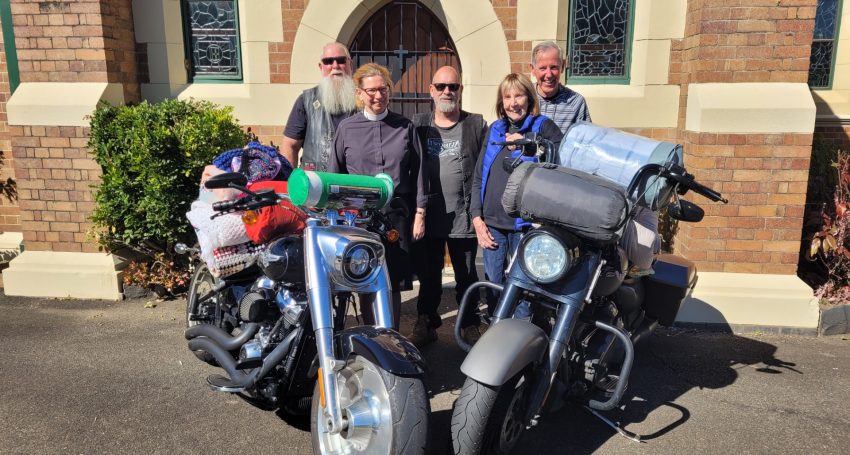 Over 100 bikers from around Bundaberg and beyond recently hit the road for the seventh annual Blanket Ride, an initiative of The Parish of Bundaberg and Crossroads Biker Church that helps locals sleeping rough keep warm during winter.  
Hundreds of blankets and clothing items were donated on the day, with $4,200 raised for Christ Church, Bundaberg's volunteer-run Anglican Soup Kitchen.
Anglican Soup Kitchen Coordinator Russell Cobb, who was tasked with coordinating the Blanket Ride for The Parish of Bundaberg, said that this year's successful event reflected the fruitful partnership between the parish and Crossroads Biker Church.
"The first ride was initiated by Peter Woodman, known as 'Cookie', on behalf of the Crossroads Biker Church," Russell said. 
"They knew about the work of our parish's soup kitchen and suggested we work together to deliver this initiative. 
"Their initial approach in 2017 was one of those wonderful 'God moments' where opportunities land at your doorstep and then with time, go on to develop and flourish. 
"Every time we do one of these events, I'm thrilled with the community engagement and the clear expression of deep care for the people our parish is seeking to serve. 
"It's a joy to work with the Crossroads Biker Church and live in a community that wants to support those who are struggling."
The parish's soup kitchen offers meals on Thursdays and Saturdays, and is run by volunteers from the parish, other faith communities, St Luke's Anglican School and people from the wider community. 
The ride — which stretches from central Bundaberg to Bucca and back —  generates significant interest from the motorcycling community in Bundaberg and beyond.
As the winter chill sweeps through the Bundaberg area, the blankets and other winter clothing items will be appreciated by those facing homelessness and struggling to make ends meet. 
The Parish of Bundaberg will hand out items to those in need, while also providing donated items to other community organisations for distribution via their networks. 
For locum tenens The Reverend Kate Ross, initiatives such as the Blanket Ride go to the heart of Jesus' Gospel.
"It's important to care for people doing it tough because it's our Christian duty," Mother Kate said.
"Jesus ministered to people on the margins, and encouraged us to do the same. 
"When we combine forces through partnerships, like the one we have with Crossroads Biker Church, we extend our reach into the community — the community sees us united in Jesus' message of love."
Crossroads Biker Church's RayRay Collins, who organised the Blanket Ride, said that his church is thrilled to partner with The Parish of Bundaberg. 
"We're all Christ's hands and feet, we're all one as the body of Christ, with one accord…to provide some form of warmth and comfort for those sleeping rough, and the Anglican Soup Kitchen was a no brainer for us. 
"We are so grateful to be able to be part of their wonderful ministry."
In addition to the annual Blanket Ride, the annual Grub Run, a similar charitable ride for motorcyclists, is scheduled for later in the year to collect food donations. 
For more information about the Anglican Soup Kitchen or to get involved with the initiative, contact the parish office 07 4151 3128, admin@bundaberganglican.org
Jump to next article