Spotlights on Fraser Coast Anglican College student with Queensland Theatre scholarship
Fraser Coast Anglican College Year 11 Student Quill is taking their passion for the performing arts to the next level after being awarded Queensland Theatre's prestigious Bille Brown Scholarship, which provides support for students from regional Queensland to attend Theatre Residency Week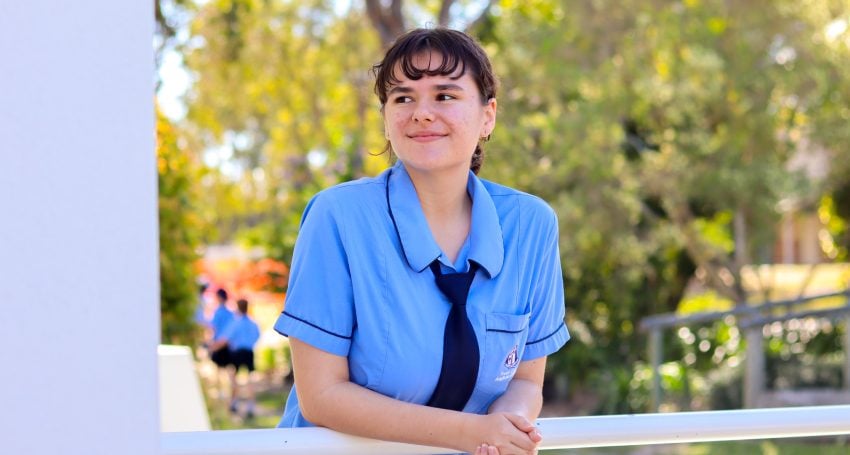 Given their lifelong passion for the performing arts, it's a dream come true for Fraser Coast Anglican College (FCAC) Year 11 Student Quill to be awarded Queensland Theatre's Bille Brown Scholarship.
Named after famed performer Bille Brown – the "Boy from Biloela" who appeared on theatre stages around the world, in addition to films such as Fierce Creatures, The Dish and Oscar and Lucinda – the scholarship provides program funding for two young artists from regional Queensland to attend Queensland Theatre's annual Theatre Residency Week, an intensive theatre camp for students in Years 9 to 12.
It's the longest running theatre program of its kind in Australia, and for Quill it's an important opportunity to pursue their craft and develop skills in one of the nation's top theatre companies.
"I've always loved the arts, the stories art tells and the connections it creates," Quill said.
"Those connections are one of the most important things you can have in life and I've always made sure to participate in as many school clubs and performances as possible to help hone my skills and develop my love for my craft throughout my life."
Quill's introduction to the scholarship opportunity came about during one of the school's drama classes.
"I found out about the Residency week after a poster was passed around by my teacher in drama class," Quill recalled.
"I looked further into it online and found out about the scholarships available and how to apply, and because I live in Hervey Bay I was able to apply for the Bille Brown scholarship."
Brown once famously stated, "Theatre is magic – it's the oldest form of storytelling from one person to another by the fire light or in the modern equivalent," and Quill's performing arts education at FCAC has certainly exposed them to the magic front and centre in various productions.
"Ever since joining the college in Year 10, I have felt very supported academically and creatively," Quill said.
"There is a lot of individual recognition and support, but also many opportunities to work with others and challenge your limits – the passion shown by my teaches towards the arts helps motivate me every day to learn more, challenge myself and strive for greater opportunities."
From school events to local festivals, taking the stage has become a central part of Quill's life and it's a passion they intend to pursue after secondary school.
"I've had many opportunities to perform throughout my schooling at FCAC, mainly through singing; I perform at nearly every school event, and also perform at local festivals, such as the Mary Poppins Festival," Quill said.
"I plan to pursue the performing arts as my career and aim to push the limits of, innovate and combine as many different mediums as possible.
"A highlight of my performing arts work at FCAC was when I got to perform in the choir at the Anglican Schools Music Festival – so much effort is put into these events and I'm always honoured to be able to perform in them."
Jump to next article