St Margaret's students represent Australia on the sporting world-stage
Two St Margaret's Anglican Girls School Year 12 students have been making international waves with their rowing and rugby abilities, representing the nation at the World Rowing Championships in Paris and the Youth Commonwealth Games on the Islands of Trinidad and Tobago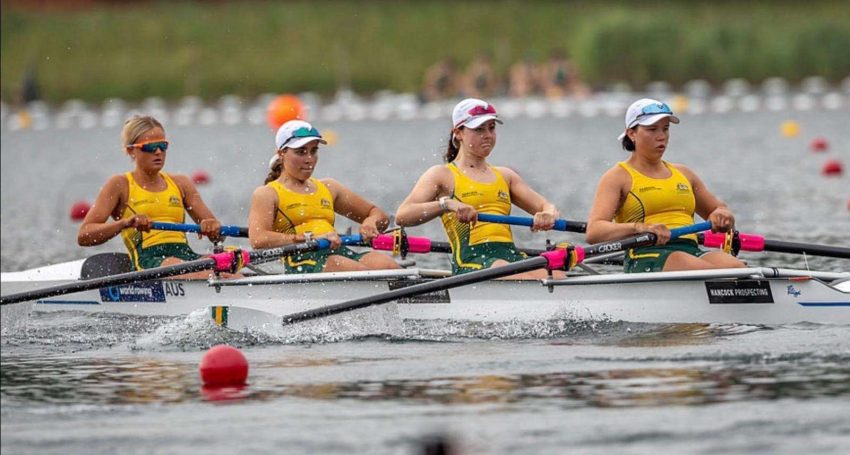 St Margaret's Anglican Girls School Year 12 students Georgia Montague and Lucy Bourke have both recently returned from overseas having represented Australia in rowing and rugby respectively.
Georgia donned the green and gold in the Women's Coxless Four at the World Rowing Championships held in Paris in early August.
"It's always been a goal to make the U19 Australian Rowing team and getting to travel to the other side of the world to row was a bonus," Georgia said.
"I moved over to St Margaret's in Year 10 because of its reputation for having an amazing rowing program led by Head of Rowing, Jared Bidwell.
"The lessons I learnt during training for two championship First VIII crews at the school held me in good stead when I was trialling for the Australian team and training for Worlds."
For Georgia, like all athletes who compete at an elite level, there were challenges to overcome during the Worlds training campaign, including an injury and having to adapt to different coaching styles, different time zones and varying weather conditions.
"When we got to Paris to compete, the conditions were windy and rainy; the finals had to be moved to a day earlier because of extreme weather." Georgia said.
Fortunately for Georgia, St Margaret's Head of Rowing's sage advice helped her.
"Jared is always telling us not to be afraid to adapt mid race and that's what we had to do to cope with the conditions," she said.
Georgia's crew competed exceptionally well, claiming a first in the B-Final and finishing 7th in the world.
"Meeting the competing demands of Year 12 while training for Worlds has been challenging, but my teachers have all been really supportive, and without them, I wouldn't have been able to juggle everything."
As for the future, Georgia is planning to take a gap year next year to focus on her rowing and hopes to one day follow in the footsteps of St Margaret's Old Girls and gold-medal-winning Australian representative rowers Lily Alton-Triggs (2015) and Sally Kehoe (2003), who have both been an inspiration to her.
"I'm eager to give back to the younger St Margaret's rowers and intend to coach the junior crews next year. I hope I can teach the junior girls if you have dreams and work hard in rowing at St Margaret's anything is possible," she said.
Earlier this month, Lucy Bourke was among the Rugby 7s women's side who represented the nation at the Youth Commonwealth Games on the Islands of Trinidad and Tobago in the Caribbean, located just off the coast of Venezuela.
"I can't even describe how fun it was: meeting people from other cultures, watching other international sports and being surrounded by world-class athletes," Lucy said.
"The whole experience was inspiring. On the way home, all the team could talk about was how we all want to travel the world playing sport."
The Australian side secured gold with a 50-0 win over Canada in the final.
"We were so pleased with the final result. We went there to win, and we did it!" Lucy said.
The most important attributes Lucy drew on during the experience were adaptability and teamwork.
"We learnt very quickly we had to be adaptable; from navigating our way around on transport to adjusting to the very humid temperature," she said.
"Additionally, playing sports like touch football and cricket at St Margaret's taught me a lot about teamwork and working with different personalities, which really benefitted me throughout this experience."
Lucy is aiming to trial for the World Schools 7s to be held in New Zealand at the end of this year, but will first participate in the Australian Youth Rugby 7s Training Camp in September.
Next year, Lucy is planning to continue her rugby training through the Queensland Academy of Sport (QAS) while completing sports studies.
"My big goal is to play for Australia in the Women's National Rugby Sevens team," Lucy said.
Lucy's advice to younger St Margaret's athletes is to "keep working hard and try everything because you never know what sport you might love".
Principal Ros Curtis congratulated both Georgia and Lucy who not only proudly donned the green and gold, but also represented the St Margaret's community with the utmost professionalism and sportspersonship.
"On behalf of the entire St Margaret's community, I congratulate Georgia and Lucy on their representation of Australia, their clubs and St Margaret's on the world sporting stage. What an exciting achievement in their careers and lives and what an inspiration they are to our students," Ms Curtis said.
"We look forward to following their journeys as they continue to pursue their passions and, I'm sure, celebrate many more achievements."
Jump to next article