Priest with fear of heights heads 15,000-ft into skies to save church roof
A priest has conquered his fear of both heights and flying by making a 15,000-foot skydive to raise funds for his church roof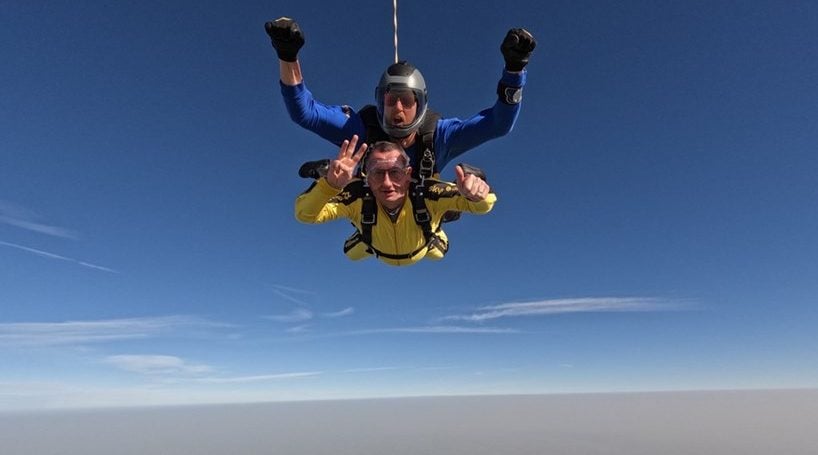 A priest has conquered his fear of both heights and flying by making a 15,000-foot skydive to raise funds for his church roof.
The last time that The Rev'd Glyn Lewry flew — only the second in his 60-year life — he ended up so distressed that he needed to be helped off the plane.
But last week, he faced down his fears to make a successful jump, strapped to a parachutist, Michael Lovemore, and is now planning a flight to Germany to see his son.
Mr Lewry, who is the Team Rector of Sampford Peverell, near Tiverton, in Devon, said that he had agreed in a "moment of madness" to do the skydive as a fundraiser for St Peter's, Uplowman, whose leaking roof needs replacing, at an estimated cost of £100,000. "It was a long way outside my comfort zone. I really don't like flying. I have only recently got a passport, because I don't want to fly. I also don't like heights; so it was a bit of a double whammy," he told the Church Times.
On the day, however — after two earlier attempts were postponed — he felt calm. "I think by that stage I just wanted to get it over with. I did say a quick prayer before I jumped. You get that moment of reflection when you think 'Yeah, help!' When they open the door and you look out you think 'Oh my goodness'. Everything in your body is saying this is not right. But we just leaned out and away we went. That moment was quite terrifying."
He felt exhilarated by the first minute's free-falling. "It was almost like I was standing still in a gale, it didn't feel like I was falling. After the chute opened, I had about four minutes when we were just drifting down. It was very quiet, very peaceful. I could see for miles over the amazing Devon countryside. Afterwards, I was asked if I would do it again, and I replied — in that good old Anglican tradition — that I would take some time to reflect on it.
"It has probably changed my attitude. It took away that fear, and created a sense of awe and wonder. It made me realise that, when you are on the ground, everything seems big, but, at 15,000 feet, it's all very small. It reminded me of how small I am in the great scheme of things; but, no matter how small I am, I am still loved and cherished within that big picture of creation."
By Tuesday, his appeal had raised almost £8000.
First published in Church Times on 15 September 2023. Visit the Church Times website to subscribe today.
Jump to next article