Glennie School student's aviation dreams take flight
Glennie School Year 12 Student Talita Cann is ready for an aviation industry career after recently graduating from Aviation Australia's High School Program, and has received an apprenticeship offer from a local aviation maintenance company, all while pursuing her secondary school studies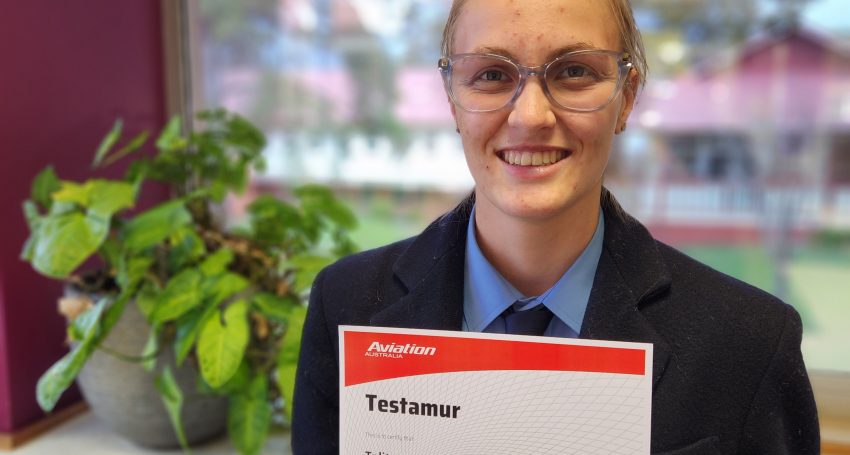 For The Glennie School Year 12 Student Talita Cann, a lifelong dream of working in the aviation industry is quickly taking off after her recent graduation with a Certificate II in Aircraft Line Maintenance from Aviation Australia's High School Program.
While continuing her studies at The Glennie School, Talita signed up for Aviation Australia's two-year Aircraft Line Maintenance course, which provides knowledge and skills to perform a range of specified aircraft maintenance tasks.
Graduation from the course opens a future pathway to obtaining a Civil Aviation Safety Authority (CASA) Category A Aircraft Maintenance Engineer licence, a critical requirement for those wishing to become authorised personnel that can release aircraft to service.
Talita's passion for aviation started from a young age, and it was a meeting with the school's careers advisor that helped kickstart her pursuit of obtaining industry certification.
"I was always interested in planes and the idea of flight when I was younger, but was suppressed by the idea that only the boys do those things," Talita said.
"When I saw an email pop up from the school careers advisor for an open day on aviation jobs and careers I went to see her for more information.
"I saw her and she told me there was a maintenance course running that she might be able to squeeze me into if I was interested."
The Aircraft Line Maintenance course is funded by the Queensland Government through the Certificate 3 Guarantee – Vocational Education and Training in Schools (VETiS) program, and over the two-year course Talita has been balancing her secondary school work with her aviation studies, in addition to volunteering for work experience at a local aviation engineering business.
"The course was a really enjoyable and engaging experience, and the practical work and excursion to the Brisbane campus was a very comforting experience in finding that this was really the right fit for me," she said.
"I was given a study line that allowed me to catch up on the work from the Thursdays that I missed [due to the course] and was able to balance all school and work life.
"The Glennie School were able to support my journey by giving me the opportunity to complete this course and pursue my career through connections they had, and the school helped me find a work experience place, which I have now been offered an apprenticeship for to start my career in."
Australia's aviation industry carries millions of passengers domestically and abroad every year, in addition to the hive of activity that takes place in commercial air transport and generation aviation, such as aerial work, sport aviation and instructional flying.
While Talita is keen to progress through her apprenticeship and become a Licensed Aircraft Maintenance Engineer (LAME), she hopes to take to the skies in the cockpit as well.
"My future plan is to obtain my pilot's licence either during or after my apprenticeship, and after that I would like to either dip into aerobatics or commercial aviation," Talita said.
For other students considering a career in aviation, Talita only has words of encouragement based on her study and work experiences in the industry.
"I would advise other students interested in pursuing a similar study/career path that it's a really awesome career full of great supportive people," she said.
"It was never intimidating for me as I knew that everyone around me in my journey always had my back — you don't need to know everything straight away, you'll never be turned down if you ask."
Jump to next article