When faith and dementia meet
September was Dementia Awareness Month, with the community encouraged to reflect upon the ways we think and talk about dementia – anglican focus explores how people with dementia connect with the Divine, and how the Church helps to foster this connection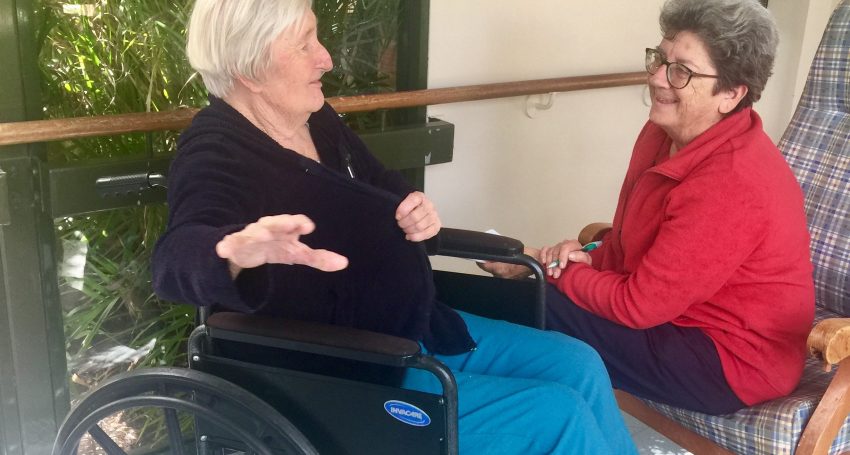 It is Friday morning at the E.M. Tooth Residential Aged Care home on the Brisbane Bayside and songs from decades past fill the corridors and the rooms of residents who live with dementia. Spiritual and Pastoral Care Coordinator at E.M. Tooth Colin Lim welcomes and chats to each resident and family member, glad that the conversations he has had with them over many weeks, months and years – learning about their likes, dislikes, memories and favourite songs – have brought them again to the path of worship and faith. Colin Lim, and others working in aged care communities, are finding new ways of connecting people with dementia to the Divine.
People with broad diversity in cognitive ability live in our communities, including those living with dementia. "Dementia describes a collection of symptoms that are caused by disorders affecting the brain" and affects "thinking, behaviour and the ability to perform everyday tasks" (dementia.org.au). Cognitive impairment is one symptom of dementia, and in a society that commonly preferences intellect and the ability to reason, people with dementia can be marginalised, even in communities of faith. Our health and community services provide physical and emotional support and assistance to those living with dementia, but what is available to care for and nurture the spirit? And, what role does the Church play in enabling those of faith the opportunity that other worshippers take for granted to connect with God?
A theology of disability?
It is a question that has sparked fundamental theological rethinking. University of Aberdeen School of Divinity theologian John Swinton calls not just for a rethink but a new "disability theology". He says churches have traditionally expressed the dominant liberal democratic society's values and assumptions about disability, especially the "prized assets" of intellect and reason.
"Disability theology begins with the recognition that people with disabilities have been at best a minority voice in the development of Christian theology and practice and at worst have been completely silenced within the conversation. In listening to such voices and reflecting on the life experiences of people with disabilities, it [disability theology] hopes to re-think and recalibrate aspects of theology and practice that serve to exclude or to misrepresent the human experience of disability," he wrote.
The place of people living with disabilities in communities of faith has even raised the interest of secular advocacy groups. The Victorian Advocacy League for Individuals with Disability and The Faith Communities Council of Victoria assert that "spirituality is a very important part of the human condition" and endorsed the statement that "the rights, needs and wishes of many people with disabilities, in regards to their spiritual expression, have been largely overlooked or denied."
The League found that people with disabilities, and their families, want greater support from their faith communities, so that their physical and sensory needs are addressed in order to be present at times of worship and social activity; that they may experience a sense of unconditional welcome and belonging and are not treated differently on account of disability; and, that they are consulted about their participation in the life of their faith community.
Enshrining rights into society's laws has changed the way we think about disability in general, inclusionary practices and discrimination. However, John Swinton says that for church communities, legislation and church edicts are not enough:
"No laws, bishop's letters, human services paradigms, or parish accessibility committees will ever truly provide access to people with disabilities. Liberation and equal access to the community will only be realised through personal relationships that develop into genuine friendships."
Beyond cognitive knowing
Director of Mission for Anglicare Southern Queensland, The Rev'd Canon Linda McWilliam, agrees.
"All people are created in the image of God and should have the opportunity to grow spiritually and connect with the Divine," she said.
"They know your presence, they know God's presence, it's beyond cognitive knowing. You sit with them and share eye communication and they look back at you. They might not be able to say they know you, they just do."
While dementia can affect anyone, it is more commonly experienced by those over the age of 65 (dementia.org.au). While state aged care funding covers physical and health needs, there is no funding for spiritual care, which relies on the generosity and support services of church agencies and volunteers.
The good thing about music
Anglicare Southern Queensland offers spiritual care to the residents of its aged care homes, and those living in their own homes. Spiritual Care Coordinators like Colin Lim have developed innovative ways of providing pastoral care that include opening pathways to faith and worship.
Music is a key tool, which Mr Lim says taps into brain functions that remain unaffected by dementia.
"Music connects to that part of the brain that triggers memories in the residents and the memories of associated incidents, and they start talking where there was only silence before," Mr Lim said.
Mr Lim has developed his personal approach through trial and error. He gets to know each resident as individuals, noting their life stories and the music they like, which can be included in the worship services. These are short and simple with well-known songs such as Jesus Loves Me.
Sermons are replaced by simple messages that tie in with the songs and the residents' life stories and current experiences.
"It is very much about developing relationships, getting to know them and letting them know you. I record their stories and talk to them about the themes and Biblical messages that can comfort them, ease the agitation that is often a part of dementia, and help those who have had a faith life to reconnect with worship and God, and also encourage those without faith to connect with the Divine and receive hope and comfort," Mr Lim said.
"I play the song, it can be secular, and ask what it means to them, and give them time to reflect and introduce some meditation techniques and simple prayers. If it's Amazing Grace, I talk about 'hope' and 'bringing us home'. 'Home' is a significant and meaningful term for them. The 'true home' reference in the song taps into their attraction to a place of rest and peace where there's no more pain and suffering – Heaven and being with a loving God," he explained.
Colin is now having to shape the services to cater for residents' family members and even staff who have discovered the calm, quiet and easy to understand messages provide a much needed break in their often busy and noisy day.
"I can't tell you whether they [residents] accept faith or the messages. They just trust God is speaking to them, and it provides the opportunity to reconnect with the spiritual part of themselves. The husband of a resident with dementia asked me to pray for him, having rediscovered his faith after attending the services," he said.
Providing residents with a place for 'time out' is also a priority for Roz Rogers who is a Spiritual and Pastoral Care Coordinator at Anglicare's Residential Aged Care homes Symes Grove and St Martins, both at Taigum.
"It's good for the soul to have permission to sit in a quiet place," Ms Rogers said. "All people, no matter their intellectual ability, have a part of themselves that is profoundly spiritual whether they are people of faith or not."
Ms Rogers offers residents who have dementia a short 10-15 minute worship service, which can include Communion. The services began with just a couple of people attending, but now she says it can be "standing room only." She says the Lord's Supper is a very powerful and positive trigger for residents who have had a church experience.
"To connect with them, I might talk about things from their life, which trigger childhood memories. For example, people of that generation often had backyard chooks and roosters, so we might share memories of that and I link it to the theme of God's protective love over all of us," she said.
What do people living with dementia have to say about God?
In September, when Ms Rogers sat down to simply chat with two residents living with dementia at Symes Grove Residential Aged Care, Ron Warnock and Janice McDonald, about their faith, they shared heart-warming insights into their unique relationship with God.
Mr Warnock regularly attends the weekly Anglican service in the Memory Support Unit (MSU) on Wednesdays. He has travelled a lot over the years and told Ms Rogers that he has "been to many churches all over the State", with the little service on Wednesdays being "probably the smallest church [he has] been to", but that is where he says he finds God and "that's what it's all about".
Mr Warnock is a humble man, best exemplified by his response to the question, "How do you know that God loves you?" He responded with: "Well, I am not going to brag about that. I do the best I can."
Mrs McDonald told Ms Rogers that she has been a lifelong Anglican who "loved Sunday School" as a child because she "learned new things there". She also attends the weekly church service in the MSU because she "likes the quiet time and the prayers" and enjoys "talking about God and love".
Mrs McDonald always says her prayers at night and when asked why she prays at night she said, "To get everything right with God before going to sleep". Just do it!
Such conversations highlight the need to focus on being relational and communicating simply, and through the heart, not the intellect.
The Anglican Dean of Brisbane The Very Rev'd Dr Peter Catt echoes this: "Being human is more than thinking. It is relational. Loving and being loved are what make us fully human. All of this serves as a helpful and direct challenge to the utilitarian culture in which we live: where people are valued through reductive parameters such as money, productivity, autonomy, individuality and efficiency. We are invited to discover the richer aspects which are relational and communal. People are valuable simply because they are. They have value due to their ontology, rather than because of what they do. People who love people with dementia remember on their behalf."
Let us take inspiration from our Anglicare residents and the Spiritual and Pastoral Care Coordinators and Diocesan clergy who minister to them, as we reflect upon the ways we think and talk about dementia and where dementia and faith meet.
Jump to next article