Building the Diocese's media and community engagement skills
The Social Responsibilities Committee hosted a Media and Community Engagement Workshop and Training Session, including presentations, a Q&A panel and practice interviews, on Friday 24 August at St Francis College, Milton – workshop trainers summarise their presentations for readers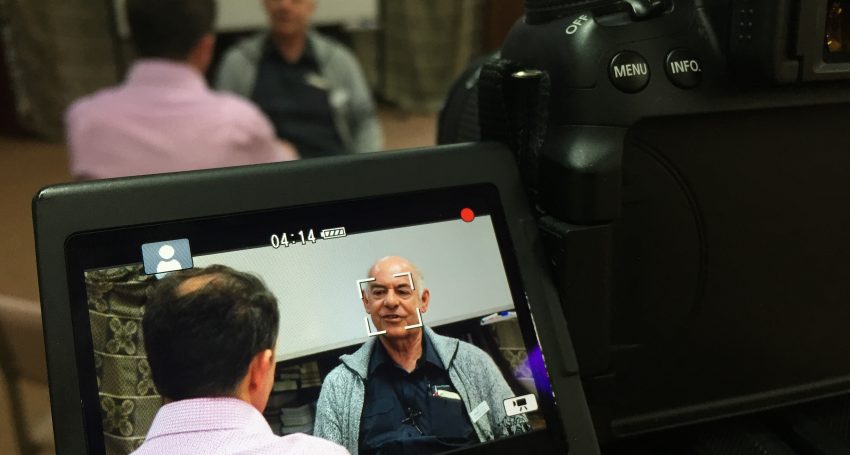 Media and communications tips: facilitated by Ian Eckersley, Policy and Advocacy Advisor
Our relationships with journalists and editors can be mutually beneficial – reporters need content and we have positive and inspiring stories to tell about our achievements, events, contributions and initiatives.
1. Build and leverage relationships with local journalists and editors on good news stories and events by:
• being proactive and positive with journalists and pitching story ideas
• sending media releases
• sending video media releases
• using social media to contact the reporter.
2. Nail media interviews for your event or initiative by being prepared, including:
• researching relevant Synod motions
• asking the journalist to advise/send through questions ahead of the interview
• writing down 3-4 jargon-free and active key messages and getting these out early and often
• providing concrete facts and figures
• humanising your messaging with examples.
Community engagement tips: facilitated by Ian Eckersley, Policy and Advocacy Advisor
Effective community engagement is a great way to build the Diocesan community in your parish, school, agency or ministry, based on shared values and working together toward a common good. Build community engagement strategies around activities and projects tied to significant events and/or justice issues, by identifying key:
• events, such as NAIDOC Week and National Volunteer Week
• justice issues, such as refugee rights, climate change and homelessness
• stakeholders, influencers and like-minded organisations
• messages if engaging the media
• politicians relevant to the issue, being mindful of the politician's jurisdiction
Social media tips: facilitated by Jonathan Kemp, Director of Youth, Children's and Families Ministry
Using social media is an inexpensive, effective, engaging and efficient way to inform and connect, with 2.23 billion people on Facebook, 1 billion people on Instagram and 335 million people on Twitter world-wide.
1. Whatever platforms you use, ensure your content is:
• current
• accurate
• relevant and engaging
• regularly updated.
2. To ensure you observe best-practice social media security and privacy principles:
• be mindful that your content will be publicly viewable
• consider the appropriateness of your content
• state (link to) social media guidelines
• be mindful to keep personal information personal
• include release forms or put up a notice to visitors that they may be photographed for media purposes
• turn off the Visitor Posts to Page option if you:
• receive spam posts from random people
• do not want people to post to your page.
3. Other helpful tips to make your social media outreach strategies timely, effective, engaging and safe are to:
• plan content ahead of time
• tell a brief story for each post to give it context
• measure results, such as by Facebook Insights
• consider paid advertising options, such as for events
• handle complaints and feedback in line with the ACSQ social media guidelines.
Communications, faith and religious language: facilitated by Jonathan Sargeant, Director of Lay Education
To be effective communicators, we need to understand that God, faith, church and spirituality mean different things to the people we are trying to reach out to for children, teens and adults alike.Therefore, we need to use language that enables people to express their beliefs without threat, encourages dialogue about beliefs, avoids unnecessary negative reactions to faith content, avoids jargon that is exclusive and confusing and leaves everyone free to consider belief statements and accept them if they wish. Using 'owning' and 'grounding' statements assists with this.
1. Owning statements claim a belief as mine and present it to others for consideration, and may begin with:
• I believe…
• I feel…
• I think…
• In my experience…
• It seems to me…
2. Grounding statements 'ground' the belief statement by attaching it to the group who holds it, or to its source, and begin with phrases like:
• Many Christians believe…
• In the Bible, Paul says in Romans 2 that…
• The Anglican Church teaches…
• For Anglicans…
Using 'owning' and 'grounding' statements do not prove a belief or claim as authoritative for all, but they free people to hear beliefs, and consider and discuss them. And, they make beliefs sound less dogmatic, while making the source of authority for the belief, whether in personal experience or tradition, clear.
What do workshop participants have to say?
"Key things I learnt from today's workshop are to have key messages ready when speaking to the media; and, ensure your social media content is engaging and up to date." (Jill English, Parish Councillor and Liturgical Assistant, St Paul's Anglican Church, Ipswich)
"Top tips I learnt today are to be more precise and focused on messaging; keep your message simple and jargon-free; and, use a broad range of social media platforms."  (The Rev'd Peter Moore, Chair of Angligreen)
"I really enjoyed Ian's first segment that demystified the media and taught us how to engage with the media…I was also reminded that we have to be mindful about how we come across, especially regarding the use of jargony 'church talk' when we are communicating with people who are not part of our church world." (The Rev'd Tiffany Sparks, Rector of St Paul's Anglican Church, Ashgrove)
Jump to next article