Faith formation for a new and exciting era
The triennial Provincial Clergy and Lay Conferences were recently held, with author and faith formation expert John Roberto presenting as key speaker – local clergy and lay leaders summarise Roberto's key ideas and the potentially rich application of these for our Diocese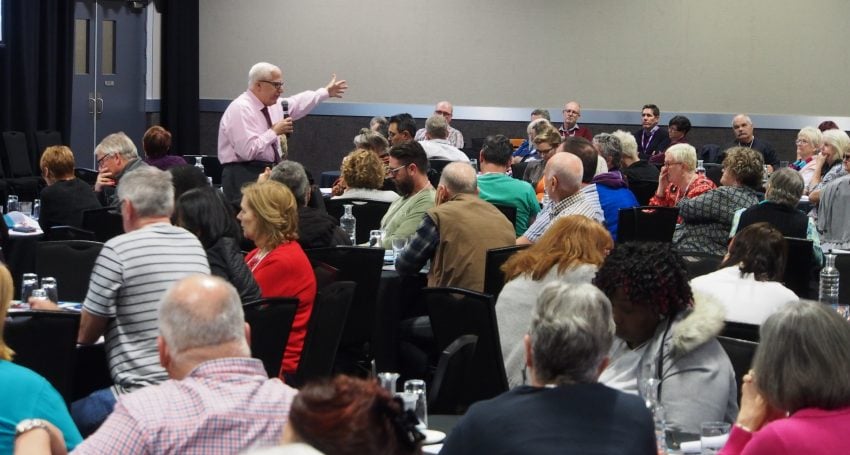 The Provincial Clergy Conference and Lay Conference are conducted every three years to educate, equip and encourage clergy and lay leaders, and were recently held in July. This year, the Clergy Conference was held on the Gold Coast, with 200 clergy from Southern Queensland, Rockhampton, Northern Queensland, Northern Territory and Grafton Dioceses attending. Key lay leaders are also invited to the Clergy Conference. The Lay Conference was held at St Paul's School in Bald Hills, Brisbane and was attended by 175 people. John Roberto was the keynote speaker for both conferences. He is an internationally-renowned speaker, thinker and educator in the area of intergenerational and digital faith formation, with 48 years of faith formation experience.
Adaptive Change – The Rev'd Michael Stalley, St David's Anglican Church, Chelmer Graceville
Most of us are willing to admit that the Church faces some problems in our times. We might note those sitting in the pews around us are generally getting older, that families have less time for church and faith-connected voluntary activities, and regular participation in church is often a monthly, rather than a weekly occurrence. I am sure that you can add to this list other changes you have observed around your church and in your family. We can see things changing, and we are not sure why what we have done successfully before is not getting us the same results now. Trying harder with less support and with diminishing results can be disappointing.
During the Conference, John Roberto challenged us to think about these problems differently. He suggested that the issues the Church is facing are not of the kind that can be solved solely through current knowledge and practices. He described these problems as "adaptive challenges" and indicated that they would require a particular leadership approach and style that seeks the kind of change "that enables the capacity to thrive". These challenges require new knowledge and a willingness to take risks and make mistakes.
In his work Reimagining Faith Formation for the 21st Century, Roberto proposed four broad areas of challenge to the life of our churches. These include increasing diversity between the generations and the patterns of family; the rise of new digital technologies that are reshaping society and the way we connect; dramatic changes in the way people practise their religious beliefs; and, a decline in the transmission of faith from generation to generation. The conference sought to present some approaches that other churches throughout the world, and in our local area, are adopting to meet these challenges today.
Intergenerational Faith Formation – Jonathan Kemp, Director of Youth, Children's and Families Ministry
That 2018 has been designated the year of being 'Generations Together' in our Diocese is an ongoing source of joy for all of us who work in and with parishes, and John Roberto's presence and input has been a huge highlight of the year. I was very confident that John's sessions focusing on intergenerational (all-age) church would have a great impact, and the feedback so far has been magnificent.
When John speaks of 'all-age church', he means all-age worship, all-age learning, all-age service projects, all-age fun, and all-age caring for each other. Most people's reaction to this list is to think, "That's going to be a lot of work", and although it does take a bit of effort when you start off, my experience has also been that most people will find it a lot of fun, and well worthwhile. I found myself reflecting on John's 'all-age worship' ideas in particular, because this is often where parishes begin their journey of rediscovering an intergenerational approach to church. These ideas included children needing to be part of community worship in order for the body of faith to be complete; and that involving children in worship welcomes them in, teaches them how to worship, and offers them the opportunity to experience the transcendent at a time when they are very open to the mystery of God.
Being "intentionally intergenerational" may be a bit of a mouthful to say, but it is an awesome concept to put into practice. Virtually everything John proposed is grounded in solid research and just makes sense! We need churches where people can feel safe and supported to learn and grow; where we can practise a welcoming spirit towards those who are different; and, where leaders can be empowered to adopt a collaborative approach and 'share the stage' – and an all-age approach does all of these.
There is much to reflect upon from John's visit, and I would love to see more parishes make an 'all-age' approach their new strategic focus, to make the value of John Roberto's input stretch far beyond just one year of being 'Generations Together'.
Digital Faith Formation – Jonathan Sargeant, Director of Lay Education
After deciding to do a job around the house, say, baking a cake or fixing a broken chair, you look at your old mixer or drill. Internally you groan. Do these old tools even work anymore? But what if you had brand new tools and people to show you how to use them? What if some of these people could do the jobs for you, saving you for other things?
John Roberto points to the new and emerging digital tools around us that can assist in the age-old practice of faith formation. These tools exist and their attractional power is strong for the people with whom we want to work. Even if we have no experience with them, there are nieces, nephews, daughters and sons, even grandkids who would love to help coach us in their use!
John suggests a few strategies for the use of digital tools in faith formation. Each is simple and within our grasp.
1. Programs and gathered events we already do: such as Lent and Advent preparation and occasions, can be extended digitally, first of all. Transforming our church websites from informational to formational is easy by simply adding weekly Bible readings, prayer ideas, a video exegesis and the like. This is a great starting point because there is so much terrific content already free and available on the Web.
2. What if we spend less time face-to-face teaching content and more time together processing interactively, putting our learning into practice? The idea here is to flip programming. Got a baptismal family meeting coming up? Send them links to 'What is baptism?' YouTube videos. Then when you get together, you can answer questions, taking the understanding of the Sacrament a bit deeper. Families can do the same at Advent.
3. Or, maybe the programming can be entirely online. A Lenten program can be curated with already available online content for everyone to experience at home. The parish website can become a hub for learning with a humming faith formation section. Web services like Squarespace or Weebly make building such webpages super simple and affordable.
4. You could even go multi-format and have your website featuring video learning and back it up with Facebook or Twitter daily prayer reminders or even 'Facebook Live' webinars for next-step engagement. Any of these four ideas can use the digital realm for follow up after programs too. How about emailing families every year on baptismal anniversaries with ideas about new learning opportunities?
You will notice the sweep from the first strategy to the fourth. Extending programs digitally is a good place to start. Roberto's websites list a lot of great content, but our own Diocesan formedfaith.org website and others like it point out new content monthly!
Missional Faith Formation – Stephen Harrison, Executive Director of Parishes and Other Mission Agencies Commission
Roberto encouraged those at the conferences to expand and extend the Church's presence by engaging with people where they live and through the needs of their current life situation. This might include creating a community setting for church ministry and faith formation. Celebrating worship in a community centre or helpful workshops in a school are good examples of this. You might ask the question, "Why would we use external facilities when we have our own?" For the very reason that it moves the Church out into the community and gives it presence. It requires relationship building and engagement that would not happen if we stayed within our own safe space. Another strategy Roberto suggested was the Church running community events with a spiritual theme. Arts events, concerts and film festivals lend themselves to this kind of activity and do not have to be huge to draw people in.
One of Roberto's strategies that struck a chord with me was that of focusing on those connected with the Church in an occasional way as a missional priority. Roberto described a diversity of faith and engagement positions people in our local community hold, from those who are active in our Church and for whom faith is a central aspect of their lives through to those who are not spiritual, not religious and not affiliated with us at all. While engaging with those who are not spiritual is important, we may find it easier to engage and encourage the occasionals who are already connected with us and for whom faith is somewhat important. Using the strategies that Roberto outlines – such as digital engagement – we have a great opportunity to deepen their faith and increase their level of engagement.
If you would like to discover more about what John Roberto taught through the Provincial Clergy and Lay Conferences, visit formedfaith.org where you will find video, audio, notes and PowerPoints from John Roberto's presentations.
What do conference delegates have to say?
"I learnt what a vital resource parents and grandparents can be for a faithful nation among families and among church communities…really liked John's response to the statement 'I have been hurt by the Church', recognising that a lot of us have been hurt by the Church and sharing those stories and comforting one another and also sharing the goodness of the Church and why we are still there." (The Rev'd David Browne, St Bartholomew's Anglican Church, Toowoomba)
"I think what I appreciated the most from the last session was the reaffirmation of us as ministers in parishes or schools that we can support families in faith formation, but it is not our job or in our capacity to actually replace families in faith formation." (The Rev'd Zoe Browne, TACAPS, Toowoomba)
"I have been really interested to hear what has been said in the last day or two…and am really interested in the practical application of this in the parish because we are looking at making some intergenerational transitions as well, so it will be really good for us as a parish." (The Rev'd Eron Perry, Parish of Burleigh Heads, Gold Coast)
"What I find deeply engaging about this approach is that it is immediately do-able. All you have to do is put your intergenerational glasses on and tweak what you are already doing." (Fiona Hammond, FormedFaith, Brisbane)
"I have loved reading John Roberto's stuff in the earlier days, and I have really enjoyed this morning seeing him unpack how faith formation practices have transformed as cultures changed." (The Rev'd Stewart Perry, Parish of Robina-Mermaid Beach, Gold Coast)
Jump to next article