Anglicare and BYDC partner to help feed people sleeping rough
Young people from the Brisbane Youth Detention Centre have built a timber pantry in partnership with Anglicare, in the lead up to Anti-Poverty Week, to help feed local people sleeping rough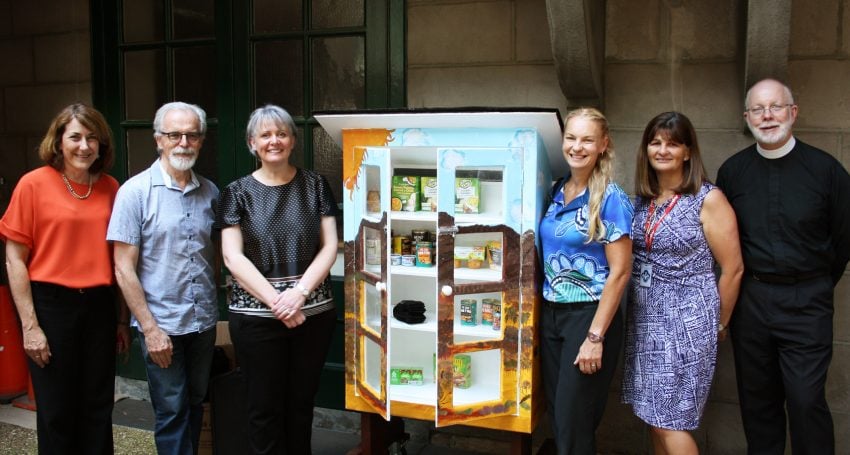 In the lead up to Anti-Poverty Week this week, Anglicare Southern Queensland has partnered with the Brisbane Youth Detention Centre to construct an Ann St 'precinct pantry' to help provide assistance to people 'sleeping rough' locally.
Approximately 100 clergy, staff and guests gathered in the Webber House courtyard in Ann St, Brisbane last week to celebrate the installation of the timber pantry, which was designed, made and decorated by young people at the Brisbane Youth Detention Centre (BYDC).
Director of Mission for Anglicare The Rev'd Canon Linda McWilliam, who co-hosted the pantry launch, said that the pantry project was initiated so that staff and clergy across the Ann St precinct could collaborate in a practical way to support people sleeping rough locally.
"Anglicare initiated the precinct pantry because we were aware of the extent of local need," Canon McWilliam said.
"The project was a way for staff right across the precinct – from Anglicare, the Diocese and the Cathedral – to join forces and contribute in a very practical way to the mission of the Church.
"Anglicare's vision as an organisation is to help to create a more loving, just and inclusive society, and caring for the people in our community who are doing it tough is core to that vision."
The pantry provides staff and clergy with a food donation drop-off point for people sleeping rough in the Cathedral grounds and for those accessing the Holy Trinity Parish, Fortitude Valley's emergency relief pantry.
The precinct project is part of a Certificate program in construction run by the BYDC, which makes and donates a range of items to the community, including dog kennels for the RSPCA.
BYDC school principal Kathy Morrison and chaplain Leisa Logan presented the pantry on behalf of the young people who designed and built it.
Kathy Morrison said that the decorative design was a particular focus and subject of discussion for the youth who collaborated to create it.
"An Australian country scene got the final vote," Mrs Morrison said.
"The original design concept of painting Australian animals on the pantry was overruled because some of the young people thought that could put off vegetarians, and that people could be frightened of snakes."
BYDC construction teacher Nic Howe said that the students' enthusiasm for the project was contagious.
"The project definitely fired up the imagination of some of our young people, and their teacher as well," Mr Howe said.
Donations of canned food with a ring pull, muesli bars, crackers and other items, such as socks, toiletries and band-aids, can be dropped off to the precinct pantry, located in the Webber House courtyard.
Jump to next article