Q&A with Parish Community Coordinator, Rhonda Nelson
Meet Rhonda Nelson, a committed volunteer from the Church of the Holy Spirit, Algester and find out about how she is helping to grow her church through outreach and hospitality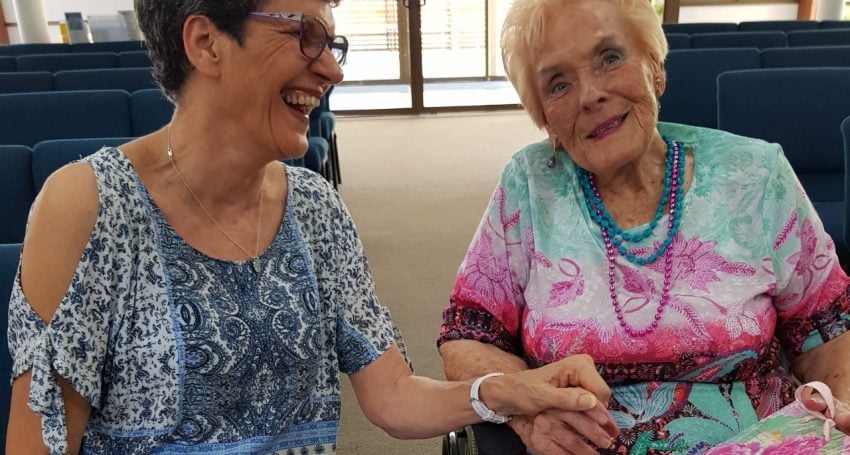 Rhonda Nelson has been a worshipping member of the Church of the Holy Spirit, Algester for the past 32 years. She currently holds the voluntary positions of Teen Sunday School Leader, Church Warden, Anglicare Ambassador and Parish Community Coordinator. She is also the mother of three daughters and grandmother to two grandchildren.
What are your current roles and what do your roles involve?
I was raised in the Anglican Church and have been a regular worshipper for most of my life. I have been involved with Sunday School for the past 30 years and decided to concentrate on high-school-aged children about 15 years ago. I have been on Parish Council on a few different occasions, currently serving my eighth year in this particular stint.
What projects and activities are you currently working on?
My main focus in the church at the moment is my role as Parish Community Coordinator, which sees me looking at ways to involve the church in community events and give opportunity for members of the community to come to the church for social purposes. I have been lucky enough to develop a good working relationship with the local state primary school and the local Councillor's office, both of which have opened up possibilities for involvement in community events.
As Parish Community Coordinator, I have two main projects on the go at the moment. Once a month, the side awning of the church becomes a café and we offer coffee and cake to the parents of children attending dance classes in our church hall on a Saturday morning.
Also, once every two months, the residents of local aged care facilities are bussed to our church hall for a morning of entertainment, refreshments and conversation. I am truly blessed to have the support of parishioners in both of these projects; we are a church filled with caring and compassionate people. The Mothers Union members provide the food and people-power to run the aged care morning teas – I could not do this without them.
What have been the highlights of your roles so far?
It is such a delight to share time with these people who come along to our church simply to enjoy hospitality. We do not try to evangelise, as that is not the aim; however, many conversations about the church come out of questions asked by our guests.
It has been wonderful, as Parish Anglicare Ambassador, to incorporate Anglicare into our functions and recently we hosted an Anglicare 'Help at Home Services' information morning. This was a great success, with much interaction and many questions answered.
What are your plans and goals for the next 12 months?
I have only been in the role of Parish Community Coordinator for eighteen months, so the coffee ministry projects are still quite new. In the next twelve months, I will continue to work on them, developing stronger relationships with the Lifestyle Coordinators at the many facilities in our area. Hopefully, the café will get bigger and better. I will also continue to develop other networks in the area. Recently, a realtor has begun to assist me with advertising and came to make coffee at our Anglicare function. These are the sorts of relationships I would like to continue to develop.
Can you tell us a little about your faith journey?
As a nurtured Christian, I had always had a belief and trust in God, but when I left home at seventeen I had to own my faith and asked Jesus into my life. Now, as a mature Christian, I delight in learning more about my Saviour and coming into a closer relationship with Him every day. In all my church roles and activities and other aspects of my life, I am aware of the need to ask for God's guidance and to be obedient to His will.
What is your favourite scripture and why?
My favourite scripture verse is Philippians 4:13, 'I can do all things through Christ who strengthens me'. This verse has sustained me through many challenges. I am, by nature, a very shy and reserved person – it is only through the strength of Christ and the Holy Spirit that I have been able to take on roles that require me to have conversations with people I don't know very well, to have the courage to take on new roles and to put myself 'out there'.
What person of faith inspires you the most and why?
One of the people who has inspired me greatly was The Rev'd Mac Thornton, who was our priest when my children were young. With Mac's guidance, I became a leader of the Christianity Explained course and have been leading Bible Study groups ever since. Mac also taught me a lot about worship and I think of him regularly during Sunday services.
How do you prepare for Advent and celebrate the Christmas season?
Advent is such a wonderful time of the year, a time to remember the birth of Jesus Christ, who came to earth to walk in our shoes and to die to save us. As the leader of a regular Bible Study group, I enjoy focussing our thoughts on Jesus and away from the secular and commercial thrust we see each day by doing an Advent Study. My favourite Christmas service is midnight Christmas Eve and then waking on Christmas Day to the joy of preparing for family celebrations.
What do you do in your free time to recharge and relax?
I don't have a lot of free time, but looking after my three-year-old granddaughter two days a week certainly keeps me feeling young. I also enjoy reading and tend to have a novel on the go at all times.
What is your favourite travel destination and why?
Cruising is absolutely my idea of a perfect holiday – no cooking or housework – and every destination is just part of the totally relaxing break from the every day.
Jump to next article