The Origins of Anglicanism – what difference did Henry VIII actually make?
The Rev'd Dr Jo Inkpin discusses the historical origins of the Anglican Church, explaining that "No one figure or aspect has ever been wholly dominant in the origins and character of Anglicanism"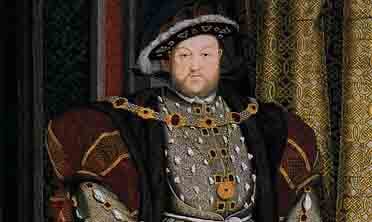 It is puzzling occasionally to hear the idea that "Henry VIII created the Anglican Church". Like much else that is Anglican, the reality is both less dramatic and also far more complex. Henry VIII did indeed have a significant role in one stage in the development of what, much later, became known as Anglicanism. However, the formative factors are so much broader: some much older and some much later. No one figure or aspect has ever been wholly dominant in the origins and character of Anglicanism. It is rather a particular way in which many different people have shared the love of God as Christians, at different times and in different places. Like all healthy Christian traditions, it is also always 'a work in progress': an invitation by God to become more fully the Body of Christ on earth.
Here are a few key thoughts on Anglican historical development which may place Henry VIII and the Anglican Church in context:
Ecclesia Anglicana before Henry VIII – it is ancient!
The words 'Anglican Church' derive from the Latin term Ecclesia Anglicana which for centuries before Henry VIII simply meant the English Church. As such, it was connected to the Church elsewhere, but not simply the Roman Church. It dates back as far as the Roman Empire, at least to the early third century. Later, Celtic Christian missionaries were also active in northern England long before Pope Gregory sent Augustine on a mission to bring the Christian faith to pagan peoples in southern England. Indeed there was significant tension between the more indigenous Celtic and Roman Church understandings of some key issues, until these were resolved, in Rome's favour, at the Synod of Whitby in 664. Over the centuries between then and Henry VIII, there also continued to be different perspectives, not least regarding papal power over appointments and payments. Churches and their lives were also founded by a range of institutions and English inspirations, linked to the Church overseas, but also with their own autonomy and distinctiveness. At the Reformation, therefore, the English did not so much create a new Church, as adapt what they had already formed into something appropriate for new circumstances.
The English Reformation – so much more than Henry VIII!
Henry VIII was undoubtedly a key trigger of the English Reformation. Yet this, more than any other form of Reformation, was a very contested process and hardly a single event, uneven over time and place, and (to the eyes of both other Reformers and Catholics), very untidy. Henry's only real interest was political, seeking to secure stability through a divorce to allow him a male heir. When the Pope resisted, this then gave Henry the chance to gain greater leadership of the English Church and to seize control of much money and land, chiefly through closing monasteries. It should be noted, however, that other contemporary monarchs, not least the Spanish Catholics, had also taken much control of the Church in their lands and that other Reformed Churches relied very heavily on the support of 'godly' princes or councils for their very existence. Henry also remained a determined Catholic in his thinking, so the real work of reshaping the doctrine, order and worship of the English Church was not his, but those who came later. So he may have made a break from Roman authority, but it is to Archbishop Cranmer and other leading divines, and to Elizabeth I's reign, that we have to look for these changes. Whilst revisionist history in recent decades has rolled back the thesis of an impending Protestant Reformation from below, we should also not underestimate the importance of earlier Reformed ideas and practices, and of martyrs. Other historical factors were also crucial: not least including the unforgiving papal policy and excommunication of Elizabeth I; Spanish aggression, attempted invasion, and other Catholic attempts to topple English monarchs; and particular (mis)fortunes, such as the short reign of the Catholic Queen Mary and the length of Elizabeth's.
The development of the Ecclesia Anglicana after the Reformation
No monarch has ever had anything like full control of the Church in England. Just look at Magna Carta, that great English constitutional document, whose first, and (to this day) continuing, clause affirms the freedom of the English Church from intrusion. That is a major reason too why there were bloody Civil Wars in the 17th century. Instead of a straightforward 'act of state' by Henry VIII, the Ecclesia Anglicana therefore developed with its unique combination of Reformed and Catholic features, owing much to a wide array of various influences: its own ancient, Celtic and medieval distinctive features; and Calvinist, Puritan, Arminian, Latitudinarian, Evangelical, Tractarian, Anglo-Catholic, and later liberal and ecumenical contributions. For the reality of the Anglican Church is that it has always been an evolving phenomenon, with some key moments (such as Henry VIII's break with Rome), but with no single point of reference other than the Christian Scriptures and tradition and the Archbishop of Canterbury. Indeed, Anglicanism is really an anachronistic term before the 19th century, which might arguably be a better period to date the beginnings of what we now call the worldwide Anglican Communion. In England itself, with a lifting of legal restrictions on Catholics and Nonconformists, the Ecclesia Anglicana became more obviously just one Christian denomination. Elsewhere, as in Australia, the growth of missionary activity formed a much wider and increasingly varied set of Christian churches in different countries who traced their historical connections back to the English tradition.  Significantly, however, their foundation was not Henry VIII or his royal successors, but the Archbishop of Canterbury and the way of being Christian embodied in the Book of Common Prayer, which was created after Henry VIII.  For, whilst all kinds of different human beings may make a particular contribution, ultimately the true creator of the Anglican Church is, was, and always will be, the love of God in Christ Jesus.
If you found this study interesting and would like to explore Church History more deeply, St Francis College, Milton is offering the subject Early Church History in the first semester of 2019 and two subjects, European Reformations and Anglican Foundations in the second semester of 2019. For more information, please email The Rev'd Dr Jo Inkpin via JInkpin@ministryeducation.org.au
This feature was first published in The Eagle, the magazine of St John's Anglican Cathedral.
Jump to next article