Hermione the wonder dog
Hillbrook Anglican School's new therapy dog Hermione, named after the iconic book series character Hermione Granger, is winning students' hearts and calming minds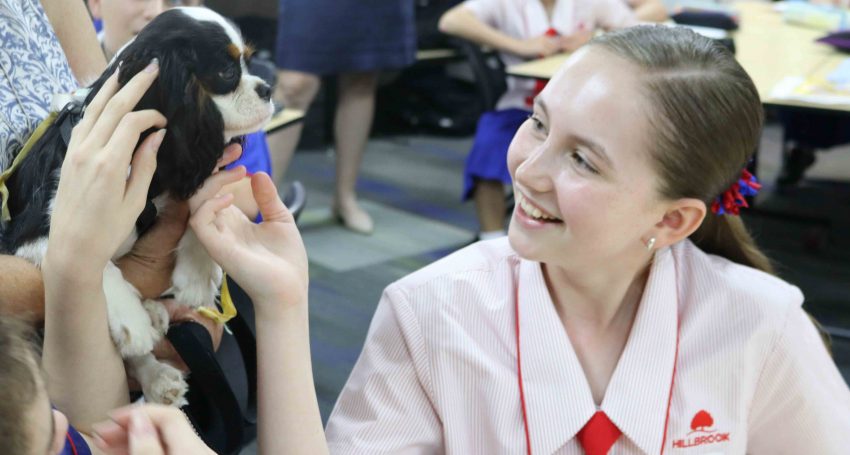 Hillbrook Anglican School's new therapy dog Hermione, named after the iconic book series character Hermione Granger, is winning students' hearts and calming minds.
Hermione is a five-month-old King Charles Cavalier Spaniel who resides in the library, where her owner Loris Phair is the Teacher Librarian.
Hermione joins all library classes and spends time in Enrichment and with School Counsellors, making herself available for a cuddle whenever a student needs one.
Hillbrook Principal Geoff Newton said that Hermione's daily attendance at the school will benefit the whole school community.
"Rather than having a therapy dog who visits once a week, Hermione will be at Hillbrook every single school day and we are looking forward to experiencing the positive benefits for both our students and staff," Mr Newton said.
Recent research from Delta Therapy Dogs into the effect of therapy dogs at schools has shown benefits that include an increase in attendance, a rise in confidence, a decrease in learning anxiety and positive changes towards learning.
Loris Phair said that Hermione's breed made her the ideal school therapy dog and that she was named after Harry Potter character Hermione Granger.
"The King Charles Cavalier breed was chosen because of their very gentle temperament and the name Hermione was given because Hermione from Harry Potter always says 'If in doubt, go to the library', which seems fitting for a dog who resides in the library," Mrs Phair said.
"Watching students almost crying with joy at being able to pat a dog during a lesson is a wonderful teaching experience.
"In fact, one Year 12 student has already told me that Hermione is going be a big help to her at exam time."
Year 7 Hillbrook students Sharne and Riley have also welcomed their new furry friend, who they said will help keep morale up during busy assessment times and will attract students to the school library.
"Having Hermione at School will help to relieve stress from exams when studying in the library, and she is also a great way to draw more people to the library," Sharne said.
"Hermione is great to have at school because if you're feeling really stressed you know you can go to the library and find her for a pat and then feel relaxed," Riley said.
"And it's good for the whole school because people who don't go to school here would think it was pretty cool that Hillbrook has a dog and they'd want to come here, too!"
Each afternoon, Hermione heads home with Mrs Phair for dinner and a well-earned rest.
Jump to next article