'Year of Generous Hospitality' launched
Over 100 people from across the Diocese and the broader community gathered together on Friday night at St John's Cathedral to launch the 'Year of Generous Hospitality' with a service, music, Prayer Spaces and fellowship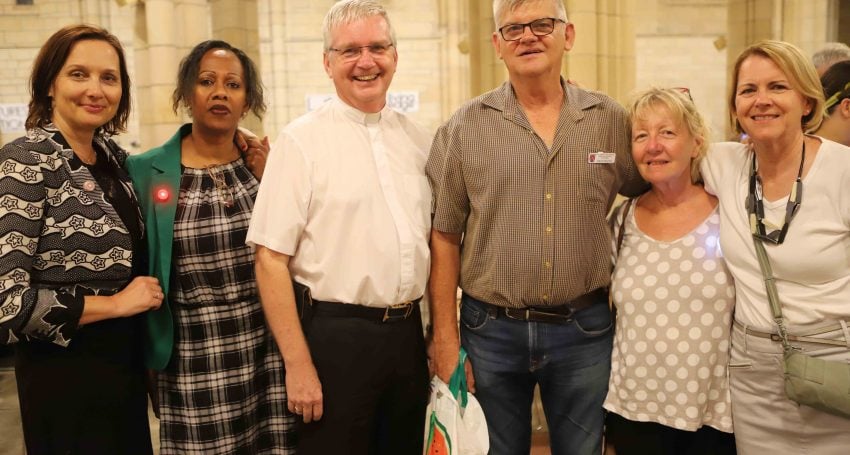 Over 100 people from across the Diocese and our broader community gathered together on Friday night at St John's Cathedral to launch The Most Rev'd Dr Phillip Aspinall's 'Year of Generous Hospitality'.
People in the congregation enjoyed a service, music, Prayer Spaces and fellowship, with Archbishop Aspinall calling us to welcome people beyond our family members and friends, just as the early church did.
"Being a true host and offering true hospitality meant a lot more than entertaining your friends," Archbishop Aspinall said.
"It actually meant turning strangers into honoured guests. It could even mean treating enemies as friends."
People in the congregation chatted during the fellowship time about how they will put the Archbishop's call into action this year.
St Barnabas, Red Hill parishioner and organist Rachel Tew said that she wants to embrace kindness daily, with a focus on smaller gestures often and the idea that small acts of kindness have a ripple effect.
"The Archbishop described providing hospitality in our homes and in our lives for one's enemies; the historical story he told made me reflect on the opportunity for all of us now to provide a 'safe haven' for our family and for the people we encounter as we go about our daily life," Ms Tew said.
"In one way, it is a kindness we can practise daily – a smaller reflection of the 'safe haven' that places of faith and worship provide – to those who need it.
"The phrase 'generous hospitality' prompts me to stop and think 'How can I help? What more can I do?'
"Even a seemingly small act of generosity has many positive repercussions in the whole world."
Nine prayer spaces, which were organised by the Anglican Schools Commission's Vanessa Gamack and Kerryn Smith and St Margaret's Anglican Girls School Chaplain The Rev'd Nicki Colledge, were popular features of the event.
These Prayer Spaces included a labyrinth activity based on Ebenezer Scrooge's transformation, prayer chain and pipe cleaner activities about connection, bubble blowing that encouraged a spirit of joy, a play dough activity based on the idea of community, a tent set-up that encouraged congregants to welcome refugees, a rubber duck message activity that explored inclusion, and a love heart 'love your neighbour' activity that focused on embracing vulnerable people in our communities.
Archbishop Aspinall said that the Prayer Spaces and music were his highlights of the launch event.
"The work that had gone into the Prayer Spaces was marvellously creative and very engaging," Archbishop Aspinall said.
"The music was beautiful and drew people into the spirit of the occasion."
As Christians we are called to be hospitable to all, just as Jesus welcomed all – especially those who were on the margins or considered outcasts in His time.
Executive Director of Parishes and Other Mission Agencies Commission Stephen Harrison said that we are to be led and inspired by Jesus' example.
"Showing generous hospitality is important for all Christian communities because, simply put, it is what Jesus taught us to do," Dr Harrison said.
"When we welcome people in the name of Jesus, we are participating in God's mission in the world."
Fittingly, the people in the congregation at the launch event represented a diverse cross section of our Diocese and the broader community.
Archbishop Phillip Aspinall said that being generously hospitable brings about God's Kingdom and bridges divisions and difference.
"It's important for us to be generously hospitable because that reflects what God is like to us and to all people," he said.
"Being generously hospitable helps moves things in the direction of the kingdom of God, and is central to our mission.
"The church is facing contentious issues that could lead to fragmentation and separation.
"Making sure everyone's voice is heard respectfully is an aspect of generous hospitality that reaches across boundaries and divisions."
Jump to next article