The Good Grub Club – food van with a difference
Educating homeless youths on good food nutrition, preparation and presentation will be one of the main goals of Anglicare Southern Queensland's newly launched Good Grub Club food van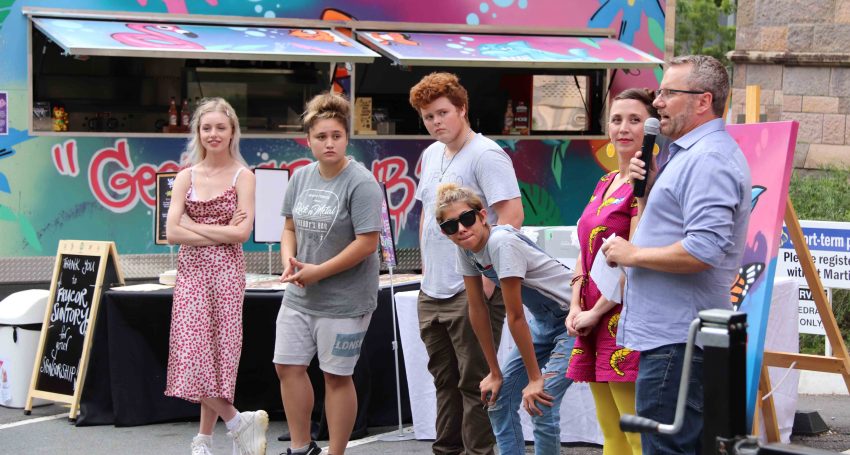 Educating homeless youths on good food nutrition, food preparation and presentation will be one of the main goals of Anglicare Southern Queensland's newly launched Good Grub Club food van.
The Good Grub Club food van, unveiled today at St John's Cathedral in Brisbane, is part of Anglicare's Arts&Minds 2019 campaign, which shines a light on the raw reality of youth homelessness and tackles mental health challenges through nutrition.
Anglicare's Insync Youth Homelessness Service, which provides one of the few crisis accommodation options for under 18s across Brisbane's southern suburbs, Logan and Redlands, will be the main driver of this project.
Manager Rees Maddren, with 25 years of experience working in the sector, believes this new, innovative and collaborative project will enhance confidence, self-worth and long-term resilience for vulnerable and homeless youths.
"When just finding a meal occupies most of your day, nutrition and quality of foods for a person going through homelessness is the last thing on their mind," Mr Maddren said.
"When you are experiencing homelessness and you are able to afford food, it's often food loaded with fat, salt and sugar as some of the cheapest food available is also some of the unhealthiest.
"The Good Grub Club food van takes a multi-faceted approach to teaching practical cooking and nutrition, given the poor diet experienced by many homeless people."
Mr Maddren said the link between homelessness and mental illness is well established and academic research consistently finds that high numbers of people who experience homelessness also experience symptoms of mental illness. Frontline youth workers can also attest to this.
"The Good Grub Club, through this outreach program, hopes to develop and engage, to boost confidence and open up new opportunities for homeless youth by building friendships and connections with fellow young people and the community," he said.
"We want to give homeless youth a sense of belonging and acceptance into wider society.
"A youth worker will take the van to homelessness services in Logan and Brisbane, educating young people in nutrition and assisting them in meal preparation.
"We will also identify homeless young people in need of employment and training in this area, providing food van employment, selling nutritious food, drinks and coffee to the public at events and bookings.
"The day-to-day kitchen activities will be overseen by a qualified youth worker with extensive food supervision experience.
"This all would not have been possible without the support of the Queensland Government's Dignity First Fund."
About Insync Youth Homelessness service
The service provides one of the few crisis accommodation options for under 18s across Brisbane's southern suburbs, Logan and Redlands. Last year it provided 2,600 nights of crisis accommodation and 5,400 nights of transitional accommodation. It currently has crisis and transitional accommodation at Mount Gravatt, Greenslopes, Beenleigh and Cleveland and on any given night could have 24 young people living in their homes.
Jump to next article