Q&A with veteran teacher and committed missionary, The Rev'd Ken Spreadborough
Meet The Rev'd Ken Spreadborough, recently retired Chair of the Diocese's Anglican Board of Mission Committee, former teacher and beloved member of our Diocesan family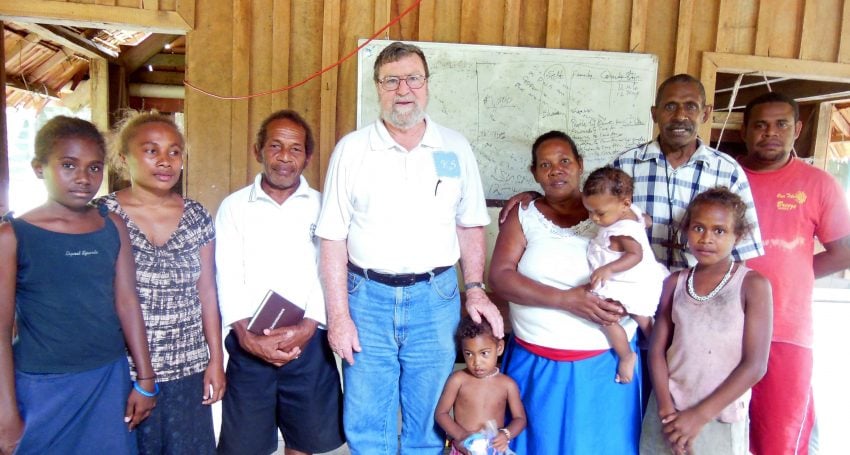 The Rev'd Ken Spreadborough recently retired as Chair of the Diocese's Anglican Board of Mission Committee after eight years in the role and 11 years in total on the committee. He is a former school teacher, teaching for over 35 years, and is a beloved locum priest and parishioner at St James, Jimboomba.
How long have you been involved in the Anglican Church?
I am a 'cradle Anglican', having been involved in youth activities (including Anglican Board of Mission's Comrades of St George), active in many parishes during my teaching career and Synod Rep for many years. I was made a deacon in 1992, ordained a priest in 1997 and have served at Beaudesert, Wynnum, Southern Gold Coast and Jimboomba, as well as Area Dean of the Gold Coast, Member of the Professional Standards Board, Archbishop's Examining Chaplain, and Chair of the Diocesan ABM Committee.
What is the name of your most recent role and what did your role involve?
I was Chair of the Diocese Committee of Anglican Board of Mission (ABM) since 2011, liaising between the ABM head office in Sydney and promoting ABM in Southern Queensland through parish visits and dissemination of ABM information.
How has the ABM contributed to the mission of the Church?
ABM works with other churches around the world through partnerships with each church who forward requests for assistance based on their current requirements. These projects must reflect one or more of The Five Marks of Mission and are assessed by ABM staff to ensure that they fulfil these goals, as well as one or more of the Global Development Goals. These requests are funded through donations with some government funding and are financed so that local personnel and local resources are used wherever possible. ABM staff regularly visit the project sites to assist if needed and to ensure that these goals are met.
What have been the highlights of your role so far?
A visit to the church in Melanesia in 2013, to Wontulp-Bi-Buya College (Cairns) and Nungalinya Theological College (Darwin), working with an excellent Committee, excellent support from the Diocese and knowing that the needs of so many of our Partners have been met through the generosity of so many.
What advice do you have for Anglicans who want to get involved in ABM's work?
The easiest way is to access the ABM website, and then look at the various list of projects to which one can donate and so you can receive regular updates of the progress of that project. Another section of that site deals with resources, such as appeals (notably the Lenten Appeal, The Archbishop's November Appeal, Emergency Appeals), as well as other resources that may be used personally or as part of parish life – all helping to promote the work of ABM.
What are your plans and goals for the next few years?
As of 30 April, I retired from my role in ABM, with Bishop Bill Ray taking over that role. I intend to continue supporting ABM as best as I can, to undertake locums at local parishes, working on our five-acre property and travelling both within Australia and overseas.
Why is it important for us as Christians to serve the broader community?
Jesus said to go into all the world and it is through organisations such as ABM that we can participate in this command.
Can you tell us a little about your faith journey?
I have always been a regular Anglican worshipper, with my time in Comrades of St George strengthening my faith, as did our four years in PNG from 1967 to 1970. Even during my teaching career of 37 years, I always felt the calling to the priesthood in the background, but ignored it until I was prompted by my parish priest in 1989 to test my vocation, which I did, and was made deacon in 1992.
What advice do you have for people discerning a vocation to the priesthood?
One must be totally immersed in the Anglican tradition in all of its various aspects, be willing to undergo training and have total spouse/family support. One must be sure that the call is from God and take time both privately, with close associates and within the formation structure, to discern through prayer and Biblical and theological reading and reflection if this is the way that God is calling you.
What is your favourite scripture and why?
John 20.24-28. There is so much in this passage for each of us – Thomas as an enquirer as we should be; Thomas wholeheartedly stating his belief in Jesus as Lord; and, the reminder that we who have not seen, yet believe, are blessed.
What person of faith inspires you the most and why?
The late The Right Rev'd Eric Hawkey, Queensland Provincial Secretary of ABM in the 60s and later Bishop of Carpentaria. Bishop Hawkey was such a calm, knowledgeable man, who gave great advice and whose spirituality was so totally visible and inspiring.
What are the primary strengths of the church and what is the best way to make the most of these for the benefit of our communities?
Strong fellowship and acceptance, broad theological basis, organisational structure, tradition, Christ-centred worship, outreach to those in need (such as via The Five Marks of Mission), witness in daily life, and support of the Church and its mission.
What are the challenges currently faced by the Church and what can be done to overcome these?
The societal concept of self-indulgent immediacy –  wanting what one wants for self, and wanting it now, rather than accepting the gifts and abilities given by God and using them for his work. This won't change while they are still promoted so heavily in the media.
What do you do in your free time to recharge and relax?
Reading, working on our five-acre property, travelling, time with family.
What is your favourite movie and why?
I don't have a favourite – I like drama and a good comedy.
What is your favourite book and why? 
Again, I don't have a favourite, but some favourite authors of mysteries stand out, including Dick Francis, Jonathan Kellerman, Faye Kellerman, James Patterson, Kathy Reichs, and Mary Higgins Clark.
Where have you travelled to?
Around Australia, PNG, Vanuatu, Noumea, New Zealand, Samoa, Solomon Islands, Fiji, Norfolk Island, Indonesia, Singapore, Malaysia, Thailand, Japan, Hong Kong, Taipei, Cambodia, Vietnam, Scandinavia and The Baltic region, British Isles, The Holy Lands, Egypt, Italy and Turkey.
Jump to next article