Desperately seeking a window
Do you know where this beautiful 'Crucifixion Window is installed or stored?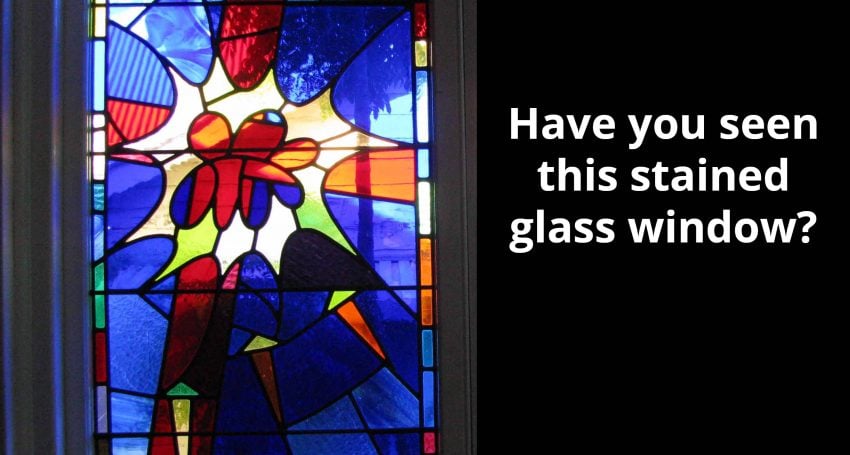 Fr Malcolm Bell, with the help of our Property Team, is trying to locate a special stained glass window. They need your help!
A year ago, the Diocesan Property team became aware that Fr Malcolm Bell was attempting to locate one of the stained glass windows removed from the former St George's Church, Windsor, the 'Crucifixion Window', potentially for ministry with the Quandamooka people on Stradbroke Island.
Prior to his retirement, Fr Malcolm served as a priest in the Murri Anglican Fellowship between 1987 and 2004 and as Priest-in-Charge at St George's, Windsor between 1988 and 2005. He has also served at St Mark's, Dunwich, Stradbroke Island.
After learning of Fr Malcolm's wish to find the window, the Property Team has been helping with the search for the Crucifixion Window.
This is what Fr Bell has to say:
"After St George's was closed, the stained glass windows were removed and taken into temporary storage at St Alban's, Auchenflower. The various other St George's windows went to the parishes of the parishioners who 'sponsored' their original creation and installation. The remaining windows stayed at St Alban's in storage until St Alban's was closed a number of years later. From there, Anglicare stored the windows, but at some point the Crucifixion Window appeared to go missing.
The window is special because I put the window in at St George's and it was created and installed in memory of an Aboriginal man named Kuwungi, also known as Pastor Don Brady, who was a famous Methodist minister related to the Nunukel people from Stradbroke Island."
Some of the stained glass windows from the former St George's Church, Windsor have been installed in other Anglican Churches including St Peter's Church in Southport, All Saints' Church in Arana Hills, The Church of the Holy Nativity at Cooroy, and St James' Church in Dulacca. More will soon be installed at St Paul's Church at Palm Beach.
More recently, some of the windows in storage were installed at the chapel of the brand-new Anglicare Symes Grove Residential Aged Care facility in Taigum (Brisbane). It is exciting to see the windows from the former St George's Church, Windsor finding a new life in other churches in our Diocese.
We are asking for your help in locating this beautiful window. It's the one in this photo, which was taken when the window was installed in St George's Church. You may recognise this window in your church, or you may be aware of where it is being stored. Fr Malcolm and the Property Team would be grateful for any clues regarding its location. If you know where this special stained glass window is located, please email The Property Team.
Jump to next article