Gold Coast students experience rural life in Western Queensland
"We learned about the Mungallala State School students' lives and saw how their farming lifestyles differ from our city lives. We saw how a cattle farm operated and all the work that went into raising cattle," say Year 9 CAC students, Lataya Oweis and Renae Wieser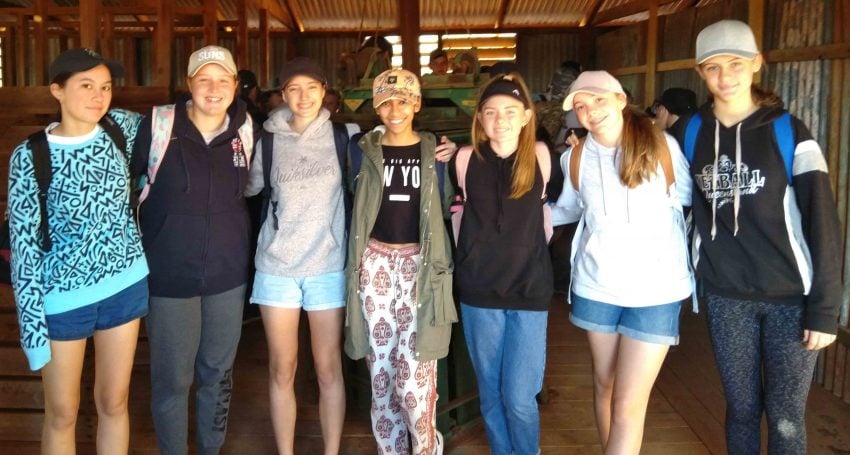 On Monday 2 September, in Week 8, approximately 40 Coomera Anglican College students from Year 9 set out on an eight-hour journey to a small town named Mitchell in Western Queensland, as part of service week.
The remaining 40 Year 9 students went to the town of Charleville or completed local community service.
The group that embarked on a journey to Mitchell stayed at the local sporting complex. We helped out at the small local schools in the town – Mitchell State School, with approximately 120 students and St Patrick's School, with 31 students. Here, we not only spent time with the kids, we also helped fix up their schools by painting music rooms and archways. The kids were so happy to see us and we all felt like part of one close community. To conclude our time with them, two barbeques were held – one by the community at Saint Patrick's School and the other held by CAC at the sporting complex.
Some of us went to a museum in Mitchell, where students made repairs to exhibits and washed and cleaned old cars to improve the museum.
While we were out at Mitchell, we received the opportunity to go on a tour of Mitchell and learn about the history of the town. We visited a local farm with the students of Mungallala State School, over 600 km from Brisbane. This school only had five students enrolled in total from Prep to Year 6. We learned about the Mungallala State School students' lives and saw how their farming lifestyles differ from our city lives. We saw how a cattle farm operated and all the work that went into raising cattle.
The trip to the West was extremely rewarding. Not only was it refreshing to spend a week away from technology and just be in the presence of both old and new friends, it was also invigorating to experience another lifestyle. The trip made us feel grateful for the learning resources we have at the college and it felt good to help out those in need and bring smiles to their faces.
It gave us a new appreciation for the simpler things in life and we have all come back with a better mindset, ready to continue to make a difference in our communities through serving others.
The initiative was part of Coomera Anglican College's annual Service Week.
Jump to next article