Helen Barrett MBE AO: St Aidan's alumna revered in the Solomons
"Absolute self-giving is the only path from the human to the divine," says the fitting Bible inscription of missionary nurse and educator Helen Barrett, daughter of a former Cathedral Dean and past School Captain of St Aidan's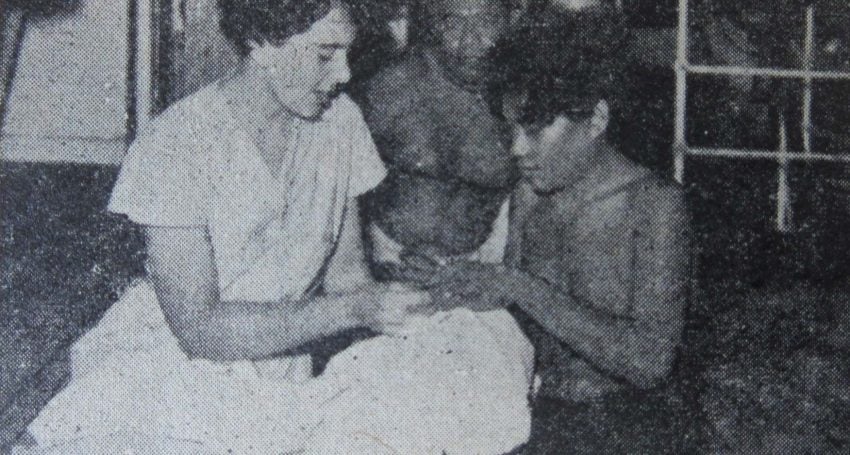 The life of nursing Sister Helen Barrett MBE AO echoes her family's motto – Honor Virtus Probitas, Latin for 'Upright in all things'.
Helen Barrett is the daughter of Hilda and The Very Rev'd William Barrett (Dean of St John's Cathedral from 1932 to 1952). When St Aidan's Anglican Girls' School was founded in 1929, Helen and her sister Joyce were the sixth and seventh students, respectively, to be enrolled.
Helen was appointed School Captain in 1938, and contemporary school accounts note that Helen was a natural leader and motivator, with exceptional organisation skills. Their father, who strongly pushed for the school's foundation, was also School Chaplain until his retirement in 1952. Barrett House was named after Helen, with the Memorial Library (opened in 1964) named in honour of her father.
Encouraged by Bishop Walter Baddeley (Head of the Oceania Diocese and the Bishop of North Queensland, and grandfather to Bishop Jeremy Greaves), Helen trained as a nurse in Brisbane and Sydney, and studied the languages and customs of the Solomon Islands at the Sydney Missionary Hostel. In 1946 she joined the Anglican Board of Mission in the Solomons, where she spent most of her life up to 1984.
Soon after her arrival, Helen set up a clinic and an education centre for girls in Lepi Village (Santa Isabel Island) – previously only boys had been educated in the area. In 1949 she worked at the hospital (where there was no doctor employed) and as the school nurse at Kerepei (Ugi Island) and provided care for the staff, students and the farm animals. In an interview with Queensland Museum staff, Helen noted that her training in Sydney did not include animal husbandry, and that she "learned a lot, my education was much improved" in terms of delivering piglets and calves.
Other positions in the Solomons included school nurse at Maravovo (Guadalcanal) and Head of the School at Tasia (Santa Isabel Island), finally being appointed as Matron of Fauabu Hospital (Malaita) in January 1968. Her duties as Matron included taking trainee nurses to the local schools to give public health talks and providing medication and care to patients infected with tuberculosis or leprosy. Many of the visits were conducted by foot (or on the mission ship Southern Cross) where she passed on her skills to schools and clinics.
The trucks they relied upon often broke down – but thanks to her sister Joyce in Brisbane, spare parts were sent over and assisted in reducing the amount of foot travel. After returning to Australia in 1984, within two years Helen was working as a nurse and teacher in the Torres Strait Islands and she helped set up a Mothers Union Branch – something she also did in the Solomons.
In today's ever-changing society (with so many technological advancements replacing older techniques and practices), preserving and promoting cultural traditions have become even more important. Helen is one of the Church's strongest champions in this regard. During her time overseas, Helen received many gifts from visitors and villagers. Many of these have recently been donated to the Queensland Museum. Noting a string basket hand-crafted by villagers, Helen commented that this skill had nearly been lost. With the encouragement and assistance of friends, Helen started classes in the 1950s on how to make the baskets. The skill came back into fashion when everyone knew how to make something that was really theirs, and string baskets are still being made in Maliata today.
In 1970, Sister Barrett's dedication and care were officially recognised for the first time when she was awarded an MBE in the Queen's Birthday Honours. Her many other awards and honours include:
Premier's Award (for outstanding service to the citizens and community of Queensland)
Archbishop of Brisbane's Medal
Member in the General Division of the Order of Australia (In recognition of her services to the community, particularly in relation to the women and children of the Solomons and Torres Strait Islands through the Anglican Board of Mission and the Mothers Union).
The Cross of the Solomon Islands (for nursing, education and community development)
Although she officially retired in the early 1990s, Helen was always helping Mothers Union branches in Brisbane, particularly at St Stephens, Coorparoo.  She noted in 2002 that she "did what I thought God wanted me to do. Sometimes life is hard but life isn't easy so I just went ahead and did the best I could." Helen's Bible, given to her by her parents, is inscribed with these words:
"Absolute self-giving is the only path from the human to the divine – St John of the Cross"
Being such a humble person, Helen often said that there were many others who helped in her work but received no recognition – there are few better examples of self-giving than this locally living legend of St Aidan's.
Editor's note: Helen Barrett passed away on Monday 25 November. Helen will be remembered for her courage, generosity, leadership, humility and kindness. She is a treasure of our Diocese. 
Jump to next article