All Saints' community rallies after tragedy strikes parish family
The Winter family have long been vital and giving members of the Chermside Parish – the recent death of Callun Winter in a traffic accident has tragically meant the family has had to turn to their community for help in their hour of need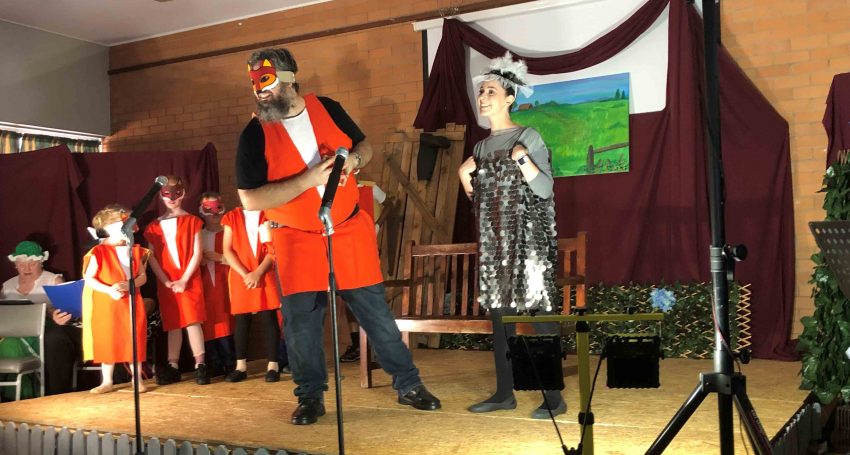 As he strutted on the stage that he had built with his own hands, performing in a musical fundraiser for the All Saints' Chermside Parish – as a father expecting his fourth child – life must have seemed pretty good to Callun Winter back in September.
But on 29 October, the lives of the Winter family were tragically and irrevocably changed when Callun, aged only 35, died in a traffic accident while riding his motorcycle on the Gateway Motorway at Bracken Ridge. It is believed he fell off his bike after clipping a car which had been trying to avoid another accident up ahead.
Callun, a specialist cabinet-maker, left behind three children aged five to 13 and his beloved wife Karen who is expected to give birth in the next week or two. He died without knowing the gender of his unborn child.
The Winter family have been such an integral and vibrant part of the All Saints' community, immersing themselves in parish and community life over the years. In a befitting testament to the life and generous spirit of Callun, over 350 friends, family, colleagues and parishioners crammed the pews of the church to pay their respects at a memorial service last week.
Parish priest Fr Daniel Paulraj Jayaraj conducted the service and Callun's brothers Dean and Bryce delivered the eulogy, while Steve Stavrou, Vilma Putt, Allan Victor, Rob Nolda and Neville Victor also spoke.
Numerous artefacts from Callun's life were on display at the church, including his guitar, christening gown, a table which he crafted and family photos.
One of the photos was of Callun dressed as a fox from the musical The Pond which he and his family had created and performed in as a fundraiser for the All Saints' Community Outreach Program, which runs a soup kitchen among its many services.
Callun's mother Anne Winter directed the show. Anne also runs the church playgroup, while her husband, Tony Winter organises the parish choir rehearsals every two to three weeks.
The Pond musical raised around $1000 from a one-night performance on 28 September.
Since the traffic accident, the All Saints' community has rallied around to support the Winter family with love and prayers, as well as providing necessary and practical support for Callun's widow Karen and their children.
The Chermside Parish seeks your support for the Winter family and you can help by supporting the family's GoFundMe page.
Brother Dean Winter said the family had established a GoFundMe page for donations to help them survive.
"The family is so close so it's very upsetting to see the children struggling without their father and with Karen also due to give birth," Dean said.
"Callun is being missed already by all of the family and friends, but especially by Karen and the children. One of them said 'who's going to bring money for the family, now that Daddy has gone.'
"Callun was an incredible guy. He had so much going on in his life. He was always willing to help others. You could always be yourself around him.
"He was comfortable in his own skin and helped a lot of people. He was just really generous with his time. A lot of tributes have come in from people whom we didn't know existed thanking him."
Anyone wishing to support the Winter family can help by visiting the GoFundMe page.
Jump to next article