Leaving our mark…
"So, I wonder about the 'the mark' we are each leaving? We may not all be artists or writers, but I think we are each creating a legacy that others will inherit," says Bishop Cam Venables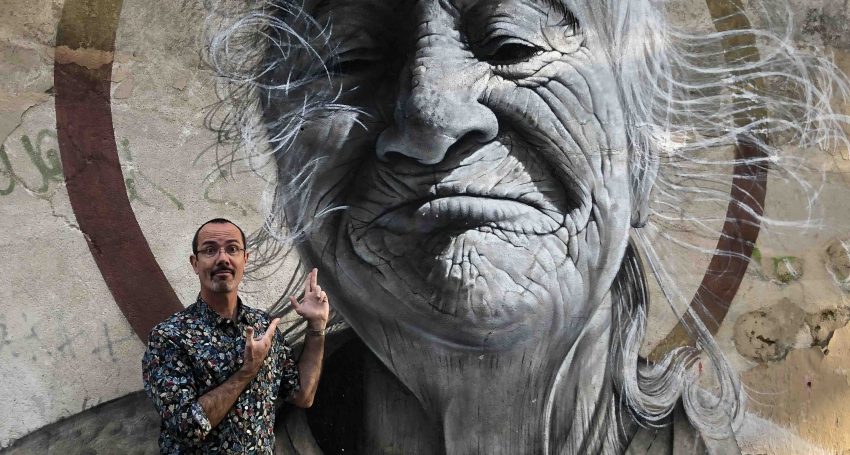 During some recent study leave at the University of Wales I visited Cardiff Castle. At the top of one of the towers in the inner keep I found some graffiti which had been carefully engraved into the stone with the date 1815! Obviously, there were no spray paints or marker pens in those days, and it is possible to see that the scratched text is almost copper-plate perfect. I wondered who had scraped the names and dates on that wall, and why they had wanted to leave their mark in that hidden place.
Subsequently, on that same trip, I found public art on hidden walls in Montmartre and Abbesse, and I wondered if these had been painted with permission or whether some artists had simply wanted to make a statement about something. One painting portrayed the wrinkled face of an elderly person which seemed to challenge the love affair our culture often has with youthful appearance. In the look that the face gives to passersby there is warmth and wisdom, with an implicit invitation from the artist to better respect those who are elderly in our own lives.
In contrast, the second painting imaged the face of a child, and clearly the child is struggling. Again, there seemed to be the invitation from an artist to consider something serious. Perhaps, in this case the many children who struggle in our world: those who have fled conflict zones in Syria and South Sudan, and those who have fled domestic violence situations in our own communities.
In many ways we can see how visual artists leave their mark, and sometimes the images they create go on inviting people to see something in a new way long after the artist has died. Similarly, poets, and writers leave their mark in literature, provoking people to think, or simply entertaining, long after the author has died.
So, I wonder about the 'the mark' we are each leaving? We may not all be artists or writers, but I think we are each creating a legacy that others will inherit. Some of this will be in the memories of people that we have shared life with – our family, friends, and work colleagues, and hopefully occasions of kindness and compassion will be remembered more clearly than occasions of self-interest and spite. In God's grace, hopefully kindness and compassion are more clearly part of our character than these other things, and if this is not so then maybe we each have time to address this.
However, I think there are at least two additional qualities we need to go with compassion and kindness – and they are wisdom and courage.
When that welsh man scratched his name on the wall of Cardiff Castle, he could not have anticipated the seismic shift that would subsequently occur in much western community life as the industrial revolution unfolded. Rural life would become greatly depleted as a huge shift to urban living developed. Industry produced stuff, and economies were built on buying this stuff. Coal, and wood, powered steam engines enabled massive amounts of stuff to be made and transported, and then the combustion engine ramped everything up even further.
The two World Wars promoted industrial technology and production to unprecedented levels, and in our 21st Century we take for granted things that previous generations regarded as fantasy and science fiction.  But, there is an ever-widening gap in our world between those have access to health, education, and work, and those who do not have these things. Our climate is changing significantly, and the vast majority of scientists (see this September World Meteorological Organization article and related United in Science report) have concluded that we are moving into new territory.
So, as people of faith, how are we engaging with this complex and sobering reality? What legacy will we leave future generations to look back upon? Does our Anglican Christian community's story-telling, hymn writing, poetry, art, ministry action, and mission promote compassion, kindness, wisdom, and courage in a time that desperately needs these things?
And, how can we do it better?
Jump to next article