Glennie's sweet fundraiser for Anglicare residents
Glennie School students Kate Travers and Kate Leis tell anglican focus about their 'Pics of Pets' donut and competition fundraiser for Anglicare Symes Thorpe Residential Aged Care residents in Toowoomba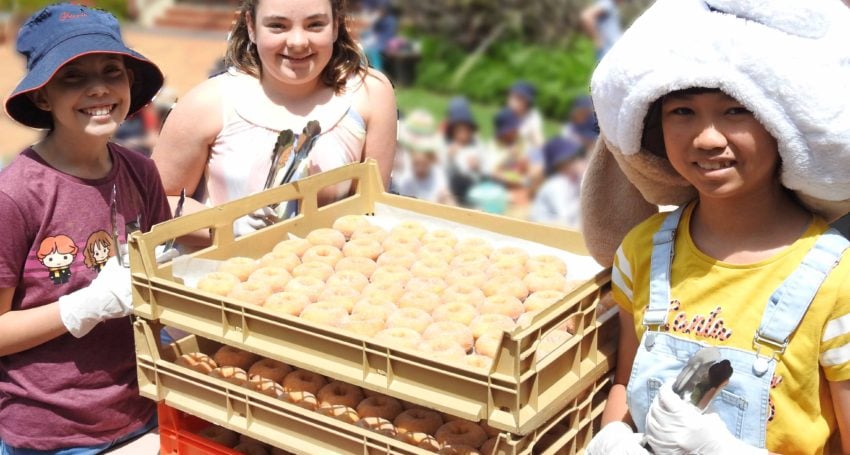 The Glennie School Year 6 Student Representative Council decided to conduct a fundraiser in Term Four last year to raise money to assist the residents of Anglicare's Symes Thorpe Residential Aged Care in Toowoomba. We had heard that residents were unable to have animals in the home, which meant many had to give up their pets when they went there. We love our pets and wanted to organise a fundraiser that had something to do with animals, while also cheer the residents. So, after a lot of discussion, we decided on 'Pics of Pets' as our fundraiser.
On the day of the fundraiser, the SRC girls spoke about the reason for the fundraiser and announced the winners of the competitions that had been running throughout the week leading up to the day.
For one of the fundraising competitions, we made two large posters featuring each SRC member and her pet. For a donation, students were given the opportunity to match the right pet with the right SRC girl. We awarded prizes for this competition on the day.
For the other competition, girls from each year level were asked to bring to school a photo of their own pet and put this photo in the boxes provided. There was a lucky draw from each box and prizes were given to those winners as well.
We also raised money by selling donuts that one of the parents of an SRC Councillor donated. There were enough donuts for everyone from Kindergarten to Year Six and these were shared at morning tea to raise additional money. It made the day really special for all of us!
We raised enough money to purchase seven beautiful animal prints for the residents of Symes Thorpe, who now can enjoy the pictures and be reminded daily of their own pets and their happy memories of them.
Jump to next article